Mind-Bending Museum of Illusions Opens in Chelsea
9/20/18
- By
Jody Mercier
New York City doesn't lack for fabulous museums or Instagrammable-popups but put them together and you'll come close to the brand new Museum of Illusions, opening today in Chelsea.
Equal parts trippy, mind-bending fun house and educational wonderland, the museum is home to more than 70 exhibits that will trick your senses, force you to question your perceptions and look at the whole space from a different perspective. Modeled after the original location in Zagreb, Croatia, the New York location is the first installation of its kind in the Western Hemisphere.

The creepy eyes will follow you!
My kids and I were lucky enough to get a sneak peek of the space and a tour courtesy of the Museum's owner, Renne Gjoni, who brought the location to life. Gjoni told us he started the Museum of Illusions at the suggestion of his father, whose antique store in Croatia was close enough to the original museum that he could see the lines stretching outside each day.
As we walked in, Gjoni pointed to a seemingly random collection of wood oddly arranged on the floor and asked my kids what they saw. A flag pole, my son said. Blocks, offered one of my daughters. The correct answer? Neither ... rather, a chair. Gjoni pointed to the photo sticker on the floor about 10 feet away and asked us to step back. Indeed, from that perspective, it looked like he was lounging on a very large chair. Minds blown, we were off to explore the other optical illusions in the space.
Some my kids had seen before, like the Ames Room where slanted floor allowed my 5 and 9-year-olds to dwarf my 12-year-old in height; it's similar to a popular room at NYSCI. Another attraction we felt like we'd seen at NYSCI was the room with a trio of lights—red, yellow, and green—projected on a blank wall. Viewed together, they looked white, but when you inserted yourself between the wall and the lights, they cast your shadow in one color, or all three, depending on where you stood in the space. My daughters returned to this room again and again to dance in the spotlight and play with their own shadows.
RELATED: 9 NYSCI Exhibits Every NYC Kids Needs to See at Least Once

Keep your kids in stitches in the Anti-Gravity Room.
Another room they just couldn't seem to get enough of was the Anti-Gravity Room where they ran, jumped, tumbled, and fell...then did it all again. I could barely stand in the room for a minute to snap a picture without a wave of dizziness falling over me.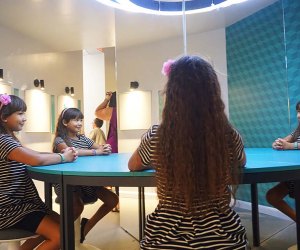 Enjoy the multiplying fun of mirrors that create the illusion of infinite space.
As if I didn't have my hands full enough keeping track of three kids in the museum, our next stop, the circular, mirror-walled Infinity Room multiplied them dozens of times over, but at least I was in on the action and had plenty multiples of myself to help out!
There are dozens of other illusions, which are expected to change annually so there's always something fresh to marvel at, and each one is accompanied by a wall plaque, giving you detailed instructions on what you're seeing and what goes into creating the illusion and tricking your mind. Those descriptions can be mind-bending enough as you contemplate the science, math, and psychology behind each illusion.
RELATED: Maker Spaces for Drop-In Creator Fun with NYC Kids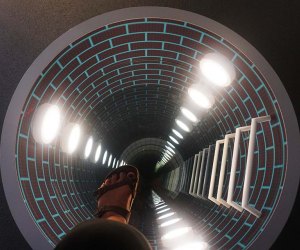 Step into The Bottomless Pit.
Aside from seeing my kids' faces light up each time they had an ah-ha moment, my two favorite sights at the museum were the Bottomless Pit and the life-sized kaleidoscope, where my kids indulged my demands to smile and pose so I could capture picture after picture.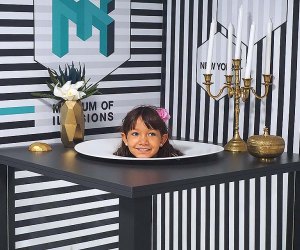 Try the freaky Head on a Platter and give your family and friends a shock!
Once we'd covered the ground floor exhibits, we headed upstairs. There we found the Rotated Room, which allows you to climb the walls, or walk on the ceiling, depending on the pose you strike. Another popular illusion here was the Head on a Platter. There's also an only-in-New York pair of wandering eyes that seemingly follow you as you move throughout this area, plus a family game room, where my kids busied themselves putting together puzzles. I'll admit to being slightly embarrassed that my 9-year-old put together a cube puzzle in minutes that I never could get quite right! All told, we spent a couple of hours exploring the space, though depending on your determination to master all the puzzles, you might spend more time.
The Museum of Illusions is located at 77 8th Avenue at the corner of 14th Street. It's open seven days a week, from 9am-10pm. Tickets can be purchased online; prices are $19 for adults and $15 for children ages 6-13. Kids under age 6 are FREE. A family four-pack (two adult tickets and two children) can also be purchased for $53.
Follow your visit with a trip to the nearby Chelsea Market or take a stroll along the High Line to make a day of it.
Photos by the author