Pop-Up Candy Museum Candytopia Coming to NYC This August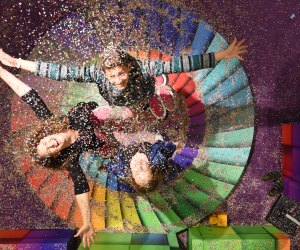 Willy Wonka fans, get excited: Candytopia, the interactive pop-up museum of candy, is coming to NYC's Penn Plaza August 15, and tickets are now on sale. From Soho's Color Factory to Brooklyn Bridge Park's Hot Dog Bus, NYC is jam-packed with jaw-dropping, Instagram-ready, kid-friendly art installations this summer, and Candytopia promises to be the sweetest addition to the list. If the original pop-up in Los Angeles is any indication, kids of all ages will love this place—after all, what other museum offers free candy in every room?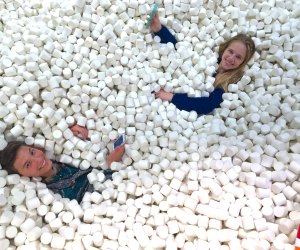 Take a sweet dive into the Marsh Pit.
Tickets for Candytopia are timed and sold online here. (Note: All photos shown are from the Los Angeles Candytopia, offering an idea of what to expect when the NYC version opens.) On arrival guests will have an opportunity to sign up for a scan code, included with admission, that gives access to a few ceiling cameras located throughout the experience. We highly recommend taking a moment to sign up for the code to take advantage of photos you wouldn't get any other way.
RELATED: 12 Must-Visit Candy Stores in NYC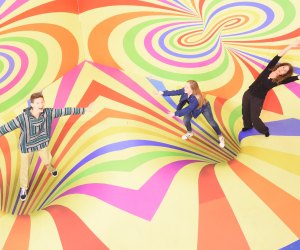 Ceiling cams offer great camera angles.
And of course, photos are what this place is mostly about. The photo ops are phenomenal, and in every room there are attendants dressed like workers in the Wonka factory who are happy to take photos for you. Big kids with iPhones will love this place, but toddlers will be equally thrilled with the bright displays, interactive spaces to jump and spin, and sweets to eat. Because, oh yeah, there's candy: From the first room to last, every room has a vat of candy to munch, from salt water taffy to candy bracelets to lollipops to chocolate.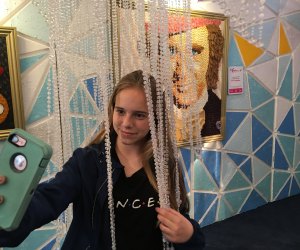 Willy Wonka made out of candy definitely merits a selfie.
Every room presents new whimsical scenes made from candy, all sorts of places to sit, stand, swing, or squeeze through, and of course cool photo opportunities galore. Pro tip: Bring a back-up battery for an extra phone charge, so you don't miss a single shot.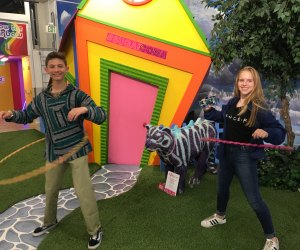 There's even a little exercise.
Candytopia isn't cheap, at $30 for adults and $23 for kids (under 4 free), but for the price you can collect more great photos than the average photo shoot; plan ahead and you could even get this year's Christmas card sorted out. Those fistfuls of candy guarantee smiles in every shot!
Candytopia is currently booking through November 15, 2018.
All photos by the author