New NYC Spyscape Museum Offers Global Spy Action for Kids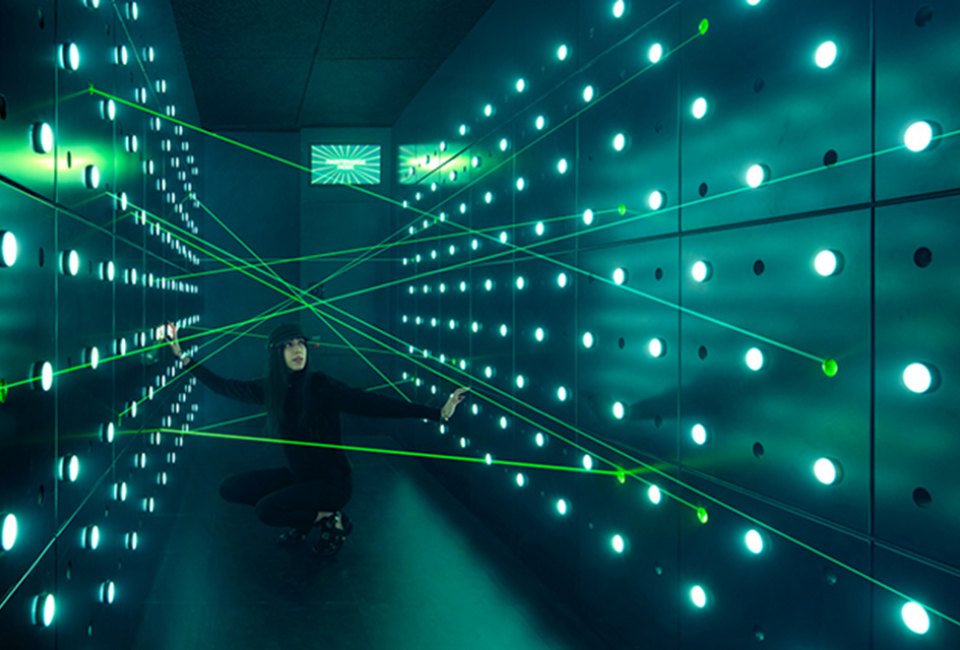 3/9/18
- By
Sonia Gonzalez
Calling all junior special-ops hopefuls and history buffs: Spyscape is Midtown Manhattan's newest destination for spy fans. Using immersive technology, interactive challenges, and true stories, this new museum explores the exciting, daring, and groundbreaking work of intelligence agencies and spies worldwide.

My 14-year-old son and I couldn't wait to check it out, and we were not disappointed. This family-friendly destination—not too far from Gulliver's Gate and National Geographic Encounter: Ocean Odyssey—offers a unique experience, especially for your older kids and teens. Read on for full details.
Spyscape is comprised of several galleries, each focusing on a specific aspect of intelligence operations. There's also an interactive challenge that reinforces the theme of that particular gallery.



The Encryption gallery contains genuine Enigma machines.
When you exit the elevator, your spy journey begins with the Encryption gallery. Featuring artifacts from WWII and costumes and props from the 2014 movie The Imitation Game, this gallery explains how a German engineer created a cipher device called the Enigma to send encrypted messages about the whereabouts of U.S. and allied fleets. Alan Turing (played by Benedict Cumberbatch in the movie), Joan Clarke (played by Keira Knightley), and other brilliant minds developed a decoding device called the Bombe (named for the ominous ticking sound it made). Using this device, allied operatives were able to decode German messages and reroute troops, ultimately saving thousands of lives. Through an interactive Encryption Challenge in this room, visitors decode a message and help a spy complete her mission and escape.
The other galleries at Spyscape—Deception, Surveillance, Hacking, Cyber-Warfare, Special Ops, and Intelligence—are set up much the same way. Artifacts, projections, audio recordings, and more, detail true spy stories and historical figures.
RELATED: 16 Cool Activities for NYC Teens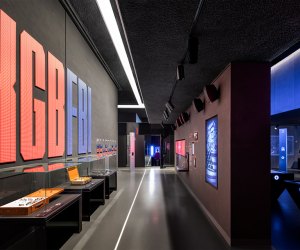 Test your power of recognition in the Deception gallery.

The Deception gallery details the rise and fall of double agent Robert Hanssen, who worked for the FBI while spying for Soviet and Russian intelligence for 22 years. Take the Deception Challenge to see if you can spot a liar.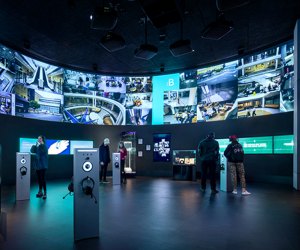 Inside the Surveillance gallery, visitors can test their powers of observation.

The Surveillance gallery explores the magnitude of surveillance, from social media to street cams and shows how data from our cell phones and computers is being used by corporations to target ads, tailor content, and more. Visitors learn about Edward Snowden and how investigative journalists use surveillance technology to chase stories. The Surveillance Challenge tests your observation skills with an interactive mission.
Our favorite was the Special Ops Challenge. We worked together as a team to navigate a laser maze. It's the closest I'll ever get to Mission Impossible and it was fun working together.
Question Stations are located throughout the museum. Swipe the identity band you received upon entry and answer the questions to build your personal spy profile. When you've moved through all the galleries, you'll end up in Debrief. Swipe your band one final time to see the results of your spy profile. It's fun to learn what kind of spy you'd be. My son would make a great surveillance officer; I ended up as an intelligence operative—way more exciting than my day job!
RELATED: Top Tween and Teen Birthday Party Spots in NYC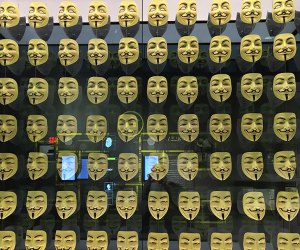 Guy Fawkes masks, often associated with the hacker group Anonymous, are displayed in a section about hacking. Photo by the author

There is nothing scary or inappropriate for younger audiences; however, much of the material is too mature for kids to fully appreciate—hackers, double agents, and encryption analysts or figures like Edward Snowden and Alan Turing are probably more appealing to older audiences. My 10-year-old would probably like it and would definitely enjoy the challenges, but I don't think my 8-year-old would get into it as much.

My son and I had a great time. He was shocked to learn that the operatives and stories he learned about were real, which made it all more interesting for him—and there were lots of great teaching moments about history, politics, and ethics.

Things to know before you go
Tickets can be purchased in advance online.

Lockers are available free of charge and are first come, first served. We definitely recommend taking advantage of this service.

There is an onsite cafe that serves coffee and other beverages, snacks, and other food items. No outside food or drink is allowed (except bottled water).

Though there is no specified time limit for guests, it takes about two hours to complete the experience.

Spyscape is aimed at teens and adults, though younger children are welcome.

Spyscape is located at 928 8th Avenue in Midtown and is open daily from 10am–8pm (last entry at 6pm). Tickets are $39 for adults and $32 for kids ages 3-12.
Top photo: The immersive experience includes testing your agility and reaction times in the special-ops laser tunnel. All photos by Scott Frances for SPYSCAPE except where noted
Places featured in this article:
t Click Here to Sign Up!