Birthday Party Ideas for Teens in NYC: 15 Cool Party Places for Teens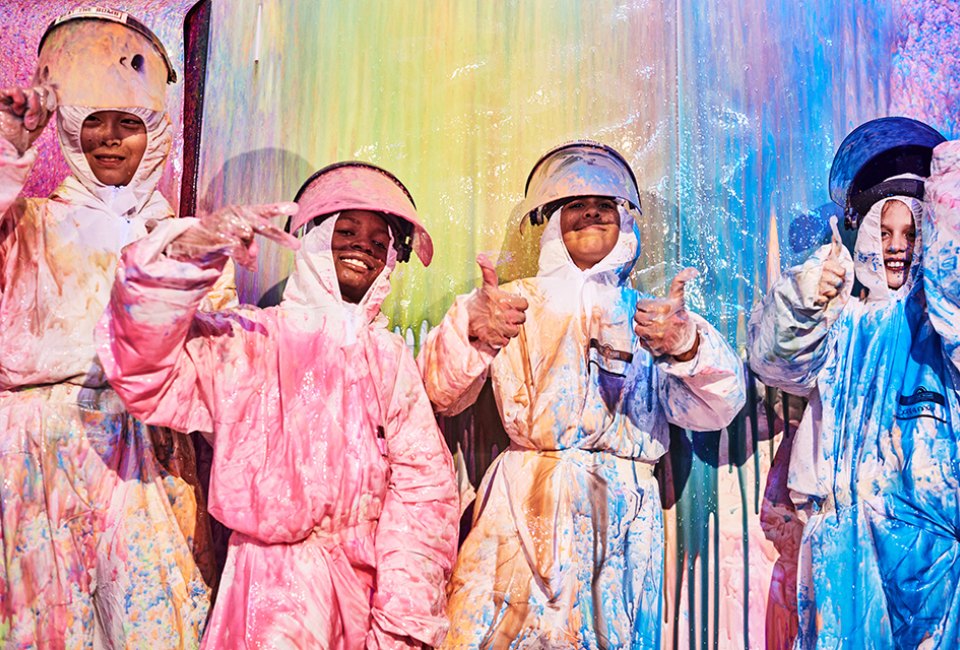 7/24/22
- By
Maureen Wilkey
When it comes to birthday party ideas for teens, NYC kids are a discerning bunch. Luckily for you—and your kid—we've found 15 birthday party ideas for teens at venues new and old, all of which are sure to be a hit with the guest of honor and their (equally judgmental) friends. With party packages this cool, it's a shame you celebrate but once a year.
Find more awesome birthday party ideas for teens in our jam-packed Guide to NYC Birthday Party Places and more picks for any time teen fun in our Tween and Teen Guide.
Sign up for our FREE newsletters to get posts like this delivered to your inbox.
The Bronx Zoo's zip line and ropes course offer a couple of different birthday party packages. If you opt to DIY, grabbing a few close friends and heading up into the canopy is probably all the party your tween or teen really needs. Get a lesson, strap on a helmet, and then tackle rope bridges, wobbly bridges, tight-rope walks, ladders, rolling and swinging elements, zip lines, and more—all nestled in the leaves. Pay close attention to the rules and regulations in your planning. Everyone needs a waiver, and adult supervision is required. Younger kids require adult participation.
One of the most old-school birthday party ideas for teens on our list, Chinatown Fair offers 40 games, including Guitar Hero and Jurassic Park, along with skeeball, driving, and shoot-'em-up games, and tabletop games such as air hockey. Birthday parties require a 10-kid minimum and cost $15.99 per guest. The standard package includes a $35 game card, a slice of pizza, and soda for each guest, minimal decorations, paper goods, and 1,000 tickets for the guest of honor at the prize-redemption area. Hosts supply cake or cupcakes and are welcome to bring additional food and beverages.
3. Launch – Howard Beach, Queens
When it comes to action-packed birthday party ideas for teens, Launch Trampoline Park catapults itself up our list. It offers four different birthday party packages starting at $399. All parties include at least 75 minutes of jump time and 45 minutes in a private party room, plus a dedicated host, pizza, and drinks. The higher-tier package gets you extras like $10 arcade cards and ice cream for dessert.
RELATED: 15 Teen Activities for New York City's Ultra-Cool Big Kids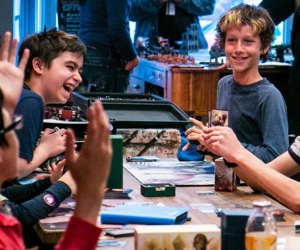 Gaming with friends is a great way to spend a birthday. Photo courtesy of Hex
4. Hex & Co. – Upper West Side
If you have a game-loving tween or teen, they probably already know about Hex & Co., and they would love to spend their birthday gaming away. Hex & Co.'s staff helps you plan a customized party, from free play to specific themes (e.g., Pokeman or Magic: The Gathering), and there are loads of party-perfect items on the menu. Prices vary based on time and day but start as low as $10 per person and include a staff member to teach/guide games. Check out our roundup of board game cafes for similar birthday party ideas for teens in NYC.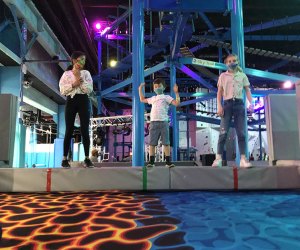 Area 53 is a popular spot for affordable parties for teens and tweens.
5. Area 53 – Williamsburg and Dumbo
Jam-packed with birthday fun, Area 53 offers paintball in a full adventure park, an indoor ropes and ninja course, roller skating, and a laser maze. Throw in pool tables, pingpong, and an arcade and you've got yourself a party. The franchise also recently added axe-throwing and themed escape rooms to its party lineup. Birthday party packages for all of these sports—which include food and beverages (you really work up a sweat), gameplay, and all necessary equipment—start at $499 for 10 players. This is a great option for tweens and older since children need to be at least 10 years old for paintball and archery tag, and 7 and up for laser tag.
6. Kick Axe – Gowanus, Brooklyn
This neighborhood hot spot has a rustic, hipster vibe with a grown-up feel for a teen birthday party idea that doesn't feel like a "kiddie" party. Kids as young as 8 can throw, though adult supervision is required. Review the venue's FAQs before booking. Private axe-throwing ranges start at $320 for 1 hour. The venue offers a few food choices, including thin-crust pizza from Table 87. If you want to put together a more solid noshing plan, you can arrange for catering through the events department.
This intimate jewelry boutique offers teen birthday party ideas perfect for aspiring designers. Its parties cater to children ages 7 and up. During the 1 1/2-to-2-hour lessons, a minimum of six kids design and create at least two sparkly pieces from semi-precious stones, Austrian crystals, freshwater pearls, and sterling silver using professional techniques. Lunessa offers two birthday party packages, including customizable digital invites and pretty organza bags for guests to carry their baubles home.
RELATED: Old-School NYC Arcades Where Kids Can Game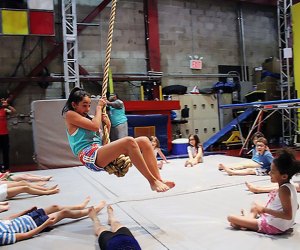 There are thrills to be had during a birthday party at Streb. Photo courtesy of Streb
8. Streb – Williamsburg, Brooklyn
The activities offered during this acrobatic dance school's parties differ from your usual running, jumping, and climbing. At Streb, kids bounce off trampolines, fly on the trapeze, and learn patented Pop Action moves developed by choreographer Elizabeth Streb. Parties start at $750 for instruction and equipment used in an activity of your choice. Currently, only bottled water is allowed on-site.
9. Melody Lanes – Sunset Park, Brooklyn
There are a good number of bowling alleys throughout the five boroughs, but many have an over-21 rule after certain hours. Melody Lanes offers an old-school, age-appropriate vibe, with a small arcade and specials such as glow-in-the-dark bowling on weekend evenings. Party packages are 2 hours max and $28 per person (there's a 12-person minimum). These birthday party ideas for teens include shoe rental, bowling, a choice of hotdog, pizza, or chicken nuggets plus a soda and fries.
10. Playday – Long Island City, QuHill; Cobble HIll, Brooklyn
This drop-in art and creativity center offers parties full use of the space for two hours—including the ping pong table and outdoor space. Parties include three creative activities with choices like clay sculptures, bookmaking, weaving, yoga, and more. Parties start at $850 and you're responsible for bringing food, drinks, cake, cutlery, and paper plates.
A combination of an escape room, gaming technology, game shows, and theater, this is one of our craziest birthday party ideas for teens thanks to its surprise ending. If you fail to defuse the bomb, you'll be blasted by colorful paint. Players are outfitted in hazmat suits before entry and given one hour to beat the security system or risk being blasted. Up to six players can participate at a time, though larger groups can enjoy a head-to-head game. Though recommended for ages 10+, those as young as 8 can participate. (Special adjustments need to be made to the sensors for those under 4 feet tall, so if your party includes younger kids, be sure to let the staff know when booking.) Birthday party packages are available.
RELATED: Virtual Reality for Kids in NYC: 8 Spots Where Kids Get Inside Games and Immersive Experiences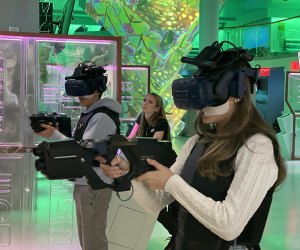 Immerse yourself and your birthday guests in another dimension at VR World in Midtown Manhattan. Photo courtesy of VR World
VR World, located next door to the Empire State Building, is buzzing with a young-adult crowd (there's a bar), but tweens and teens can bond between the gaming floor, with more than 50 VR options, and cool party space on the mezzanine level overlooking the action. Check out our review of the original VR World location to get a sense of the action here.

Climb up 45-foot-high walls for a birthday celebration at The Cliffs at Gowanus. Photo by Diana Kim
Boasting more than 42,000 square feet, countless climbing options, and a wall height that reaches 45 feet, The Cliffs at Gowanus houses the city's largest climbing space. Group bookings are available for $45 per person for 3-20 people and include a dedicated climbing area and certified belay staff. Its birthday parties are open to all skill levels ages 6 and older. Reserve the private event space or head up to the roof terrace to enjoy a bite to eat with stellar views of the Brooklyn skyline.
The New York Ninja Academy teaches ninja techniques like swinging, climbing, agility, balance, and strength—all to finish the whole course. The Academy offers a party package that includes 90 minutes on the ninja warrior obstacles with assistance from ninja staff and a course run at the end, complete with lights, sound effects, and the thrill of hitting the buzzer at the top of the Warped Wall. Prices start at $800 for nine kids or fewer and go up to $900 for 10-15 kids. Keep in mind that there is no party room here, no food nor cake is permitted, and all 90 minutes of the party are spent on the gym floor. Looking for a similar option in Brooklyn? Consider its sister site Brooklyn Ninja Gym in Park Slope.
Consider this venue two birthday party ideas for teens in one: Roller skating—ice skating when the weather gets chillier—makes a great birthday party for an older kid. At the LeFrak Center at Lakeside Prospect Park, you can host a birthday party with up to 10 kids outside in a roped-off area in front of the Bluestone Cafe. The package includes admission, gear, and a 2-hour private party room, plus drinks and a party attendant. Add-ons boost the price to $695 and include mini-cupcakes, goodie bags, and a half-hour skating lesson.
This post was originally published in February 2018 and has since been updated.
Click Here to Sign Up!
i