Hex & Co. Is a Board Game Lover's Paradise for NYC Kids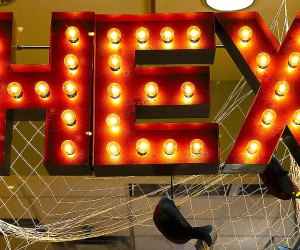 If screen time is getting to be too big of a battle at your place, head out to get back to the old-school gaming model: board games. Hex & Co. recently opened on the upper Upper West Side (Columbia area) and is serving up more than 1,000 board games, from classics to new pop-culture hits, to give your family a chance to sit down, grab a bite to eat, and, you know, talk and make eye contact with one another.
Hex & Co. joins outer borough favorites, Brooklyn Strategist, Brooklyn Game Lab, and The Geekery in Astoria, Queens for classic family fun. (More on this later.) Read our review and get all the details on the fun new spot below.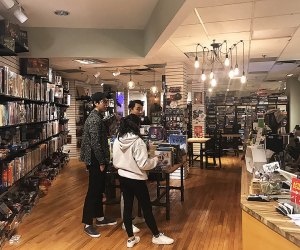 Choose from a thousand board games in the retail store. Photo by the author
Walking into Hex & Co., you're immediately hit with two things: 1) Who knew this many games existed? and 2) the staff is extremely friendly and helpful. The front half of the space houses the food counter/kitchen area and the retail section, which is filled loads of new games and related memorabilia for purchase, and the guys behind the counter are more than willing to make suggestions. The back half is lined with shelves stacked high with the aforementioned 1,000+ games and tables. Pay for your day pass, then head back and play as few or as many games as you'd like.
RELATED: Maker Spaces for Drop-In Creator Fun with NYC Kids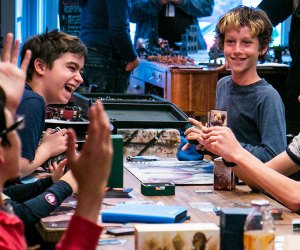 The after-school school program offers school pickup, games, and snacks. Photo courtesy of Hex & Co.
Hex & Co. charges $10 per adult for an all-day pass (there are no hourly options), but kids and their accompanying adult are $5 each. (Our family of four, two adults and two kids, cost $20). We went on a Sunday, late in the afternoon, and it was mostly filled with young adults that were really (really) into their strategy games with a few families mixed in. I have a feeling weekdays are a different story, as the cafe hosts after-school programs and offers nearby school pickup, and weeknights are beginning to fill up with regular Magic: The Gathering and D&D meetups. (They plan to offer school break camps, as well.)
While we didn't maximize our full-day pass (everyone has limits), we were there long enough to eat dinner. The cafe has a good-sized menu, all of which is kid-friendly: breakfast options like granola parfaits and egg sandwiches; snacks, such as chicken strips and personal cheese pizzas; pressed sandwiches; and a handful of desserts. Oh! And coffee, tea, beer, and wine—which was a nice little bonus.
Fun fact: If the game-board cafe concept sounds familiar, it's because Hex & Co. is the love child of Carroll Garden's Brooklyn Strategist and Greenwich Village's the Uncommons. The owners partnered to combine their current working models into a new uptown business.
RELATED: NYC Bowling Alleys That Welcome Kids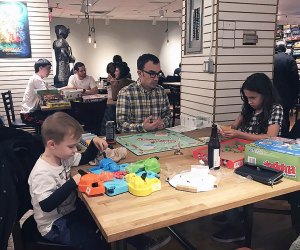 Get the whole family gaming when you purchase a day pass. Photo by the author
Having such a big age range between kids (five and a half years), it's rare we can all play a game as a family—so we split up. My husband (beer in hand) and my 10-year-old played Monopoly and a handful of others; my almost-5-year-old son and I (also beer in hand) played Hi Ho Cherry-O; Hungry, Hungry Hippos; and ran through several others. I will say it is a prime spot for older children; there weren't as many options for my preschooler, but that's fairly typical of these game spots. It seems best for kids 8 or 9 and up, who could spend hours here learning new games and mastering old ones.
As we headed out, we passed through the retail section and got a few ideas for Santa—and I love the idea of shopping local for holidays.
Overall, it was an awesome spot to gather as a family, sit around a table, and have good, solid fun.
Hex & Co. is located at 2871 Broadway at 112th Street and is open Monday through Thursday 8am to 11pm, Friday 8am to midnight, and Saturday and Sunday 9am to midnight.
Top photo courtesy of Hex & Co.