SPONSORED
National Geographic's Interactive Ocean Odyssey Makes Waves in Times Square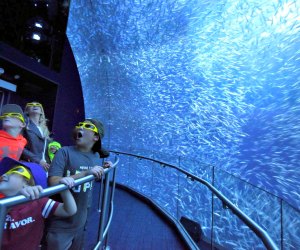 A new experience is making a major splash in Times Square. National Geographic Encounter: Ocean Odyssey takes visitors on a virtual underwater journey beneath the Pacific Ocean, unlike anything we've ever seen before. Using breathtaking state-of-the-art technology, lighting, and audio effects, the self-guided walk-through journey explores different areas of a wondrous undersea world including coral reefs, kelp forests, and open ocean expanses.

Ocean Odyssey opened in mid-October, and my family and I couldn't wait to go. The visit left us awestruck and eager to return. It's a fantastic destination for all ages, filled with stunning visuals and interesting facts about ocean wildlife and habitats, human impact, and what each of us can do to help keep our oceans beautiful and clean—all without getting wet! Read on for more about this amazing new experience, plus what you need to know before visiting with kids.
National Geographic Encounter: Ocean Odyssey is a completely immersive experience from your very first step inside all the way through a 60,000 square foot complex of rooms, each using groundbreaking technology to give an authentic underwater feel. You may frequently forget you are not looking at live animals or even video, but cutting-edge animation effects. And that's OK, because the technology is meant to fade into the background as you become fully absorbed by the experience itself.

It all starts as you step into the first encounter, a daytime view of a coral reef in the Pacific Ocean. Sea turtles, dolphins, schools of fish, and other stunning sea creatures swim past you, above you, even below you on the floors. There were audible gasps from the adults in our group and squeals of delight as toddlers and other young kids scurried to try to touch a fish or stingray. It's a dramatic start to the experience and it only gets better from there.
After taking in the sights and sounds of the coral reef in daylight, we discover its dramatic change at night. In the darkened room, corals, sponges, and other parts of the reef's ecosystem glow in vivid fluorescent colors, reacting to your touch as playful eels dart by. See if you can catch one!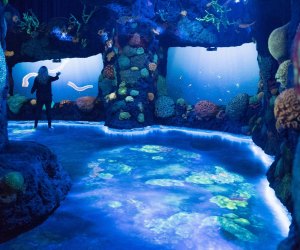 Moving from the nighttime reef into a pitch black room illustrates the intense darkness of the ocean depths and allows you to focus on its symphony of sounds. It's completely dark, so it takes a moment to adjust—and you'll definitely want to hold little hands when entering this room.
From that serene scene we descend 300 feet below sea level, beyond the reaches of sunlight, to the inky darkness of the Humboldt squid's habitat. Nothing is held back in demonstrating these fearsome beasts with hundreds of suckers lined with razor sharp teeth! Starting out like a starry night, we soon see the glittering spots are actually fish, not stars. The Humboldt squids appear and an epic battle to the death ensues. While the scene is not graphic, it plainly illustrates the power and danger of nature, even in its beauty.

We emerge at sunrise off the coast of North America into a stunning kelp forest. This part was one of my family's favorites. Streams of kelp reach from floor to ceiling and as far ahead as you can see, creating a dreamlike quality. Mirrors are strategically placed to make the kelp forest feel huge, and also to get you lost in its maze. My kids moved through it slowly at first, taking in all the details. When they realized it was actually a maze, they delighted in the challenge and led the way for me to follow.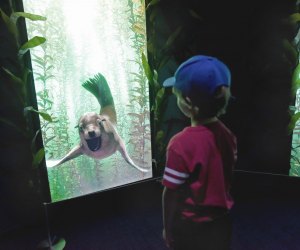 At the end of the maze, visitors are rewarded with a series of screens that feature adorable interactive sea lions. Stand in the circle just in front of a screen, move left or right, and watch your friendly sea lion respond. See if you can figure out how to get it to flip and do other tricks for you. It wasn't easy getting my 8-year-old to say goodbye to this part of the experience.

If you think a maze-like kelp forest is as immersive as you can get, think again. There is a 3D experience inside a huge dome, where creatures come from all around: penguins, sea turtles, sharks, stingrays, and then a humpback whale, all gloriously life size. Seeing the size of the humpback whale as it moves past you is awe-inspiring and humbling. One word of caution for parents: there's one moment that may be a bit intense for very young viewers—I admit, I jumped myself.

The show continues into the National Geographic Exploration Hall, where you can learn more about the sea creatures you've encountered and have a fun photo taken with an oceanic backdrop before heading into a huge learning center. Interactive screens and games provide an in-depth look at sea animals and their habitats. Visitors emerge from their ocean journey in the retail experience where they can peruse themed apparel, toys, games, books, and other souvenirs.
The entire experience was incredible. Each of my kids (ages 14, 10, and 8) were equally amazed and wide-eyed. Anything that can impress all three is a win by my standards!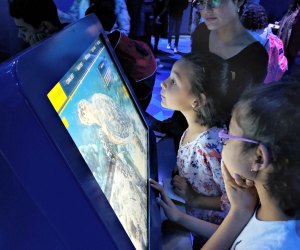 Things to know before you go:
Entry is with a timed-ticket and visitors move through the experience with their group.
The whole experience lasts 60-90 minutes, if you treat yourself to play with the many interactive options in Exploration Hall.
A couple of the rooms are dark and a few may be a bit intense for the sensitive.
The recommended age for the experience is 3 years and older (but I saw a number of younger toddlers there, and no tears).
Strollers are not permitted, but can be checked at the coat desk.
No outside food or drink is allowed.
Photography is allowed, however, remember to turn off the flash.
No large bags or luggage is permitted and all bags are subject to search.
There are restrooms available near the box office and again after the kelp forest.
National Geographic Encounter: Ocean Odyssey is located at 226 West 44th Street (between 7th and 8th Avenues) in Times Square. Tickets start at $39.50 for adults, and $32.50 for kids 12 and under. Children 2 and under do not need a ticket to enter. See website for full pricing and admission details.