Nitehawk Cinema Opens in Park Slope, Brooklyn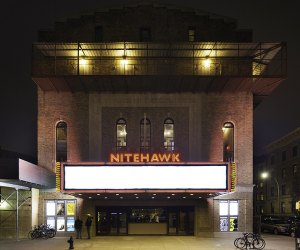 This week marks the much-anticipated opening of the dine-in movie theater Nitehawk Cinema in Park Slope, in the old Pavilion Theater space near Prospect Park. It's no exaggeration to say that parents (and kids) in the neighborhood are over the moon. With the closing of the Pavilion in 2016, Brooklyn's most family-friendly neighborhood has been without a movie theater for several years, and the Nitehawk brings not just first-run and independent films but also a tasty menu to a much-loved landmark location. For a peek inside the handsomely restored space and the scoop on coming attractions, read on.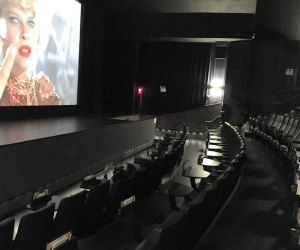 Nitehawk Cinema is an innovative theater where filmgoers can enjoy a meal with their movie.
Families in Park Slope have been eagerly awaiting the Nitehawk's grand opening for years, while the new owners took the beloved-but-dilapidated old theater through its renovation. Film showings begin this week on all seven screens, with family-friendly offerings including the new release Mary Poppins Returns shown in multiple theaters, with a themed menu to match. (During the holiday week, the theater will have shorter hours, closing early on Christmas and Christmas Eve.)
RELATED: Prospect Park's Best Playgrounds (Ranked!)

Adults can grab a fun house cocktail at the bar.
The dine-in menu features sandwiches, salads, and burgers, plus a fun (read: very strong) list of house cocktails, and tasty options for vegetarians. There's a kids' menu with tater tots, grilled cheese, chicken tenders, hummus with veggies, and a flatbread that's basically a cheese pizza in disguise. For earlier showings, there's also a brunch menu.
RELATED: Where to Eat in Park Slope with Kids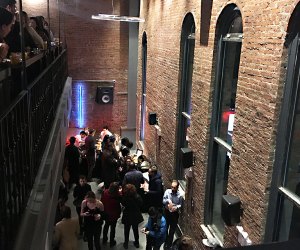 The cool and quirky interior layout of the old Pavilion Theater was carefully restored, leaving many historic elements intact.
Those familiar with the quirky interior layout of the old Pavilion Theater will be interested to know that much of the space remains essentially the same—intimate theaters upstairs that feel like someone's living room, larger auditoriums downstairs, and an inviting lounge space on the second floor that's been outfitted with tabletop arcade games, an elegant bar, leather seating, large windows overlooking the park, and even a glassed-in library of VHS tapes.
Two of the bigger family-friendly upgrades here are the brand-new elevator and the spacious, modernized bathrooms with changing tables. With exposed brick walls and ceiling beams, glossy cement floors, and vintage movie art, the overall vibe here is more sleek than the enjoyably kitschy feel so many kids love about the Alamo Drafthouse in Downtown Brooklyn, but the new look is a welcome update for a theater that had been in need of a loving touch for some time. Other Nitehawk locations have hosted kid-friendly film series and special screenings of holiday and kid classics, and while there's no word yet about when these might be added to the calendar at the Park Slope location, it's a good bet that they will in 2019. Another exciting development coming soon? Ample Hills Creamery has leased the downstairs space next door to the theater to open up a vintage-themed ice cream shop.
Nitehawk Cinema Park Slope is located at 188 Prospect Park West at Bartel-Pritchard Square in Park Slope, Brooklyn. Tickets for children age 6 and up are $10 and adult tickets are $13. All children at the theater must be accompanied by an adult.
Unless noted, photos by the author