Submerge: NYC Marine Science Festival
Hudson River Park Pier 84

Cirque-tacular presents 'The Art of Circus'
BMCC Tribeca Performing Arts Center

Sugar Skull! A Dia de Muertos Musical Adventure
The Sheen Center for Thought & Culture
Court 16 Opens Kid-Friendly Tennis Spot in Long Island City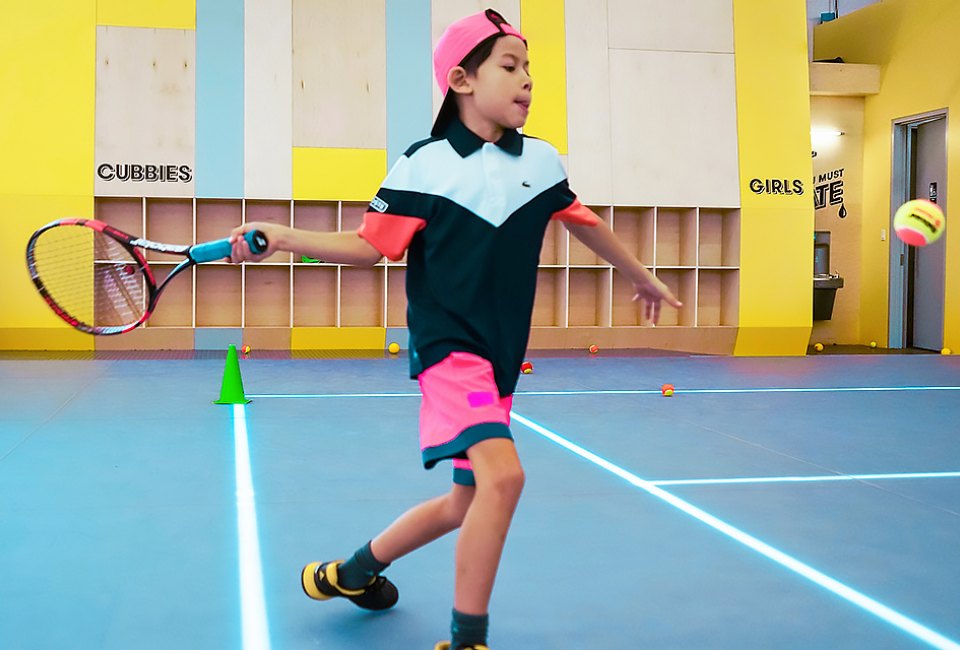 2/22/18
- By
Jody Mercier
When it comes to family-friendly amenities, Long Island City is experiencing a boom. From inventive play spaces to sprawling parks and cool tot spots, there's plenty to see and do, including a brand-new tennis facility, Court 16.
Four years after opening its flagship location in Gowanus, Brooklyn, Court 16 has opened a new indoor tennis complex geared toward the kids who are rapidly taking over this neighborhood's sidewalks. With nine tennis courts of varying kid-friendly sizes, there's something for tennis players of all ages at this new spot.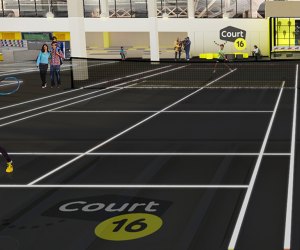 Courts are divided by age group and include spots for toddlers, grade-schoolers, and tweens and up.
Court 16 opened its doors earlier this month, and little tennis-pros-in-the-making are already honing their skills.
The brainchild of former Division 1 tennis player Anthony Evrard, the club is named after the court at his home club in Brussels, Belgium, where he spent time perfecting his game as a youngster. Drawing on the fun had and lessons learned there, Evrard built a club meant to introduce the game to a new generation of players in an entertaining and empowering way.
The courts are designed to be kid-friendly, coming in smaller, more age-appropriate sizes. There are three 30-foot tennis courts for ages 2–6; four 36–foot tennis courts for ages 6–10; and two 60-foot courts for ages 10+. All classes are taught by USPTR-certified coaches.
RELATED: Indoor Tennis for NYC Kids: 10 Programs with Youth Lessons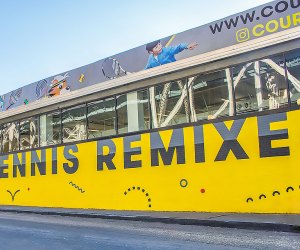 The new center opened on Queens Plaza South earlier this month.
Club 16 is a members-only facility, but families with multiple kids get a big break on its pricing. Classes are offered for kids as young as 2½ years old and a low instructor-to-student ratio makes sure they get plenty of quality instruction on-court.
Annual membership fees for one child start at $350; the second child pays $175; and the third is free. A premium membership (which includes a raquet and four hours of court time) runs $500, $250, and free. Once you've signed up for a membership, you can begin booking classes and court time, but you'll pay $32–$120 per session, depending on the length of the class and whether you register for group, individual, or partner classes. Payment plans are available.
RELATED: Drop-in Play Spaces and Kiddie Gyms Around Queens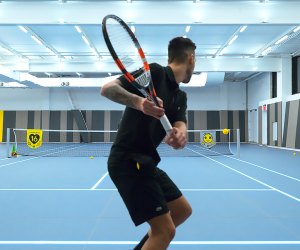 Parents can take classes, too!
Other membership perks include classes for parents, family movie nights, and weekend brunches and court time for families once per month, plus a detailed evaluation of your kid's game every month. School-break camps and birthday parties are also offered.
Parents who are waiting during their kids' lessons can watch from the on-site viewing area while enjoying the FREE wi-fi. There's also a snack bar and pro-shop on-site. Adults can also partake in beginner classes here, plus a tennis-specific fitness class.
It opened at 13-06 Queens Plaza South, not far from the F Queensbridge subway station. For more information on Court 16, or to book a FREE trial class, visit its website.
All photos courtesy of Court 16
Places featured in this article:

Sign up for our free
newsletters.
Mommy Poppins is a family activity website that helps people find things to do with kids.
©
2023
MommyPoppins. All Rights Reserved.
mp-prod4-v4.32.99
Click Here to Sign Up!
i