Tribeca with Kids: Top 30 Things to Do for NYC Families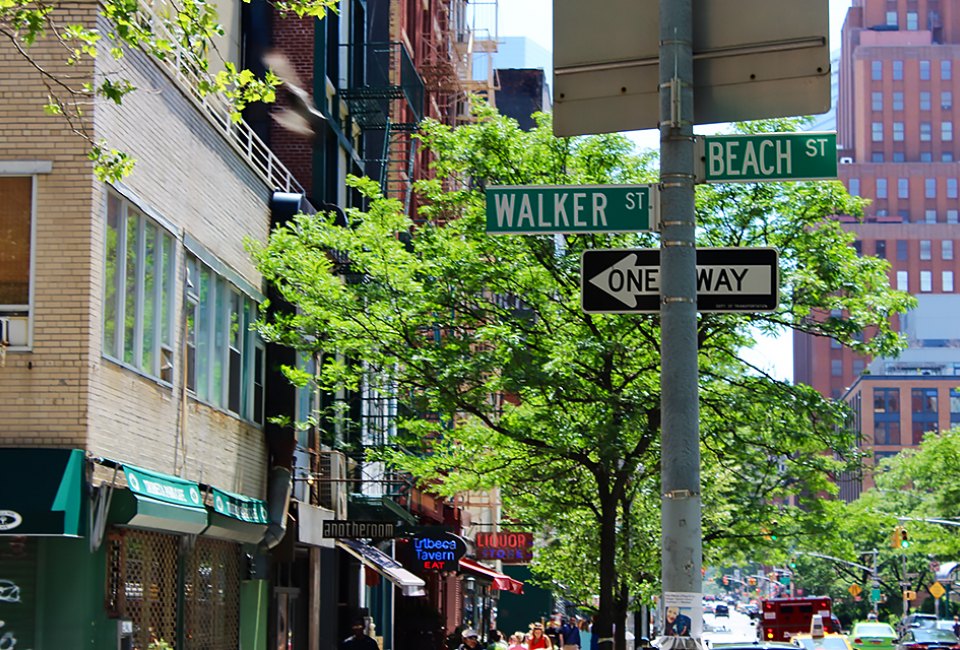 11/6/18
- By
Amy Meader
One of New York City's original residential neighborhoods, Tribeca was initially settled back in the 1700s. The area has undergone several transformations since then. In the 19th century, it became an industrial and commercial hub, By post-World War II, it was a ghost town with only a few hundred residents, and block after block of empty warehouses. Thanks to all of that affordable loft space, artists and bohemians flocked to Tribeca in the 1980s and by the 2000s it had been reinvented once again as one of Manhattan's most affluent and amenity-filled areas.
Today, this unique neighborhood is in high demand with families thanks to its great public schools, the beautiful waterfront Hudson River Park, thriving locally owned businesses, kid-friendly restaurants, and a funky downtown vibe that is quickly disappearing from NYC. Here's a look at everything Tribeca has to offer families, including our favorites spots to eat, play, and shop, and our top things to do with kids in the neighborhood.
Tribeca is an acronym for Triangle Below Canal Street, and the neighborhood has fairly specific borders: Canal Street to the north and Vesey Street to the south between West Street and Broadway. If you live in the area or are thinking of moving there, join Hudson River Park Mamas (HRPMamas), a terrific social group for downtown families, and bookmark Tribeca Citizen, a website and newsletter that will keep you in the loop about everything going on in the 'hood.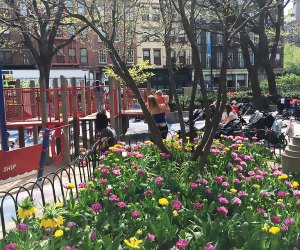 The whole family can play and relax in Washington Market Park. Photo courtesy of the park
1. Visit the heart of family-friendly Tribeca, Washington Market Park, to run amok on its giant play structures and grassy lawn.
2. Have a real Korean BBQ experience at Gunbae right on Murray Street. Kids will love the small plates and fried chicken wings.
3. Have a special-occasion Japanese meal at Ninja New York, the city's only ninja-themed restaurant.
4. Take a dance class or piano and singing lessons at Dance With Miss Rachel, a favorite of the kids of Tribeca.
RELATED: Best Things to Do with Kids in the Financial District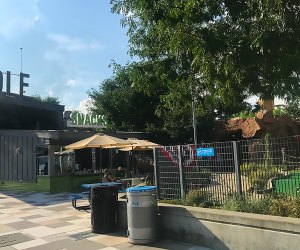 Pier 25 boasts an array of activities. Photo by Jody Mercier
5. Explore the attraction-filled Pier 25 which boasts an awesome playground, a mini-golf course, a skatepark and beach volleyball.
6. Pose for a pic outside FDNY's Hook and Ladder Company #8, the location used as the Ghostbusters' headquarters in the classic '80s comedy. While the firehouse doesn't offer tours, the firemen are really friendly and usually don't mind letting kids poke around.
7. Tour the historic Tug Boat Pegasus and the steam-powered lighthouse tender Lilac, which are often docked at Hudson River Park's Pier 25—check the park website for schedules.
8. Pick up a magic cupcake or other treat at Duane Park Patisserie and then devour it at the bakery's namesake park, one of NYC's oldest green spaces.
9. Drop in to an open art session or sign up for classes at the esteemed Church Street School for Music and Art.
10. Learn how to build custom-made robots out of everyday items at Brooklyn Robot Foundry Tribeca.
11. Peruse a wide selection of educational playthings at Boomerang Toys.
12. Stop by a rocking music class by Hopalong Andrew held on Friday mornings at the neighborhood Whole Foods.
13. Participate in an array of different crafting projects and classes at new-to-the-neighborhood The Craft Studio. They offer camps, classes, and birthday parties too.
14. Rock out for FREE at Washington Market Park's family summer concert series.
RELATED: Best Things to Do with Kids in Battery Park City

Take advantage of the Hudson River Greenway. Photo courtesy of NYC Parks
15. Stroll, cycle, or roller blade the Hudson River Greenway.
16. Experience one of NYC's most immaculate members-only indoor play spots, Playgarden.
17. Join neighborhood tot spot Manhattan Youth Downtown Community Center for access to its indoor pool and gym facilities, plus a ton of cool arts and athletic classes for toddlers to teens to adults.
18. Catch top-notch kids' theater at the Tribeca Performing Arts Center.

Kids will be impressed with the massive playground at Nelson A Rockefeller Park. Photo by Jody Mercier
19. Romp in the nearby Nelson A. Rockefeller Park, a true destination playground.
20. Mark your calendar for the neighborhood's must-see annual celebrations: Taste of Tribeca in spring, which benefits local public schools, and the North River Historic Ship Festival in summer. Worth noting here: The Tribeca Film Festival Family Street Fair, which for 15 years was one of the neighborhood's most beloved events for kids, was sadly cancelled in 2017 with no announced plans to bring it back...here's hoping the organizers may reconsider.
21. Hang out at the local Barnes & Noble, which has an impressive children's section and hosts storytimes and other events for families.
22. Sample some amazing Asian sweets at Takahachi Bakery. Their milk bread is sublime!
23. Shop from a carefully curated selection of trendy baby gear, toys, and apparel at Babesta.
24. Browse silly novelties and playthings at Balloon Saloon.

"The store exists to inspire children...to show them what our hands can do in collaboration with nature," says Playing Mantis owner Imelda McCain. Photo courtesy of the store
25. Check out handmade toys, games and crafts from all over the world at the ethereal Playing Mantis.
26. Shop for irresistibly cool kids' clothing at the new Everafter boutique. Next door is The West Side, with adult versions of the same comfortable luxe styles.
27. Chow down on plates of comfort food and scrumptious pies at Bubby's.
28. Neighborhood kids learn French, Spanish, Japanese, Arabic, and more in language classes at Tribeca Language.
29. Dine on some yummy pizza and pasta at Serefina.
30. Head over to Billy's Bakery for a delicious cupcake to end the day!
Read all of our posts about exploring Tribeca with kids.