The Craft Studio Brings Its Arts and Crafts Charm to Tribeca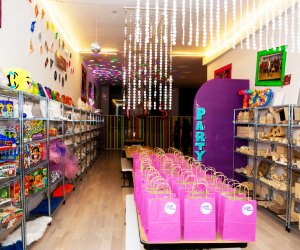 Downtown NYC just got lucky—The Craft Studio, long a mainstay of the Upper East Side has finally opened a Lower Manhattan outpost and fans of the wonderfully charming crafting mecca couldn't be happier. Not only is it a great place for kids to unwind after school, it is also a birthday party venue and a great option for play dates.
Learn more about the new location below, including what you can look forward to in the brand-new downtown arts space.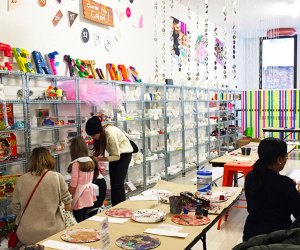 Get creative, messy, and have blast at Craft Studio's second location in Tribeca. Photo by the author
The Craft Studio's mission is to provide a fun, safe, and welcoming environment where kids and adults can get creative. Offerings include clay play, fabric crafts (can you say tutus and superhero capes? Big hits the day I was there!), ceramics, wood, canvas, lamps, and much more. And the customer service is phenomenal. Each guest is made to feel as if they are the only one in the studio.
The protocol is simple: You are greeted by a friendly staffer who explains the studio to you and shows you all the crafting options you can choose from. Everything is neatly displayed and easy for little hands to pick. After choosing your craft—we chose a wooden birdhouse—you are placed at a long picnic table alongside other crafters. The paint colors are vividly displayed on the wall and customers get to choose as many colors as they want. After painting, you are given cute hairdryers to help speed up drying so that you can get to the most fun of all: embellishing your craft! We chose feathers, pom-poms, buttons, and sequins. And if you want more, a staffer is there to accommodate your request.
Our crafts were ready to leave with us (as opposed to some crafting studios that require that you come back at a later time). And we never felt rushed—we could have spent hours in the space.
RELATED: LIC Welcomes Playday, an Art Center for Kid Creators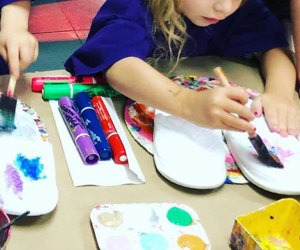 Choose from a variety of crafting options, including painting ceramics.
The studio is also home to a nice birthday party facility, something Lower Manhattan has had too few of. Parties are completely customizable, and the staff is willing to accommodate any theme. The space also offers camps and classes for kids of all ages (the Tween Drop-Off offers more in-depth crafts and experiences, while Little Hands is perfect for the toddler set). And each class ends with a dance party to get those wiggles out! The online calendar lists all upcoming workshops.
Bonus: The Craft Studio isn't just for daytime, either. It features an "after dark" option so that adults can enjoy crafting, too! They can accommodate up to 75 people in the space.
While crafts are the primary draw here, the toy shop is equally great. With so many local businesses shuttering, this is the perfect place to support a new business and pick up that birthday gift you're looking for. All merchandise is hand-picked by the staff based on what they feel the kids are most interested in.
My 5-year-old can't wait to go back to visit the "fun wall" of crafting opportunities. And if it is any indication on the level of fun he had, he hasn't once mentioned the wonderful toy shop. He only wants to craft! To me, that is a job well done!
Know Before You Go
You can call ahead to reserve space if you plan to go with a small group, which is a great idea for play dates. Most paints aren't washable; they do offer cute T-shirts and aprons, but if you really care about your clothing, it's best to wear older items. It can get a little messy, but that's part of the fun!
The Craft Studio is located at 174 Duane Street and is open Monday through Saturday, 10am to 6pm and Sunday, 11am to 6pm. The owner told us that they are hoping to sign their long-term lease asap, so they can stick around the neighborhood for a while.
Photos courtesy of the venue except where noted