Lincoln Center with Kids: 15 Fun & Mostly Free Things to Do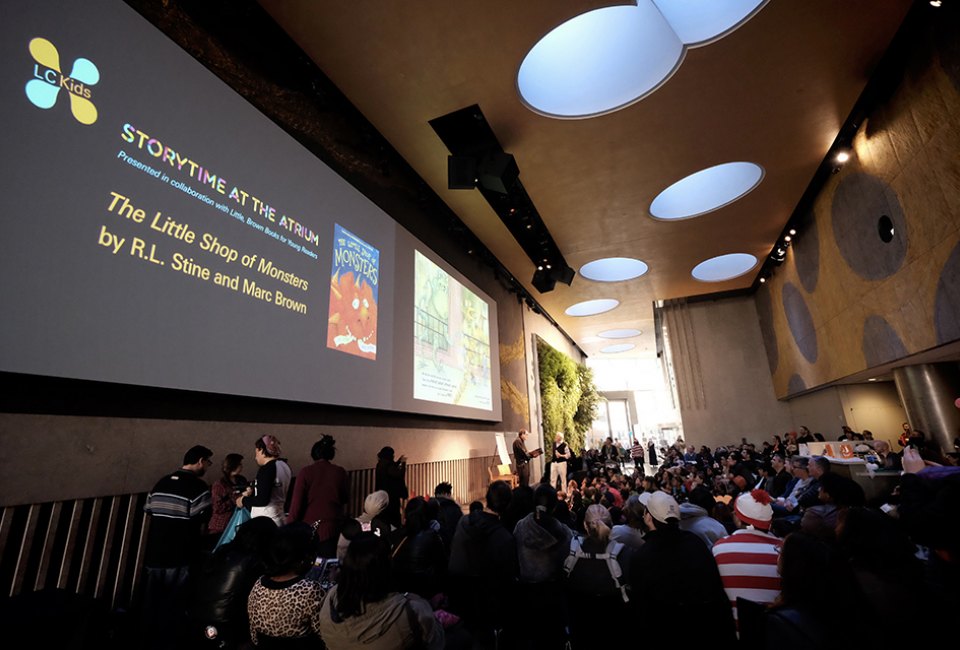 12/3/18
- By
Katie Nave
Lincoln Center, the grand performing arts mecca on Manhattan's Upper West Side, may seem out of reach to many. Prices for the fancy, high-culture shows are beyond most family budgets, but that shouldn't keep you away. From watching the iconic fountain dance to rooting out hidden gem performances that cost little-to-nothing, Lincoln Center is a rich cultural destination you don't need to be rich to enjoy. Here are our top 15 FREE or low-cost things to do with kids at Lincoln Center.
Sign up for our FREE newsletters to get posts like this delivered to your inbox.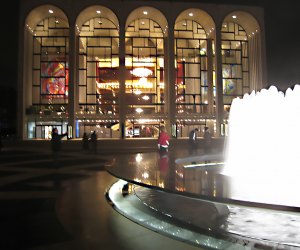 Lovely Revson Fountain is the centerpiece of Lincoln Center. Photo by Alan Mayers via Flickr
1. Marvel at the Lincoln Center Revson Fountain. Whether you're a native or a tourist, everyone should pose for a pic in front of this landmark. Visit between 7-8pm and you'll see six choregraphed "water ballet" shows during the hour, as well as the ever-changing lights.
RELATED: Family-Friendly Restaurants Near Lincoln Center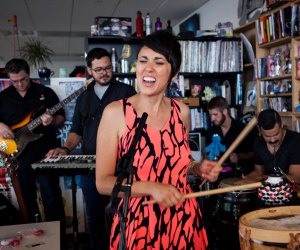 Gina Chavez will perform this coming April as part of "Free Saturdays at the Atrium."
2. Catch a family performance at the David Rubenstein Atrium. This spot is home to the FREE, family-friendly LC Kids entertainment series, with interactive performances on the first Saturday of the month.
3. Admire the architecture. Gaze at the stately facades of the David H. Koch Theater (home of New York City Ballet) and David Geffen Hall.
4. Be your own tour guide. Download the FREE Lincoln Center app for a do-it-yourself tour of the complex.

Enjoy a night out with the kids in the amazing green space at Damrosch Park.
5. See what's going on in Damrosch Park. This green space tucked behind David Geffen Theater has an open-air stage that features FREE performances.
RELATED: 30 Things to Do on the Upper West Side with Kids

Roam the beautiful grounds around the Milstein Pool and Terrace and see the Reclining Figure sculpture. Photo by Chung-Hung Eric Cheng via Flickr
6. Explore Hearst Plaza. Walk around the Paul Milstein Pool and Terrace to admire the Reclining Figure sculpture by artist Henry Moore, then climb the Illumination Lawn, an elevated, inclined grassy space where you can take in the view, sit and catch some rays, have a picnic, or roll down the hill.
7. Check out the New York Library for the Performing Arts. This special NYPL branch has a nice gallery space that hosts temporary exhibits. There are frequent FREE performances and talks.
8. Romp on the stairs outside Alice Tully Hall. Children love climbing the giant steps to nowhere that end in a small triangle that juts out over the sidewalk.
9. See cheap or FREE performances. The students at the Juilliard School offer frequent performances.
10. Catch a film. The Film Society of Lincoln Center offers lots of great foreign, classic and indie movies which are FREE-to-low cost and best for tweens to teens.
11. See the holiday lights. Lincoln Center hosts the FREE, activity-packed Winter's Eve at the start of the holiday season, with a tree lighting, music, and live performances.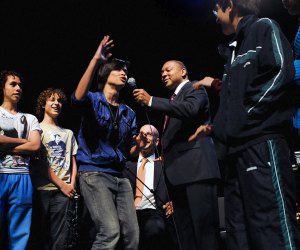 Let Jazz at Lincoln Center and Wynton Marsalis introduce you to the infectious energy of jazz.
12. Get jazzy. The Jazz for Young People program runs throughout the school year and introduces families and school groups to the greats of jazz in narrated hour-long concerts. And the long-running Midsummer Night's Swing hosts a kid-focused dance party as part of their season every year.
13. Support local crafts. Spend the day shopping for one-of-a-kind items made by 150 craftspeople at the CraftNewYork fair, held annually in summer.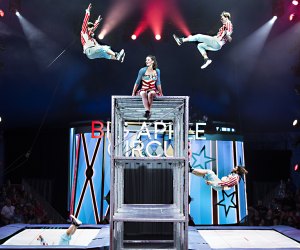 Spicy Circus Trampoline Act at the Big Apple Circus. Photo by Juliana Crawford
14. Join the circus. Every winter, Lincoln Center's Damrosch Park plays host to the incredible Big Apple Circus, recently rejuvenated with a dynamic female ringmaster and lots of women-powered acts, in addition to old favorites.
15. Relax. Lincoln Center is now offering a series of relaxed performances adapted for neurodiverse audiences, including children with autism or other disabilities.
Lincoln Center is located between Columbus and Amsterdam Avenues from 62nd to 65th Streets. If you're hungry after all the exploring, be sure to check out our post about kid-friendly restaurants near Lincoln Center.
Unless noted, photos courtesy of Lincoln Center
Places featured in this article:
---
Lincoln Center for the Performing Arts