Big Apple Circus Returns to NYC with New Ringmaster and Incredible Acts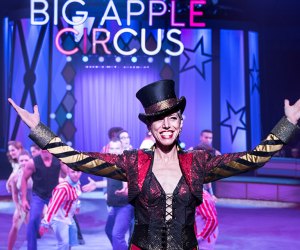 At a time when the world sometimes feels like a circus, it's soothing to find a real, true, exuberant circus wowing audiences at Lincoln Center. The Big Apple Circus is back for its 41st edition under an intimate one-ring big top, where no seat is more than 50 feet from the stage. While many of the thrills are new, the joyful effect remains the same.
Stephanie Monseu, the fabulous new female ringmaster, keeps the show moving at an exhilarating clip alongside two wonderful clowns, Mark Gindick and Adam Kuchler. And the jaw-dropping array of acts, all backed by a live band, includes both veterans (Jenny Vidbel and her adorable animals) and first-timers (horizontal juggler Victor Moiseev). We've got the scoop on all the audience favorites, whether it's worth splurging on VIP tickets, and how you can connect with the circus stars after the show.
My mom took me to the very first Big Apple Circus when I was a kid (please—don't do the age math) and I love continuing that tradition with my daughter. As seasoned circus-goers, I'm confident saying this is the shortest Big Apple show we've seen, which isn't a bad thing. It clocks in around two hours including intermission, which means you can take kids to a 7pm performance on a school night without feeling too guilty. Big Apple Circus is a showcase for feats of agility, strength, and comic timing, not lions and elephants on parade, so it's probably a better fit for preschoolers and up, though there is a stroller check available for younger circus-lovers..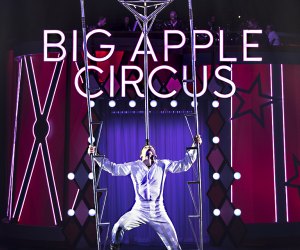 Emil Faltyny scales a pair of zigzagging metal poles while balancing a massive metal cube on his forehead.
The show has a wisp of a story: An everyman (Gindick) accidentally wanders into the ring and, immediately dazzled, decides he wants to join the troupe. With Kuchler as his guide, he attempts to learn the ways of the circus throughout the evening, often with hilarious results. In between these bits are the feats, which kick off with Emil Faltyny. Although he's billed as a freestanding ladder artist, he climbs a series of kooky contraptions that don't look anything like what you see hanging from fire escapes. At one point he scales a pair of zigzagging metal poles while balancing a massive metal cube on his forehead. I've never seen anything quite like it.
RELATED: Kid-Friendly Restaurants Near Lincoln Center to Hit Before the Circus

Watch big red orbs defy gravity as they swirl around Victor Moiseev.
Other highlights from the first act include Kuchler's masterful manipulation of about a dozen cigar boxes, which is as funny as it is impressive; Vidbel's majestic horses, which earn "oohs" and "ahhs" from the crowd from the moment they gallop into the ring; and Desire of Flight's super-cool aerial straps duet. My daughter and I weren't as into Victor Moiseev's horizontal juggling act as our fellow audience members. Admittedly, it's striking to watch big red orbs defy gravity as they swirl around him instead of over his head. But it's an obvious illusion, with the balls suspended on wires.
RELATED: 15 Must-Do Events in NYC This Season

The Wall Trampoline act is five acrobats literally bouncing off the walls of a plexiglass structure.
Act II was non-stop, from Spicy Circus' Wall Trampoline opening with five acrobats literally bouncing off the walls of a plexiglass structure, to Vidbel's trained doggies (and one pig!), to the fierce Flying Tuniziani finale with side-by-side aerialists. This is the first time Big Apple has showcased a so-called double-wide trapeze act, and it's breathtaking to watch the performers soar through the air in tandem. But Ammed Tuniziani's solo quadruple somersault is what really gets the audience cheering. Very few people are able to perform this stunt, and it really gets your heart pumping.

Duo Fusion is an amazing act of strength and balance.
All that said, my family's favorite act was Duo Fusion, a husband-and-wife hand-to-hand balancing team. Virginia Tuells and Ihosvanys Perezhand perform the usual lifts and poses, but the twist is that she is the one holding him up. Talk about a strong woman! It was empowering to watch her in action. And moms take note: she has a toddler and those abs. #LifeGoals.

Hobnob with the stars before and after the show! Photo by the author
Something else new this year: The chance to hobnob with the performers. Select cast members mingle in the Hall of Wonders, aka the concessions area, before and after the show (unless you're at a matinee, then it's just pre-performance). Even though you only get a chance to do a quick hello and photo, it really enhances the experience.
I have my quibbles—the intermission is too long so they can push overpriced food and merch (hey, every show does this), and while the VIP tickets come with cocktails and admission to the glorious Spiegeltent, a wooden structure with stained glass and mirrors that's great for selfies, it's better for couples splurging on date night than for families.
But why gripe about minor details when the big picture is so captivating? Yes, Big Apple's most famous clown, Grandma, is gone for good (feel free to google exactly why), but you won't miss her. With Ringling Bros. and Barnum & Bailey Circus kaput and the Big Apple Circus' recent brush with bankruptcy, it just feels good to support this company of unique artists. And it's a fantastically fun escape from the real-world circus we're living in.
Big Apple Circus is playing at Lincoln Center's Damrosch Park through Sunday, January 27, 2019. Tickets start at $35.
Unless noted, photos by Juliana Crawford