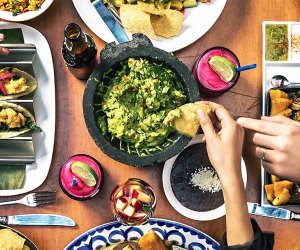 Best Lincoln Center Restaurants for Families
Though many of the restaurants and cafés surrounding Lincoln Center might seem too upscale for family dining or a quick, inexpensive snack, there are plenty of affordable, kid-friendly eats hidden in plain sight. As a plus, most of these places cater to the pre-theater crowd, know local productions and schedules, and are more than happy to make sure you're in and out with time to spare before the curtain rises. Whether you're in the neighborhood for a concert, the circus, or the ballet, or just to check out the famous fountain, here are our favorite spots to grab a bite without breaking the bank—or your patience.
Find more great kid-friendly eateries in our NYC restaurant guide.
Sit-Down Meals
Shun Lee West and Shun Lee Café
43 West 65th Street between Broadway and Central Park West
For some class-act Chinese food in a retro setting, the decades-old Shun Lee is one of the city's standbys. There are two dining options to choose from. Well-behaved kids can enjoy fine dining—and ogle the wraparound glowing dragon on the wall—at the main restaurant, Shun Lee West, where dishes include the intriguing Ants Climb on Tree and Lily in the Wood. For a more casual setting, head to the café for dim sum. Kids love selecting dumplings and other treats from the carts that circle the tables.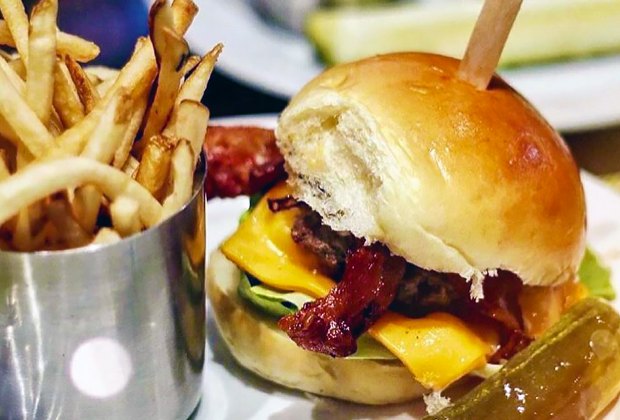 Just the right size meal for little hands at Brooklyn Diner. Photo courtesy of the diner
Brooklyn Diner
212 West 57th Street between Broadway and Seventh Avenue
Conveniently located between Carnegie Hall and Lincoln Center, this fun, pseudo-classic diner has a Brooklyn sense of humor. The gigantic "15-Bite Hot Dogs" are sure to impress kids (how many bites can they eat it in?), and with other comfort-food choices like sandwiches, pasta, and fajitas, your family will be as happy as the diner's famous "pigs in a blanket."
RELATED: 30 Things to Do with Kids on the Upper West Side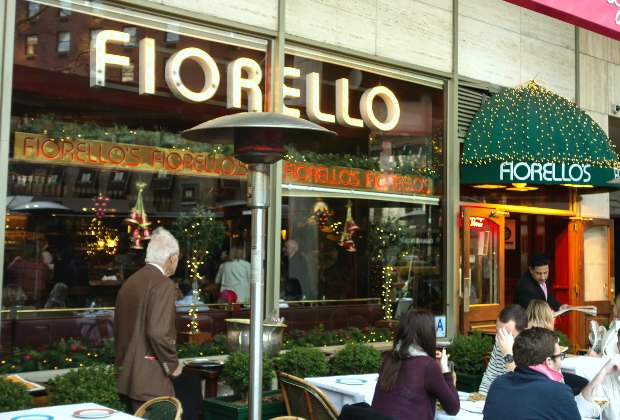 This cafe is the classic post-Lincoln Center stop. Don't let the white tablecloths scare you; kids are welcome. Photo by Ralph Daily via Flickr.
Café Fiorello
1900 Broadway between 63rd and 64th Streets
For lovers of all things pasta and pizza, Café Fiorello, right across from Lincoln Center, is a perfect choice. Another plus: since this is a busy restaurant, noisy kids are no problem. The prices can be a bit steep.
P.J. Clarke's
44 West 63rd Street between Broadway and Columbus
This outpost of the historic NYC pub can be loud and crowded, but its traditional surf-and-turf menu—and breezy corner location directly across from Lincoln Center—can't be beat. The mini cheeseburgers and shoestring fries are great for smaller appetites, while older kids will dig into the famous bacon cheeseburger and cast-iron mac and cheese.
Rosa Mexicano
61 Columbus Avenue at 62nd Street
We're not talking standard taco stand fare at this Lincoln Center favorite. The cuisine is upscale Mexican, but there are plenty of yummy choices for all ages, including a Young Amigos menu (with activity sheet), and the restaurant is happy to tone down the spices. Kids will delight in watching the fast-fingered waiters manhandling avocados as they whip up the restaurant's famous tableside guacamole.
The Smith
1900 Broadway at 63rd Street
Conveniently located right across the street from Lincoln Center, this spot is spacious and noisy so you can feel zero guilt about strollers and meltdowns. The atmosphere is causal with crowd pleasing burgers and mounds of fries. The sidewalk seating is a huge bonus in the warmer months.
Quick Eats
Breads Bakery
1890 Broadway between 62nd and 63rd Streets
As its name implies, this bakery churns out delectable breads and pastries from early morning into the evening. This is a great spot to come for a late-afternoon tea-and-a-treat; the chocolate babka and rugelach are local favorites, but if you're in the mood for something savory, the tuna sandwich and cheese straws are justly famous.
La Traviata Pizza
101 West 68th Street between Broadway and Columbus
A hole-in-the-wall is often where you'll find the best NYC slices, and La Traviata is no exception. An off-the-beaten-track Lincoln Center mainstay, it offers the usual pizzeria fare—slices, garlic knots, calzones—for the right price in a no-frills setting. Note: Table seating is limited, but you can teach the kids how to eat pizza in a folded paper plate while walking down the street, like a real New Yorker.
Le Pain Quotidien
60 West 65th Street between Broadway and Central Park West
Tucked just off Broadway's restaurant row, this cozy, casual café features huge wooden family-style tables and organic, Belgian-inspired eats. The affordable bites range from delectable baked goods to soups, quiches, and open-faced "tartine" sandwiches served on boards. Also a great spot for a pre-Nutcracker hot chocolate served in a bowl, naturellement.
RELATED: Best Kid Eats Near Times Square and Rockefeller Center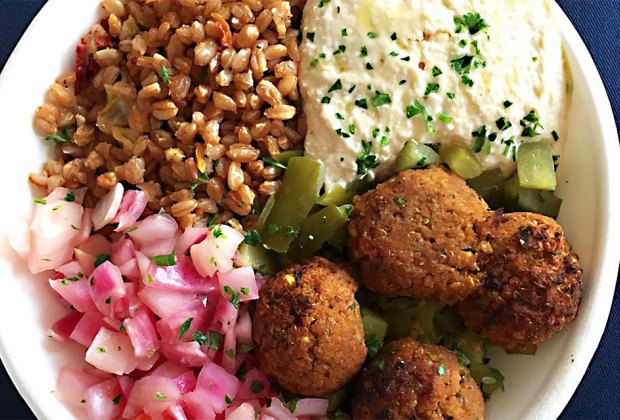 Creamy hummus and fluffy pita make Nanoosh a win with kids (and parents). Photo courtesy of the restaurant
Nanoosh
2012 Broadway between 68th and 69th Streets
If eating organic is your thing, this cute, affordable restaurant is for you. You'll find an extensive menu of Mediterranean dishes, including delicious falafel and hummus, and kids will love the Powerfood Plates, which allow you to create your own meal from a base, protein, and toppings. This stylish sliver of a restaurant is perfect choice for a pre-show bite.
Sweet Treats

Magnolia Bakery's cupcakes are a must-try for all. Photo courtesy of the bakery
Magnolia Bakery
200 Columbus Avenue at 69th Street
This NYC-founded chain bakery offers up delicious baked goods of all varieties (brownies, cakes, icebox treats), but its cupcakes have become a bit of local mainstay. And what kid will pass up the chance to lick the pastel frosting off of one of these deservedly famous confections? For a more grown-up bite, indulge in the equally celebrated banana pudding.
Levain Bakery
167 West 74th Street at Amsterdam Avenue
This subterranean bakery's signature gigantic, brownie-like chocolate-chip walnut cookies may be the most decadent in the city (Note: There is no nut-free version).
Sugar Factory
1991 Broadway at 68th Street
If you're looking for an indulgent, over-the-top experience, look no further than the newest Sugar Factory location. Expect to be surrounded by numerous birthday celebrations, brightly colored candies, and towering desserts. The high-energy, sweet spot is more about the ambiance than the actual dining, so we recommend this one for special occasions that allow for a sugar high.
This article was first published in 2009 but has since been updated.