Destination Playground: Central Park's Heckscher Playground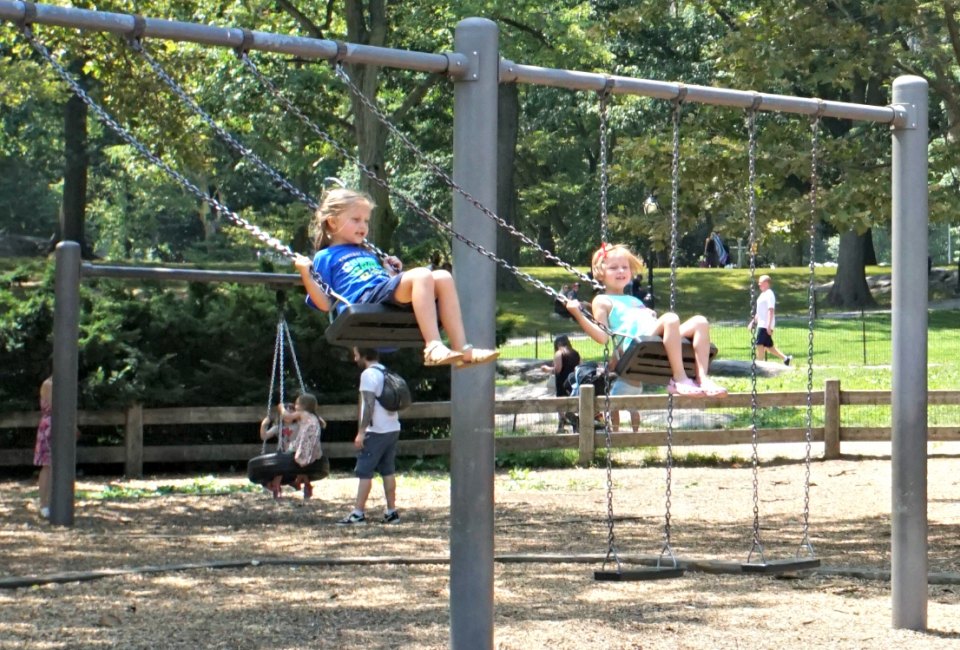 8/23/17
- By
Jody Mercier
The Central Park Conservancy has been on a mission of late renovating playgrounds all along its border from south to north, but one playground has stood the test of time, not only in the decade-plus since I've been a parent, but well beyond: Heckscher Playground.
Ask any native New Yorker, and they'll tell tales of their youth spent frolicking on the interconnecting pyramid-like structures in this 1.8-acre kiddie paradise, which is Central Park's oldest and largest playground.
Though originally built in 1926, Heckscher Playground was last renovated in 2006. Featuring different play areas for preschoolers and big kids, the playground is smartly designed. It's pyramids are hard to resist in any season, but it's a particularly cool destination in the summer when the spectacular sprinklers send towering jets of water into the air, and it's water-filled walkways provide a cool respite for tired toes.
Looking for more inspiration for your next playground day? Visit our Parks and Playgrounds Guide.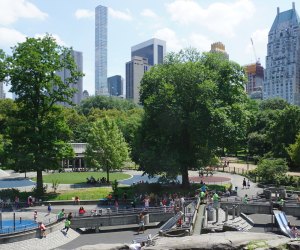 Stretching over 1.8 acres, Heckscher is the largest playground in Central Park.
Its location, near the middle of the park at 61st Street, makes it a hot spot for tourists, and on any given day, your kids will play with visitors from different neighborhoods, boroughs, counties, and states, which gives it a true cosmopolitan feel you won't find as easily at the neighborhood playground.
The park's proximity to a variety of other kid-centric destinations makes it a a great stopping point during a trip to or from Wollman Rink (home to Victorian Gardens amusement park during the summer), the Central Park Zoo, and the carousel.
Visitors to the playground enter through the breezeway of the Heckscher Building. Take note: There are two sets of bathrooms here. The ones toward the exterior are meant for the general public, while the ones inside are for families. However, the former often have shorter lines.
RELATED: Hidden NYC: 21 Fun Things To Do in Central Park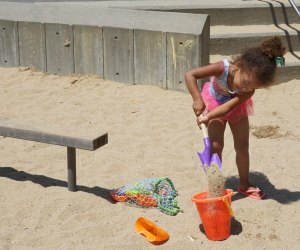 The sandbox always thrills preschoolers and tots.
Toward the right is the preschool playspot where my 3-year-old held court in the giant sandbox during our most recent visit. There are baby-sized bucket swings, a pair of tot-friendly pyramids, a climbing net, and a gentle little kid sprinkler. Had my daughter not caught wind of the fun her older siblings were having across the way, she would have played here all day long.
For big kids, it's hard to say just what the main attraction is. It might be the aforementioned sky-high sprinklers—there are two sets, actually, so whether your kids prefer running through a gentle mist or a geyser, they'll be happy.
The climbing structure, with multiple entry points, pyramids, and exit slides aren't too shabby, either.

Two sets of sprinklers keep little ones cool in the summer months.
Little daredevils and escape artists, however, will probably love the park for what's waiting outside: Umpire Rock. One of Central Park's giant boulders abuts the playground, and indeed, if you follow the stream to its headwaters, they seem to flow straight from the rock, and there's nothing but a couple of chains to keep kids in the playground. The allure of climbing to the top is usually too much to resist.
If you prefer a more old-school feel to your playground experience, head to the southern edge of the park, where the surface gives way to mulch chips and a series of swing sets and two big, old-fashioned slides sit in the shade of grand old trees. There's also plenty of wide-open space to ride a scooter, kick a soccer ball, or throw a Frisbee within the playground's borders; the area outside the park is even dotted with a few shady picnic tables if you want to make your journey a day trip.
RELATED: 23 Best Water Playgrounds and Sprinklers for Kids in NYC

The playground hosts all the traditional fun like slides and swings, plus a big boulder (Umpire Rock) for climbing.
There are a few downsides to visiting Heckscher. Due to its size, it's difficult to keep an eye on multiple children, especially if you're tracking a little kid and big kid on opposite sides of the park. Since the entrance isn't gated, curious grown-ups and teens tend to wander in, too.
But don't let these trivialities dissuade you. Heckscher's not your average neighborhood playground, and a trip here will inspire long-lasting memories.
Heckscher Playground is located mid-park between 61st and 63rd Streets. Enter at Central Park South and Seventh Avenue.
A previous version of this story was originally published in June 2011 but has since been updated.
All photos by author.