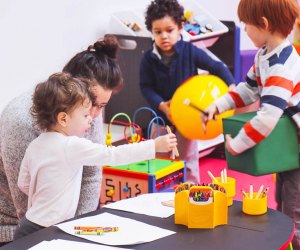 Queens Welcomes New Fun Factory Okabaloo for NYC Kids
Astoria and Long Island City have seen a tremendous leap in child development venues over the past five years, including play spaces and sports centers. Yay! But even so, there are a few nooks and crannies of these two Queens neighborhoods that are still activity deserts, in need of family-friendly fun.
Nestled on the border of these two neighborhoods is Okabaloo, a new child-enrichment center and play space that brings art, music, and discovery to the neighborhood. Read on to find everything you need to know before you head over.
Artists and mothers—as well as sisters—Olta and Bora began Okabaloo in November 2017 with a focus on self-expression and exploration for kids and families. What makes Okabaloo particularly unique is its array of offerings—from music lessons and yoga to theater production and painting—it's a one-stop shop for your budding explorer.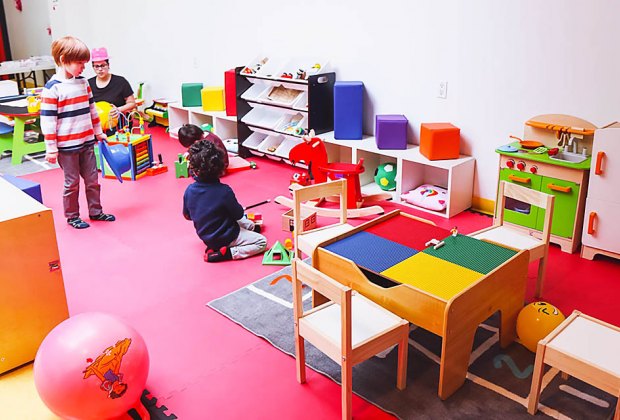 The PlayZone is an open play area where kids can discover, touch, and feel with toys geared toward educational development.
I visited Okabaloo with my two sons, ages 5 and 2, for a community event—Craft and Baking—hosted by a mother-led Facebook group and Okabaloo. Mothers brought yummy eats and shared stories of knitting and creating, while the tots played safely in the bright and cheery space. The equipment and toys are well cared for and clean. The staff is incredibly warm and friendly.
Although not a part of their regular schedule, this event is the sort of thing that makes Okabaloo special. They are very involved in the community and are happy to co-host events that enrich lives. Upcoming events include puppet shows, an "Easterrific & Bunnylicious" kids party, graffiti workshops and the Queens-Made Market—a community-supported arts and crafts bazaar.
Okabaloo offers a regular schedule of art programs like "Fun & Fine in Art." There's also Zumba, ballet, yoga, theater, and much more. Check the calendar for specific details. And for the Mozart in every child, there are private lessons in violin, guitar, drums, and other instruments.
PlayZone is one of its regular attractions. It's an all-in-one play area for babies to 6 years. Decked out in wooden toys geared toward enrichment, PlayZone is designed for both open play and scheduled structured activities.
Okabaloo offers admission packages, but drop-ins and drop-offs are welcome, too. Some classes are semester-based, and as Okabaloo is still new, things are being added every day, so check its website.
RELATED: LIC Welcomes Playday, an Art Center for Kid Creators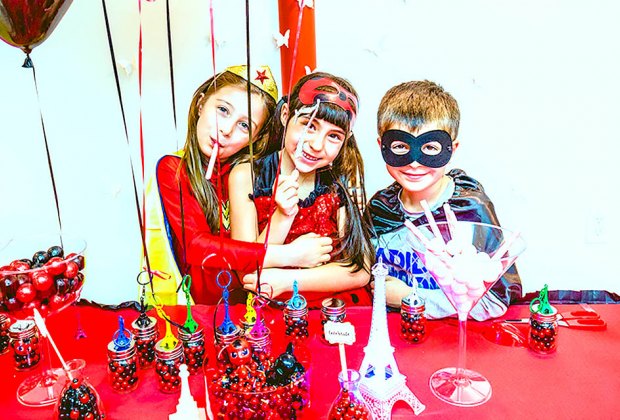 Birthday parties are curated to kids' desires, aiming for an unforgettable experience.
And, of course, Okabaloo hosts birthday parties for kids too. There are basic price points, but the add-ons and choices seemed nearly limitless, making it a great option for young children with particular expectations and interests. Packages start at $550, which includes two hours for 12 children, 30 adults, invitations, decorations, paper goods, staff assistance, and a special gift for the birthday child.
Things to Know
The PlayZone and Movement Studios are shoe-free (wear socks) and food-free. Food and water are allowed in specific areas. Outside food is welcome in those specified zones.
There is stroller parking both inside and, in warm months, outside.
There is curbside drop-off and pick-up for age-appropriate children.
The bathroom is handicap accessible and has a changing table.
There is both metered parking and free parking in the vicinity, making it convenient to drive.
The closest subways are the N, W at the 39th Ave. stop and the E, M, R at the 36th St. stop. The N, W stop at 36th Ave. is the closest stop but under construction as of spring 2018, so please check in with the MTA.
Okabaloo is located at 35-52 32nd St., Long Island City, and is open Monday—Friday, 10am to 7pm and Saturday 11am to 7pm.
All photos courtesy the play space