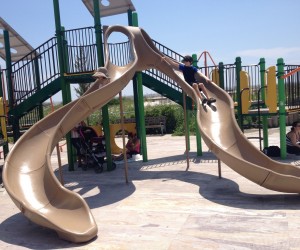 12 Places to Play in Rockaway Beach
Rockaway Beach offers plenty of sun-kissed fun for families. After all, it's the only place in all of New York City where surfing is allowed! But what lies beyond the soft sand and coastal waves? Plenty.
So far we've offered a glimpse at everything this Queens neighborhood has to offer families, including what to see and do and the best places to eat with kids. Now, we round up the best places to play. In addition to its namesake beach, you'll find a ton of playgrounds and parks for picnicking, but also great indoor play spots, such as local libraries and even theater. Read on for details about our favorite places to romp and explore with kids in Rockaway.
Outdoor Play
Rockaway Beach & Boardwalk
Beach 3rd Street to Beach 153rd Street
The beach and boardwalk are the highlights of this jewel in Queens. Dip your toes in the gorgeous sand and you will instantly forget you are in the big apple. The stretch along Rockaway Park is best for little ones, as there are several playgrounds (and bathrooms) along the coastline that offer fun and shade.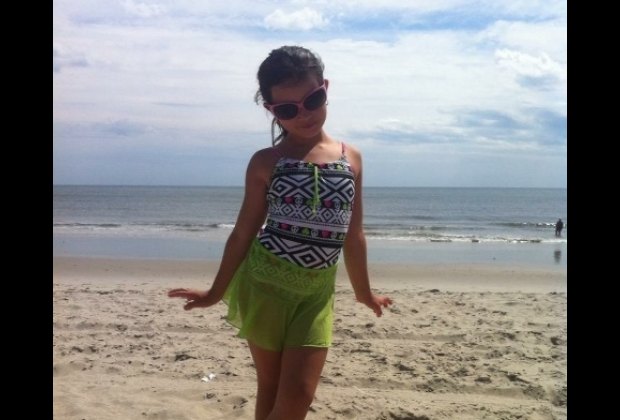 Nothing beats a day at the beach
Rockaway Park
Beach 9th to Beach 32nd Streets
This 27-acre park was rebuilt after Sandy. The mile-long green strip borders the beach and runs from Beach 9th Street to Beach 32nd Street. You'll find playgrounds galore with cool water features, nets to climb and oodles of things to swing from.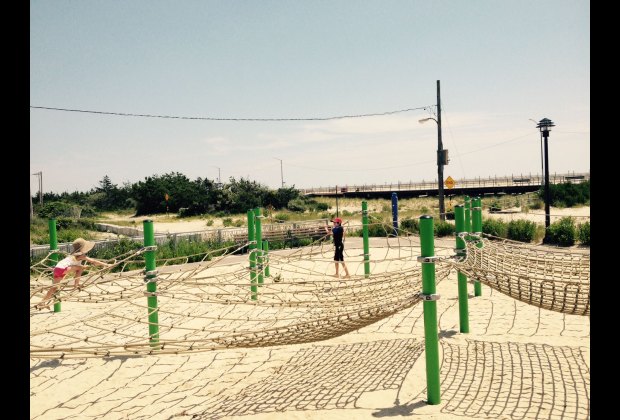 This part of the Beach 30th Street Playground is ideal for climbers.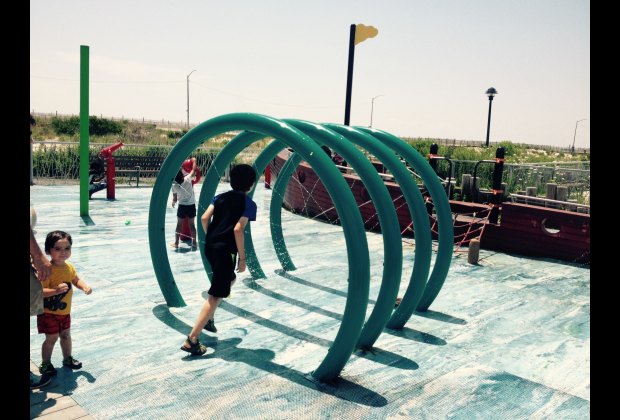 Beach 30th Street also has an awesome playground and water feature.
Go Surfing
Beach 67th to 69th Streets
Beach 87th to 92nd Streets
Rockaway Beach is the only place to surf in all of NYC. There are two designated surf areas (noted above). If your kid wants to take a lesson or you have a natural among you, Rockaway waves are sure to thrill the whole family. Note: lifeguards are on duty from 10am-6pm.
Rockaway Beach Surf Club
302 Beach 87th Street
This cool beach hangout is part restaurant, part cultural center and a perfect complement to the urban surf scene going on in the Rockaways. After riding the waves, enjoy a delicious taco and awesome people watching. Rockaway Beach Surf Club also supports local artists and offers amazing cultural events including music and art exhibits–many suitable for tween/teen visitors.
Almeda Playground
Beach 65th Street at Beach Channel Drive
This smaller playground is a terrific option if you need a break from beach fun. My kids love the twisty slide–and I love the shade.
Beach Channel Playground
Between Beach 79th-80th Streets and Rockaway Beach Boulevard and Beach Channel Drive
Beach Channel Playground has a fun-house theme and is a truly unique playground experience. My daughter is especially fond of the tiny Ferris Wheel structure and, even though he is way too big, so is my son.
Bayswater Park
Bay 32nd Street and Beach Channel Drive
This park has something for children of all ages, including several play structures, a spray shower water feature, comfort station and ample shade and seating. Located on the bay side of the peninsula, Bayswater Park is also perfect for picnicking.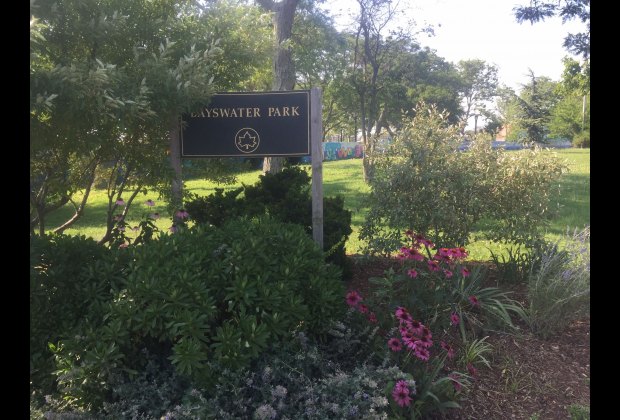 Bayswater Park is off-the-beaten path.
Rockaway Community Park
Almeda Avenue between Beach 51st and 58th Streets
Also on the Jamaica Bay, Rockaway Community Park is where we bring our binoculars, walking sticks and fishing rods. My son, the greatest nature-lover in our family, never wants to leave. And my daughter loves the playground when the fish aren't biting.
Indoor Play
Arts in Parts
190 Beach 96th Street
​Arts in Parts is a creative learning nonprofit organization offering FREE drop-in art workshops on Sundays for all ages, as well as after-school and summer programming.
Rockaway Artists Alliance
260 Beach 116th Street
The Rockaway Artists Alliance is a treasure in the community, offering up imaginative exhibits and classes in an effort to make art more accessible to children—and they do a wonderful job.
Rockaway Theatre Company
The Post Theatre, Building T4
Along with the Rockaway Artists Alliance, the Rockaway Theatre Company is a beloved neighborhood institution located in Fort Tilden. This is community theater at its very best, with lots of kid-friendly performances.
Queens Borough Public Libraries
Seaside Branch, 116-15 Rockaway Beach Boulevard
Far Rockaway Branch, ​1637 Central Avenue
Peninsula Branch, 92-25 Rockaway Beach Boulevard
If you are facing a rainy day, head for one of three public libraries located on the peninsula: Seaside, Far Rockaway and Peninsula (the Peninsula branch is currently closed for renovation but slated to reopen in August). Each offers children's programming for all ages. Topics include science exploration, Lego building and more.
Check out our Rockaway Neighborhood Guide for more ways to explore the area.