Kid-Approved Rockaway Beach Restaurants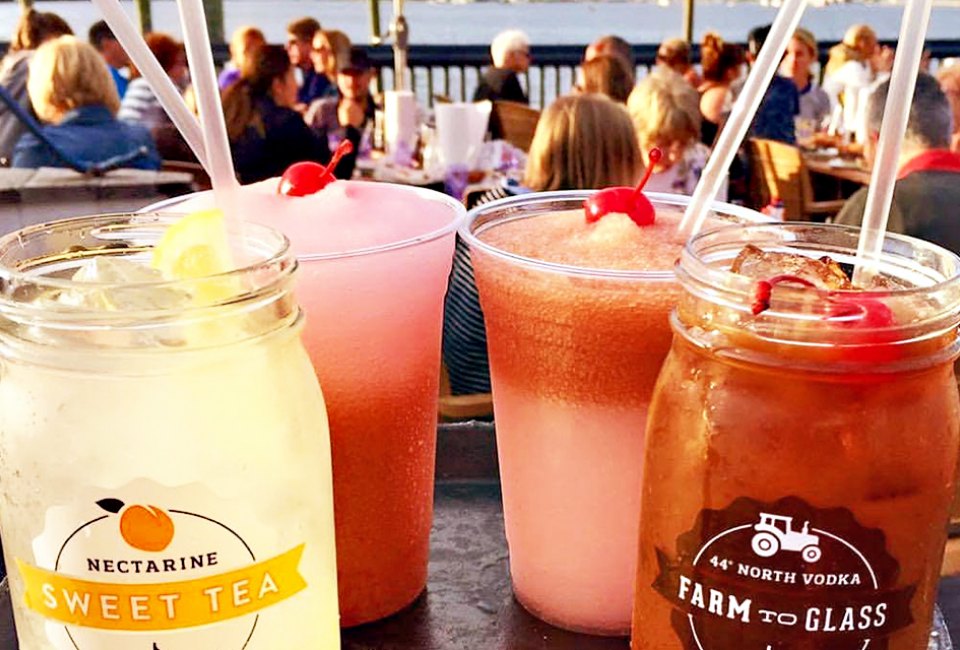 7/18/19
- By
Mariko Zapf
Headed to the family-friendly beaches of the Rockaways this weekend? Be sure to pack an appetite along with your bathing suits. Queens' Rockaway dishes up plenty of options. You'll find typical beach fare of course, with hot dogs and burgers aplenty, but the area has also earned a reputation with foodies for its more adventurous eats. Whether you're looking for the best eats on the boardwalk or a delicious dinner to cap off a day of splashing in the waves, here are the best places to eat in the Rockaways with kids.
Whit's End
97-02 Rockaway Beach Boulevard between Beach 97th and 98th Streets
The newly redone Whit's End serves up some of the best pizza pies in the hood. Plus, the kiddos will get a kick out of the impressive collection of taxidermy animals hanging on the walls, along with the upbeat music.
RELATED: Best Things to Do in Rockaway with Kids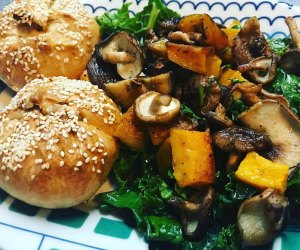 Uma's offers up fresh Uzbek cuisine just a short hop from the beach.
Uma's
92-07 Rockaway Beach Boulevard between Beach 92nd and 94th Streets
Uzbekistan cuisine, anyone? Don't worry, it's not too exotic for kids. This true ma-and-pa establishment offers lots of tasty kid-pleasers like butternut squash dumplings and borscht. It's cozy inside and families are always warmly welcomed. Don't want to go inland to the eatery? Uma's also offers take-out at the 97th Street Concession on the boardwalk.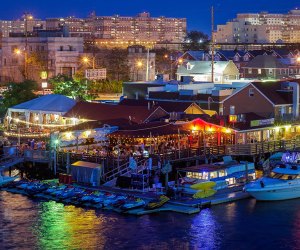 Dine on the deck and savor the delicious food and beach air at Thai Rock.
Thai Rock
375 Beach 92nd Street at Beach Channel Drive
My kids love coming to this waterfront Thai joint for its awesome children's menu that offers an Asian twist on basics like chicken nuggets and burgers. The crispy spring rolls and Pad Mee noodles are our favorites. Whatever you order, sit outside on the deck overlooking Jamaica Bay, which is particularly gorgeous as the sun sets. You might want to avoid staying past dark with the kiddos, though. Thai Rock hosts live music most nights and becomes quite the bar party scene.
Concessions on the Boardwalk
Beach 17th, 86th, 97th and 106th Streets
Open seasonally, each of the four concession stands along Rockaway Beach has a different vibe and offers fresh fare. The crowds on weekends are intense, but after your inevitably long wait is over, you'll find most folks are happy to share the shaded picnic tables. Note: Many vendors only accept cash.
Beach 17th Street: This small concession is home to DredSurfer Grill, which specializes in jerk chicken and the ubiquitous burgers and hot dogs.
Beach 86th Street: More burgers and fries at Rippers, but it's beloved by locals for its fresh ingredients.
Beach 97th Street: The largest concession on the boardwalk, this spot offers a tasty variety of choices from American South barbecue to South American specialities. My family's favorites are Breezy's BBQ, the smoothies and sandwiches at LaFruiteria and CitySticks ice cream for dessert.
Beach 106th Street: It's comparatively quiet at this cozy concession, which serves delicious Venezuelan arepas (corn pancakes stuffed with yummy fillings) from Caracas Rockaway.

Grab a vegan chicken burger at Cuisine By Claudette.
Cuisine By Claudette
143 Beach 116th Street at Rockaway Beach Boulevard
Although you can get a terrific cup of java at Claudette's, don't dismiss it as a coffee shop. The menu ranges from eggplant Parmigiana to a variety of quinoa and lentil salads, as well as traditional sandwiches, all made with fresh ingredients and served in a cozy, family-friendly environment.
Pico
419 Beach 129th Street between Cronston and Newport Avenues
Somehow simultaneously cozy and spacious, this Mexican spot has a menu featuring all the staples but with unique tweaks like guacamole with crab meat. Evenings get crowded, so we usually go for lunch only. I highly recommend ending your meal by devouring the bread pudding.
Bungalow Bar & Restaurant
377 Beach 92nd Street at Beach Channel Drive
The go-to neighborhood spot for seafood, Bungalow serves up great fried calamari and fish tacos. But for us the main attraction is its view of Jamaica Bay. Parking can be a challenge, so if you drive, look for space a few blocks inland and walk.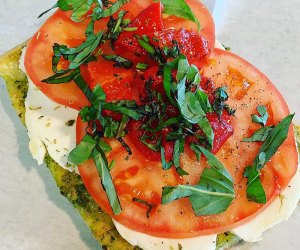 Try a fresh Crustina slice at the Boardwalk Pizzeria and Restaurant.
Boardwalk Pizzeria & Restaurant
68-20 Rockaway Beach Boulevard between 68th and 69th Streets
Grab an authentic New York slice from this popular pizzeria and you'll be reminded you're in the Big Apple after all. The pies are fresh and delicious—our favorite is the pizza rustica—but the menu also includes traditional pasta dishes and sandwiches.
Rockaway Beach Bakery
87-10 Rockaway Beach Boulevard between 87th and 88th Streets
Don't miss out on the daily selection of delicious croissants, sticky buns, and pies at Rockaway Beach Bakery. Try the salted butterscotch blondie for an indulgent, unforgettable experience.
RELATED: Best Ice Cream and Ices in Queens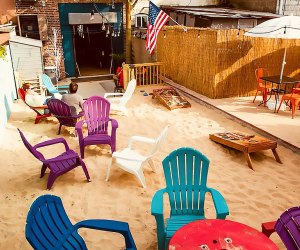 Enjoy the beachy backyard at Mara's Ice Cream Parlor.
Mara's Ice Cream Parlor
92-14 Rockaway Beach Boulevard between Beach 92nd and 94th Streets
Enjoy a cool treat at the family-owned Mara's Ice Cream Parlor. The laid-back space is the perfect way to wrap up a day in the sun. Take your scoop, slushie, or ice straight to the beach or enjoy this spot's backyard.
Photos courtesy of the restaurants/shops
A version of this post was originally published in 2016; it has been updated for 2019. Katie Nave Freeman contributed additional reporting.
t Click Here to Sign Up!