2023 Annual Bus Festival
Emily Warren Roebling Plaza

Improv 4 Kids Off Broadway Live
New York Improv Theater Times Square

Spark Math: Free Trial Class
Virtual
Sign up for our free newsletters.
Rockaway Park in Queens: Renovated Playgrounds, Water Play Area and Skatepark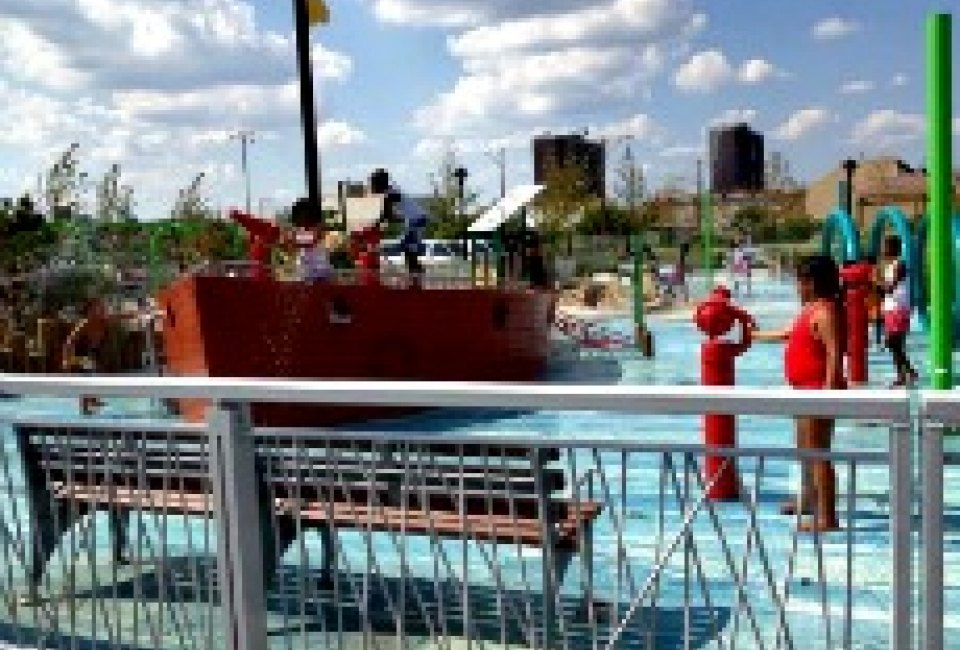 8/26/12
- By
Alison
As a longtime resident of Far Rockaway, Queens (or "The Rock" as we locals call it), I've been thrilled by the evolution of my neighborhood over the past few years. And now we have a brand-new, state-of-the-art green space to enjoy: Rockaway Park, which just reopened after a $30 million renovation.

Thanks to this truly stunning, mile-long, beachfront park, there's a lot more to do than just swim in the ocean. New attractions include two fantastic playgrounds; a water play area; a massive skatepark; a football field; handball and basketball courts; a running track; a performance space; picnic tables, barbecue grills; and lots of landscaped nature. Suddenly my little Queens town feels like an exotic island resort!
On a recent summer afternoon, my two school-age sons and I spent the day at the brand-new, 27-acre Rockaway Park, which is located next to the boardwalk just steps away from the beach. Although considered one big new green space, Rockaway Park is divided into two distinct sections with about ten beach blocks separating the two. The West Park offers more for younger kids, including an awesome water play area, a fancy sand area with lots of built-in interactive elements, a play boat, sprinklers of different heights, a variety of swings and a series of challenging climbing structures. Meanwhile, the East Park has the big-kid attractions, like the 15,700-square-foot skatepark, a large rock wall to conquer and a massive web to climb that overlooks the ocean. Even though they're separate, it's easy to visit both sections in one day.

My kids and I enjoyed strolling the sprawling space and checking out all of the fun. I noticed the state-of-the-art floor mats in the playgrounds immediately: They're light beige and don't trap the heat the way those old-school rubber ones do. My boys conquered all of the colorful playground structures—I counted six in all spread out throughout the park. Each unit offered a different set of activities, from sliding to hanging to swinging to climbing.

I was particularly taken with Rockaway Park's gorgeous landscaping and the shade-offering pergolas spread out all over the property. There are lots of places to just chill out and enjoy the ocean views. Seating comes in all shapes, layouts and sizes here, including a plethora of colorful kid-size tables and chairs. There's also a new outdoor mini theater perfect for small-scale shows.

Since there aren't any food vendors in the immediate area, it's best to bring your own snacks and drinks. There are picnic tables and even first-come, first-serve barbecue grills along Beach 17th Road, in case you want to cook your own meal. Since water and sand are everywhere, wear flip-flops or water shoes, but pack sneakers for the kids: They'll need them for the climbing web, rock wall and other attractions. And of course, bring all of your beach gear (bathing suits, umbrella, sunscreen, etc.) during the season, since you're sure to hit the ocean at some point during your visit.

Rockaway Park is located between Beach 9th and Beach 32nd Streets along the waterfront. To access the park, take the Far Rockaway A subway to Beach 25th Street. If you prefer to drive, there are parking lots at the entrance of both parks at Beach17th Street and Beach 30th Street.

Find out about other exceptional NYC green spaces in our Playgrounds & Parks Guide.
Places featured in this article: