Waterline Square Park Is a Hidden Gem on the West Side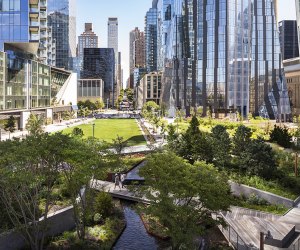 New York City doesn't lack outdoor spaces for families to enjoy in all five boroughs, but there's always room for more. As Manhattan's far west side springs to life with new developments, we're excited to see brand new parks like Waterline Square Park opening, too.
At 2.6 acres, the green space, situated between 59th Street and 61st Street along 12th Avenue is a bright, artsy addition to the neighborhood, and its boldly designed children's playground does not disappoint.
Read on for our review of Manhattan's newest public park and find more great outdoor destinations in our Guide to NYC Parks and Playgrounds.
Editor's note: While we are trying to promote safer activities that occur outdoors or with social distancing guidelines in place, please keep your family and others safe by always wearing a mask and maintaining an appropriate distance.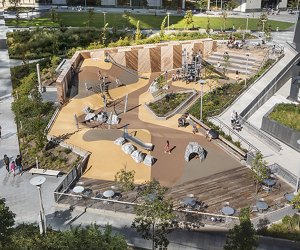 There's plenty of space for kids of all ages to explore at Waterline Square Park.
Upon arriving at the park and seeing the playground, I was impressed at how unique it was. In the playground hopping I've done with a baby in tow, I've noticed many city playgrounds favor a certain style. That's not the rule, but there is a uniformity to many local play spots; Waterline Square, however, defers from the classic New York City playground aesthetic.
It's a mix of eye-pleasing wood and metal—even faux-rock—elements reflecting the apartment complex of the same name surrounding it and whose developers brought it to life. Mathews Nielsen Landscape Architects is responsible for Waterline Square Park's innovative design, and it's open to the public whether you are a resident of the complex or not.
RELATED: NYC's Best Playgrounds: 18 Parks Worthy of a Subway Schlep

Caves, climbers, slides, and more await at Waterline Square Park. Photo by the author
An entry gate separates the playground from the rest of the park, and the sand-colored floor of the play area is an ultra squishy, soft, bouncy rubber foam-type material that makes walking a pleasure. I imagine it certainly takes some of the sting out of falling, as well. My son immediately gravitated to the cave just inside the entry, yelling, "tunnel!"
RELATED: Pier 26 Opens in Hudson River Park Bringing an Educational Green Space to Tribeca

Inventive designs for climbers invite creative play from kids. Photo by the author
The forgiving ground swells in several small hills, and attractions wait atop each one. A double-wide slide is positioned just across from the small cave. A pair of climbing structures await, including one very tall installation that looks as if M.C. Escher and Dr. Seuss offered creative input on the park's design.
The park is so unique looking, I was a bit perplexed about how, exactly, certain structures should even be used. As I pondered this thought, I heard and felt a rumble of feet. Next, over the top of one of the hills came a cavalcade of hollers, and then a small stampede of children followed, apparently out for recess. They had no problem navigating the space, finding new and interesting things to do in the playground that hadn't even occurred to me.
RELATED: See Pics of the New Public Beach Coming to Manhattan's West Side

Waterline Square Park features plenty of open space to enjoy beyond its playground.
On the day we went, the wind was whipping through the park so intensely, we cut our visit short. Its breezy location, just a short distance from the Hudson River, could be a blessing in the summertime, but on a chilly day in March, the wind chased us away.
Outside of the playground area, the park is handicapped accessible with wide, winding walkways and plenty of benches and lawns for sitting. It boasts more than 200 trees, and Waterline Square's developers promise programming like yoga, fitness classes, and musical performances will come to the green space eventually. A sprawling interactive play fountain also sits in the park, sure to attract visitors during summer's heat.
RELATED: Best Spraygrounds and Sprinklers for NYC Kids

Waterline Square Park acts as a backyard for residents of the surrounding towers and an oasis for all New Yorkers to explore.
Waterline Square Park is open daily from 6am-1am. One important note: There is no public restroom at the park. There is a Morton Williams across the street and a Starbucks nearby, though their usage policies may be affected by the pandemic. Best bet: Go before you venture out, or enjoy lunch and a bathroom break at a nearby restaurant.
Unless noted, photo by Elizabeth Felicella