See Riverside Park South's Recently Renovated Transformation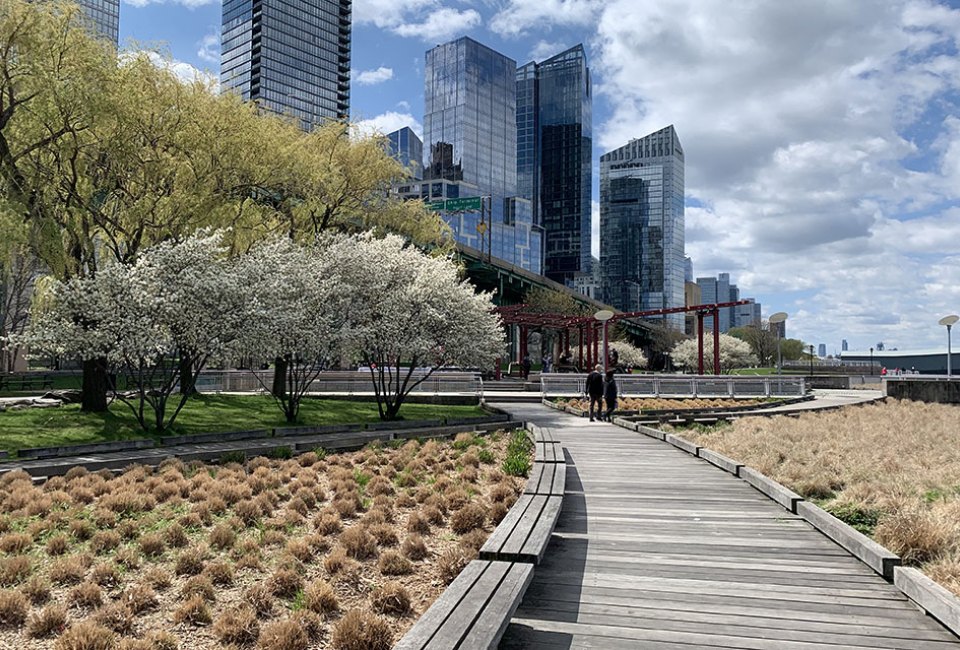 5/7/21
- By
Vanessa Leigh
The long-anticipated opening of Manhattan's Riverside Park South has arrived at last. Officially opened in October 2020, the new section of the park spans from West 65th Street to 68th Street is a perfect green space to visit this spring. This Upper West Side park is one of the top destinations for neighborhood families, offering expansive outdoor spaces for NYC families to enjoy. The new section offers playgrounds and more family-friendly amenities to explore.
Read on for details on the project, plus what renovations are still in store. Find more fun places to play in our Guide to Parks and Playgrounds for New York City families.
Editor's note: While we are trying to promote safer activities that occur outdoors or with social distancing guidelines in place, please keep your family and others safe by always wearing a mask and practicing social distancing, and pack plenty of hand sanitizer.
The full opening of Riverside Park South is happening in six phases, and its final phase is still a work in progress.
You can think of the park in two tiers—the upper level and the lower level. The upper-level section is adjacent to Riverside Boulevard; the lower part of the park runs along the Hudson River and includes walking paths and grassy play areas. Each level offers unique play options for families.
RELATED: Upper West Side with Kids: 30 Things To Do for NYC Families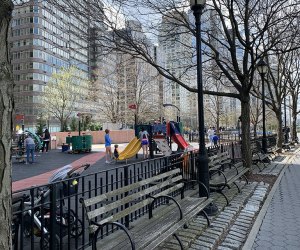 The colorful Little Engine Playground is plenty of fun, and large trees shroud it in shade on hot summer days.
The Upper Level of Riverside Park South
The long-standing Little Engine Playground is located at the north end of the park and features a jungle gym, a choo-choo train, and small toddler swings. This playground is the smaller of the two in this area and caters to babies and toddlers.
The second playground is right next door and is larger, offering more open space. The soft flooring and sleek design provide lots of room for kids to run and enjoy the different play structures. In this playground, there are opportunities for children to climb and slide. If you have an active little one, this playground is for you!
RELATED: Waterline Square Park Is a Hidden Gem on the West Side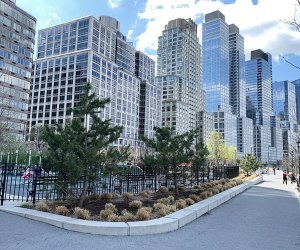 Fresh paths and plantings add to the allure of a day spent exploring Riverside Park South.
Also on the upper level are wooden benches and tables—perfect for a picnic lunch or even an alfresco birthday party. The design of the park is sleek and modern and feels open and clean. As we continued to explore the paths, we couldn't help but feel like the design resembles that of The High Line.
A dog run is located just south of the playground and makes a fun spot to visit with Fido or little ones who love watching the pups run.
RELATED: Destination Playground: Hippo Playground on the Upper West Side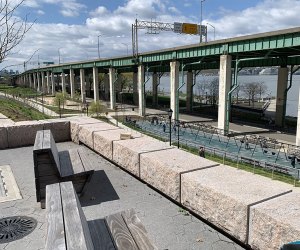 Nestled under the West Side Highway, you'll find beautiful views overlooking the Hudson River.
The Lower Level of Riverside Park South
Once you've had your fill of exploring and enjoying the view overlooking the park from Riverside and are ready to journey down the hill, sloping ramps provide accessibility for strollers, wheelchairs, bikes, and daring scooter riders. There are also stairs leading down to the lower section of the park. You'll see some people use the stairs as an exercise space—running up and down!
Once you're on the lower level, the best play spot is the huge, new swing set. There are sizes for every age, from babies to grown-ups. The river view as you glide is a lovely added perk.
RELATED: NYC's Best Playgrounds: 20 Parks Worthy of a Subway Schlep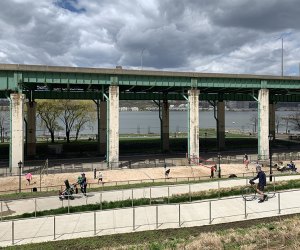 Riverside Park South has amenities for all ages and stages of life.
The sand volleyball courts are another new addition to the park. While this is not necessarily geared toward children and families, it can be a fun spectator sport. We're guessing that soon enough, though, this spot might be infiltrated with sand toys like the Swing-a-Rings a bit further north.
RELATED: 10 Newly Renovated NYC Playgrounds to Visit in Spring 2021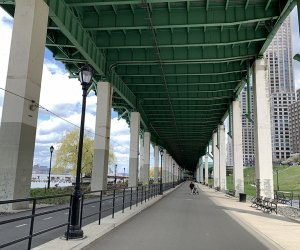 Riverside Park South's newest section runs from West 68th Street to West 65th, stretching from the waterfront up the hill to Riverside Boulevard.
One drawback to the lower section: There are fewer trees in general, and it has a more concrete feel. If you're looking for more nature, your best bet is to head to the water's edge for walking paths and green spaces. Follow the path under the highway to West 70th Street to reach Pier i Cafe, one of our favorite outdoor dining destinations. Here you can enjoy some outdoor refreshments with family-friendly seating.
There are also public restroom facilities near the cafe; follow the ramp down from the Little Engine Playground to reach them.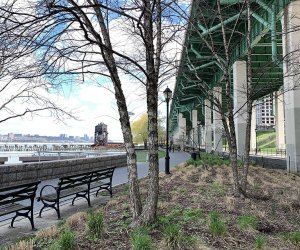 This new green space, with perfectly positioned benches, has us looking forward to summer sunsets.
What's Next for Riverside Park South?
The sixth and final stage of the Riverside Park South project is currently in progress. This construction includes larger sports fields and basketball courts and extends the park all the way to 59th Street on the south end. It's expected to be completed in about two years, giving New Yorkers even more park space to enjoy.
Whether you're strolling with a newborn, looking for fun playgrounds, or gearing up for an evening jog, Riverside Park South has something for you. This section of the park is a breath of fresh, open air for NYC families.
All photos by the author
Places featured in this article:
Enter to Win!