10 Newly Renovated NYC Playgrounds to Visit in Spring 2021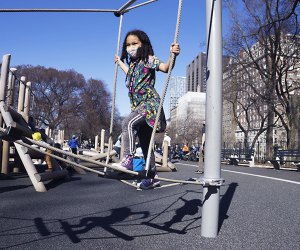 New York City's Outdoor spaces and playgrounds have been lifesavers for so many families in the past year, and when you had your fill of the local park, consider a visit to one of these 10 newly opened and refurbished playgrounds throughout the five boroughs. With funding from the Community Parks Initiative and local community groups, the NYC Parks Department worked through the pandemic to bring these new projects to completion.
Here's our list of 10 new and updated playgrounds worth visiting now. Of course, you can find plenty more destination-worthy jungle gyms in our Guide to Parks and Playground for NYC Kids.
Editor's note: While we are trying to promote safer activities that occur outdoors or with social distancing guidelines in place, please keep your family and others safe by always wearing a mask and maintaining an appropriate distance.

Adventure Playground at Highbridge Park brings a brand new play area to the Washington Heights green space.
West 164 Street and Edgecombe Avenue
As part of the Anchor Parks Initiative, Adventure Playground in Highbridge Park has been completely renovated, creating a play-based recreation space with a new spray shower, game tables, synthetic turf play area, and plantings. The renovation of Highbridge Park also includes the addition of an adult fitness area, a new synthetic-turf soccer field, and improved lighting and walkways.
East End Avenue To East River, East 84 Street To East 90 Street
The Carl Schurz Playground is on the corner of Carl Schurz Park, which includes Gracie Mansion, and offers sweeping views of the East River, the Roosevelt Island Lighthouse, and Randall's Island. Recently reopened after a year of renovations, find new swings, a reconstructed and ADA-accessible spray shower, and upgraded play equipment for children of all ages. There are also new benches, lighting, and native tree and plant beds.
RELATED: NYC's Best Playgrounds: 18 Parks Worthy of a Subway Schlep

Bensonhurst Park Playground
Cropsey Avenue between 21st Avenue and Bay Parkway
Bensonhurst Park is one of the largest parks along the Brooklyn waterfront and had not been touched since the 1980s. The Bensonhurst Park Playground reconstruction project completely upgraded the park's amenities for the community. Improvements include swings, water play elements, an adjacent path system, and sitting areas at the north end of the park. There are also new benches.
Avenue K between East 58th and 59th Streets
This Brooklyn playground received a facelift with new swings, play equipment, and spray showers. There are two distinct play areas, one for younger kids ages 2-5 and the other for older kids ages 5-12. Both areas are equipped with swing sets. The play areas have direct access to the spray showers, and new seating areas have been installed. Renovations have also been made to the basketball and handball courts adjacent to the playground.
RELATED: Waterline Square Park Is a Hidden Gem on the West Side

Billy "Bojangles" Robinson Playground
West 150 Street at 7th Avenue
As part of the Community Parks Initiative, the beloved playground was renovated with new play equipment, and its entryway was updated with new pavers and plantings. A new seating area with game tables was also installed. The basketball court was lengthened, and bleachers and a scoring table were added. The project also restored the iconic mural of the park's namesake, featuring graphics that illustrate one of Robinson's signature dance moves, the cross-over step.
12th Street between Avenues A and B
Families in Lower Manhattan have another playground to visit. The renovations at Joseph Sauer Playground were recently finished and include upgraded playground equipment, new seating areas, a new fountain, new landscaping with plants, and a repaired fence and sidewalk. There's also inside lighting and a green turf area where kids can play.
RELATED: Van Cortlandt Park With Kids: 14 Fun All-Season Activities in the Bronx Oasis

Grant Park Playground got a colorful makeover, and its basketball court got a facelift, too.
Grant Avenue and East 169th Street
The Grant Park reconstruction project completely upgraded the park's amenities for the community. New swings and play equipment for children of all ages have been added to the park, and the existing basketball court was completely reconstructed. There are also new spray showers, new lighting, and landscaping.
Columbia Street between Delancey Street and Bialystoker Place
Eleven years in the making, neighbors and friends recently celebrated the completion of the renovations to Luther Gulick Park. The park now has a new lawn area, lots of seating, an adult fitness center, two pingpong tables, handball courts, new bathrooms, and state-of-the-art play areas for kids of all ages. And because the park was named after the "Godfather of Basketball," it features new basketball courts.
RELATED: See Pics of the New Public Beach Coming to Manhattan's West Side

Kossuth Playground provides challenging obstacles for kids of all ages to conquer.
East Mosholu Parkway North between Kossuth Avenue and Steuben Avenue
Recent renovations to this playground include new play equipment, new spray shower features, additional seating areas, ADA-accessible ramps, and game tables. The basketball courts have also been overhauled and a brand new adult fitness area has been added. There is new park security lighting and new fencing around the playground.
RELATED: Central Park's Top Playgrounds Ranked for NYC Kids and Visitors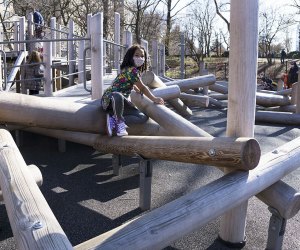 Margaret L. Kempner Playground at 96th and Fifth Avenue is the latest Central Park playground to be rebuilt. Photo by Jody Mercier
Fifth Avenue and East 96th Street
The Central Park Conservancy recently overhauled this popular playground, adding a central water spray feature and seating area connecting two distinct play areas for the 2-5 and 5-12-year-old age groups. Younger kids can enjoy new balancers and spinners while older kids can play on new custom wooden play features with climbers, ramps, slides, and net climbing. More swings were added, including strap swings and an adaptive swing for children who require full back support. There is also a new sandbox with sand tables. The landscaping was upgraded with enhanced plantings, additional picnic areas, new fencing, and an ADA-accessible entrance.
Unless noted, photos courtesy of NYC Parks