Alley Pond Park in Queens: 10 Things to Do in the Sprawling Urban Green Space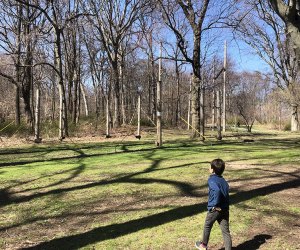 5/3/21
- By
Diana Kim
Spanning nearly 657 acres, Alley Pond Park is Queens' second-largest public green space behind Flushing Meadows Corona Park. While there are plenty of traditional, urban park attractions, like playgrounds and sports fields, what makes Alley Pond unique is its natural wonders—the forests, meadows, ponds, and wetlands. Its famous Adventure Course is the first challenge course in New York City and the largest challenge course in the metropolitan region.
Separated into three distinct sections by highway crossings, Alley Pond has an Environmental Center in its northern section, a Sports Center in its southern area, and in the middle section of the park, the oldest nature trails in NYC. With so much to do and see, Alley Pond Park is a perfect daycation. Here are our top 10 things to do with kids in Alley Pond Park.
Editor's note: While we are trying to promote safer activities that occur outdoors or with social distancing guidelines in place, please keep your family and others safe by always wearing a mask and maintaining an appropriate distance. If you arrive at an event that appears too crowded try using the "nearby" search feature on our Event Calendar to find something else to do.
1. Romp in the Playgrounds
Alley Pond Park has three playgrounds to enjoy. Alley Springfield Playground has a treehouse that my son loved to play in. Wildflower Meadow Playground and Horatio Playground both have sprinklers to cool off in during hot months.
2. Practice Your Orienteering Skills
Alley Pond Park has NYC's first permanent orienteering course. Orienteering is an adventurous map sport in which a participant uses specialized maps to navigate to a series of locations on a course from start to finish. It's a great way to explore the parks while combining hiking and gaming skills. Download or print a course map from the website.
RELATED: Van Cortlandt Park With Kids: 14 Fun All-Season Activities in the Bronx Oasis

Make some new friends in the Alley Pond Environmental Center, which is open to visitors six days a week for a small donation.
3. Visit the Environmental Center
The Alley Pond Environmental Center is open year-round and offers a wide range of in-person and virtual, nature-oriented classes for kids, engaging programs for adults, after-school and vacation day camps, and a fantastic Summer Senses program. The center teaches visitors about the park's unique ecology and its conservation efforts. You can visit its animal ambassadors (Think: birds, lizards, fish, rabbits, chinchillas, and snakes). There are several activities to do with your kids inside the center, like measuring your wingspan against those of the native birds you'll find here. Free trail maps and other informational brochures are available.
The center is currently housed in a temporary building at the southern tip of the park, near the Alley Springfield Playground, while its permanent space in the northern section of the park undergoes renovation. It will move back to its permanent home in about a year. Visiting the center is free (a $5 donation is suggested) and open Mondays through Thursday, 9am-4pm. Weekend hours are generally 9am-1pm, but it's best to call ahead and confirm.
RELATED: 25 Outdoor Adventures for NYC Kids to Enjoy

Snag a trail map at the Environmental Center or download it on your phone, then stake out in search of adventure.
4. Explore the Nature Trails
Six hiking trails are clearly marked and easy to navigate with a park map. Many are paved, making them stroller and preschool-friendly. Hiking past meadows, ponds, fresh and saltwater marshes, and forests that are home to more than 300 specifies of birds makes you almost forget you're in the middle of Queens. Check out the New York City Audubon Society's Alley Pond page and read about all the birds that call this park home.
5. Get Your Game On
Whether it's basketball, tennis, football, baseball, or handball, Alley Pond has a field or court for you. There's also a driving range and 18-hole mini-golf course at the northernmost part of the park.
RELATED: New Mini-Golf Course Comes to Brooklyn Waterfront for Summer Fun

The Alley Pond Adventure Course offers a fun, FREE, challenge for ages 8+. Photo courtesy of the NYC Parks Department
6. Tackle the Adventure Course
2021 update: The Adventure Course remains closed with no reopening date set.
At the Alley Pond Adventure Course, a trained professional leads athletes ages 8 and up through a series of team-building challenges, including a low- and high-ropes course, a zip line, a climbing wall, a trust-fall station, swings, nets, and balance platforms. The course is FREE, but you must register online in advance or call 718-217-4685.
7. Hit the Cycling Trails
Take your bikes for a spin on the many paved trails, including those near the playgrounds.
RELATED: Best Bike Riding Paths for NYC Families

See if you can catch a fish at the Oakland Lake Park Fishing Pad. Photo courtesy of NYC Parks Department
8. Drop a Line
At Oakland Lake, in the northwestern section of the park, families can try catch-and-release fishing. A fishing license is required, and you must bring your own equipment. For the fish's sake, no barbed hooks are allowed.
9. Let Fido Run Free
Don't forget to bring the dog. Alley Pond Park has a popular dog run that's fun to visit even if you don't have a dog of your own.
RELATED: 10 Underrated NYC Parks to Visit Now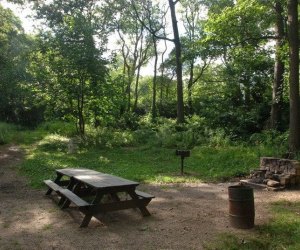 Alley Pond Park has plenty of picnic tables for your next dinner out(side). Photo courtesy of NYC Parks Department
10. Host a Cook Out
There are two main designated barbecue areas—just remember to arrive early and bring your own supplies and equipment.
If that's not enough for you, there's always something going on at Alley Pond Park, and often the events are FREE. Peruse our Event Calendar to see what's coming up, from wildlife watching and nature walks to learning about mushrooms and birding.
Unless noted, photos by the author