New Mini-Golf Course Comes to Brooklyn Waterfront for Summer Fun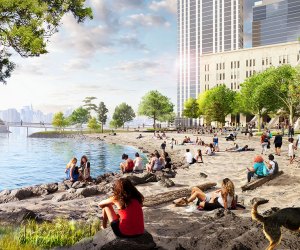 Brooklyn's already family-friendly waterfront is getting a cool new feature just in time for summer 2021: A new 18-hole mini-golf course dubbed Putting GREEN is set to open in Williamsburg.
Read on for more details on the project, which also includes a 20,000-square-foot sustainable farm, and start planning your summer day trip to explore all the fun along Brooklyn's East River shores from Brooklyn Bridge Park to Domino Park and beyond.
The new features are coming to the River Ring site, located on the former Con Edison property in North Williamsburg, and serve as interim uses for the space, which will eventually house two soaring waterfront towers, a new community YMCA, and a waterfront park. Two Trees Management, who designed and manages Domino Park, is behind this project, too.
Putting GREEN will be situated on a 15,000-square foot tiered deck on the riverfront, and each of its holes is designed by a community partner. Beyond being a fun place to play, Putting GREEN honors its name with each hole's theme teaching a lesson about the most pressing climate change issues we're facing.
Community partners include artists, designers, engineers, and even youth from the Lower East Side Girls Club, Greenpoint YMCA, and the Williamsburg High School of Art and Architecture. Once open, the course will operate daily and offer low-cost tickets to make it accessible to community members. Even better: All proceeds are donated to local nonprofits working to address climate change in the city.
RELATED: Governors Island in 2021: Best Things To Do With Kids

The Billion Oyster Project lends its expertise to the sustainable farm and will collect oyster shells to aid its estuary restoration projects. Photo by Rose Cohe
The on-site sustainable farm includes everything from an aquaponic garden to an educational composting site, pollinator meadow, pair of beehives, and a drop-off bin for oyster shell collection to aid the Billion Oyster Project's restoration of New York Harbor.
Educational and hands-on programming is at the heart of the sustainable farm's mission. Its operation is in concert with local org's Brooklynites are already familiar with, like the Brooklyn Grange, Oko Farms, Island Bee Project, City Growers, and the aforementioned Billion Oyster Project.
RELATED: Brooklyn Botanic Garden: 8 Things To Do With Kids

Long-term plans open this section of the Brooklyn waterfront and include innovative design features to protect the area from flooding.
Both Putting GREEN and the sustainable farm are meant to be only temporary attractions to River Ring; once fully redeveloped, a new waterfront park will occupy the space with fun in the water and on a new public beach. Unique design features both preserve the waterfront environment and protects the surrounding development from flooding.
Renderings courtesy of James Corner Field Operations and Bjarke Ingles Group