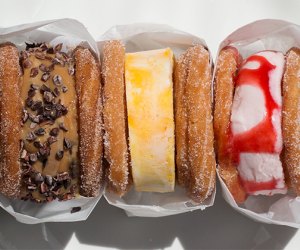 Ice Cream Bucket List: 10 Over-the-Top Shops To Try This Summer
Ah, August in the city! You've probably got your routine down pat at this point: art exhibits, subway-accessible beaches, and Summer Streets are all regulars in your summer schedule. As are trips for cool treats. If your neighborhood ice cream shop is feeling a tad too familiar at this point in the summer, it's time to step it up—and step it out of your 'hood.
We've rounded up 10 over-the-top ice cream establishments that are a little more under the radar than say Black Tap, but are the perfect way for you and your kids to enjoy before summer's over. Get ready to be blown away (and say goodbye to Mister Softee, for now): There's rolled ice cream, innovative soft serve, make-it-yourself ice cream, and cutting-edge ice cream sandwiches. Go forth and enjoy, and check out our NYC Restaurant Guide for more great family eats.
Ready to get your month organized? Check out our August GoList to find something to do every weekend.
Francois Payard — various locations around Manhattan
I think I was a little behind the times, but I had no idea that macaron ice cream sandwiches existed until just recently. Francois Payard is one of the most renowned macaron makers in New York City, so I don't see how you can go wrong. This seasonal summer offering, which is anxiously awaited by fans, comes in coconut mango, pistachio raspberry, and passion fruit cheesecake. C'est magnifique!

You can eat ice cream out of a pot and bubble tea out of a lightbulb at Justin Tea 196 Degrees. Photo by jackieexploreslife via Instagram
Justin Tea 196 Degrees — Chinatown
Pot Ice Cream, one of the specialties in this brand-new spot, is not what may first spring to mind when you hear the name. It's an innocent and adorable churned-to-order ice cream, served in a silicone flower pot and adorned with chocolate mushrooms, mint leaves, chocolate cookie crumbs, and a "shovel" spoon. The cafe also serves flash-frozen nitrogen ice cream, bubble tea, nitrogen cheese balls (which apparently puff out smoke), and waffles.
Soft Swerve — Lower East Side
As you might gather from the name, Soft Swerve specializes in soft-serve ice cream with a flavor twist. The shop combines brilliantly colored, Asian-inspired ice cream flavors, like ube purple yam, black sesame, and matcha green tea with traditional candy toppings so often found in more pedestrian ice cream shops. In a nice touch, sundaes are named after New York City neighborhoods.
RELATED: 15 of NYC's Most Decadent Desserts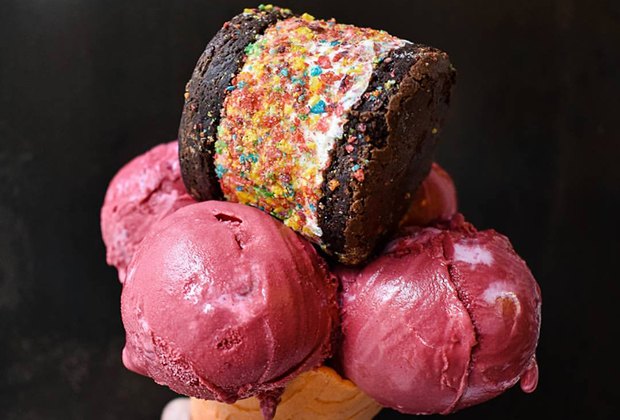 The flavors (and toppings) at Ice and Vice are always creative. Photo courtesy of the shop
Ice and Vice — Lower East Side
This shop with a cult following is no Baskin-Robbins, but since many NYC kids are brought up feasting on sushi and samosas, there's no reason their sophisticated palates can't handle unusual ice cream flavors. Sure, a few flavors have edgy names like Opium Den, but the meanings would fly over my child's head. There are also more wholesomely named flavors like Milk Money and Farmer Boy. Plus, who can resist a Detention Ice Cream Sandwich coated in Fruity Pebble Dust?
La Sirena — Meatpacking District
This restaurant serves far more than just ice cream, but I'm including it here because my daughter has considered this a destination ever since she discovered the tapas bar serves a Churro Ice Cream Sandwich. She's somewhat obsessed with both churros and ice cream sandwiches, so the marriage of the two is basically a dream come true. You can choose from flavors like coffee gelato flavor with dulce de leche and cocoa nibs or mango sorbet with vanilla gelato and sea salt. Decisions, decisions!
RELATED: NYC Restaurants Where Kids Eat for FREE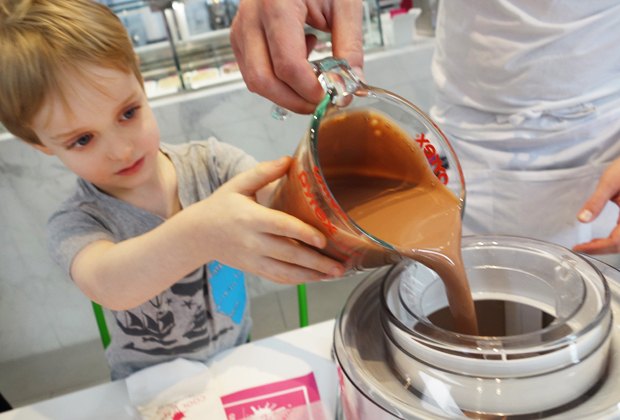 Kids get hands-on at the Cool Mess parlor.
Cool Mess — Upper East Side
We've written about this DIYer's dream. Each table is equipped with a small ice cream machine, and an organic vanilla or chocolate ice cream base. The table's occupants then agree on a baked good mix-in (for example, brownie or cookie), then a choice of three other sweet mix-ins, such as chocolate chips, strawberries, and of course, sprinkles. The freezing process only takes eight minutes, so even the most impatient can endure the wait. There are other options available, like sundaes and gelato, if everybody wants to do their own thing.
Blossom Ice Cream — Cobble Hill, Brooklyn
This newcomer Brooklyn spot offers kids a chance at the Thai ice cream trend. Seeing rolled ice cream being made is almost as much of a treat as eating it! Rolled ice cream originated with Thai street vendors, and is flash-frozen in a thin layer, then fashioned in decorative "rolls." If you add toppings, it's even prettier. Flavors here range from kid-friendly (chocolate with chocolate Teddy Grahams) to blueberry lavender. Vegans, rejoice! There are many flavor choices just for you.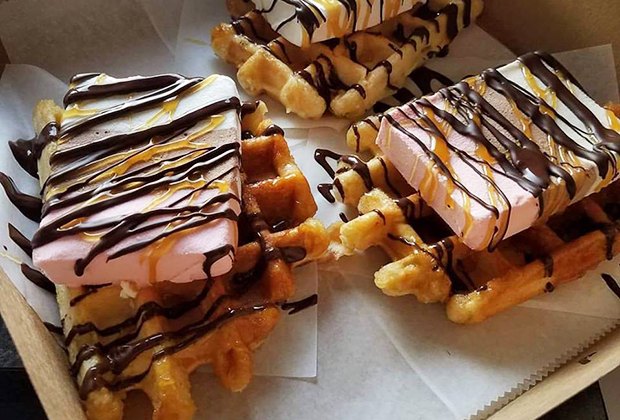 Waffle Cabin serves up two favorites in one. Photo courtesy of the shop
Waffle Cabin — Park Slope, Brooklyn
I admit that I'm not totally clear about how Liège waffles differ from Belgian waffles (as far as I can tell, there's something about "buttery brioche dough" and pearl sugar), but apparently, these are the real deal. Let's face it: it's a rare kid who doesn't like a waffle, and when you put ice cream on top, things get even more delicious. Waffle Cabin, which just opened a location in Park Slope, deals out the ice cream in both slices on "regular" waffles and scoops in waffle bowls, so choose whichever makes you feel more decadent.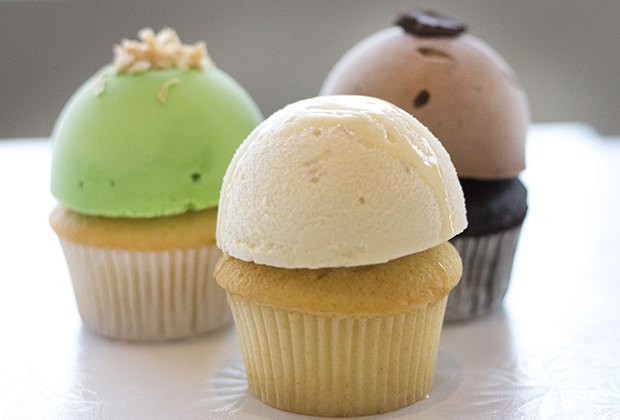 These ice cream-topped cupcakes offered by Silk Cakes have been a huge hit! Photo courtesy of the shop
Silk Cakes — Forest Hills, Queens
This Asian-inspired bakery is known for cupcakes with unusual flavors, such as Thai Tea and Sriracha Chocolate, as well as beautiful special-occasion cakes. As if that wasn't enough, Silk Cakes recently began offering ice cream-topped cupcakes, which has my daughter begging for an outing. Flavors include pandan coconut ice cream on a vanilla cupcake topped with toasted coconut, lychee ice cream on a yuzu cupcake with kalamansi glaze, and chocolate ice cream on a chocolate cupcake with nama chocolate bits. After all, you can't go wrong with cake and ice cream!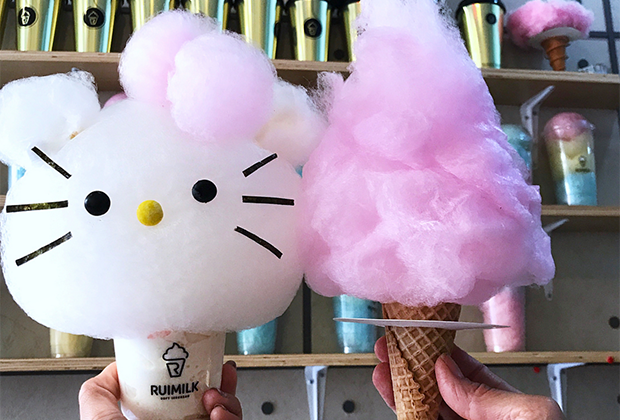 Ruimilk creations come with cotton candy! Photo by linda.delores via Instagram
Ruimilk — Flushing, Queens
When I first saw a picture of these ice cream confections, which are covered in cotton candy, I stared at it, trying to wrap my head around the way they were created. These are edible works of art, inspired by cotton candy street vendors in South Korea, whose work goes way beyond the Dora the Explorer popsicle you might get from a Mr. Softee truck. Kids and tweens won't be able to resist ice cream and cotton candy styled to look exactly like Hello Kitty or Baymax from Big Hero 6, and you may even lure teens to this tiny shop with the promise of many, many Instagram likes.
Top photo: La Sirena's churro ice cream sandwiches come in three delicious flavors. Photo by Hy Khong/courtesy of the shop