40 Things to Do in Coney Island and Brighton Beach with Kids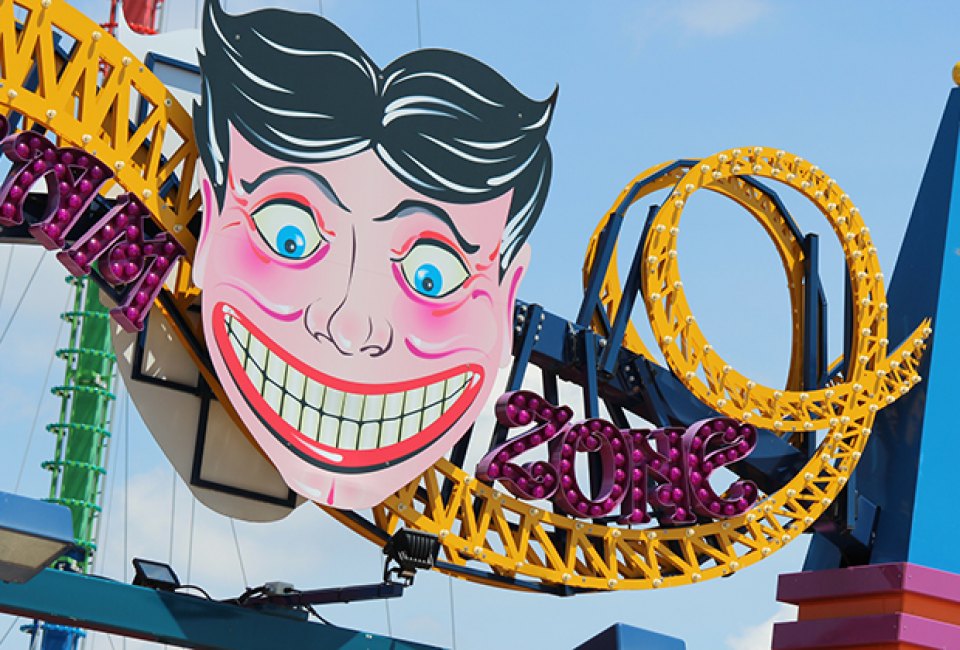 6/19/16
- By
Alina Adams
Coney Island gets most of the press (and most of the tourists) thanks to iconic summer attractions such as Deno's Wonder Wheel, the historic Cyclone roller coaster, the New York Aquarium and Nathan's Famous Hot Dogs. But less than a mile down the boardwalk lies Brighton Beach, home of one of the largest Russian-speaking immigrant communities in the U.S., not to mention a much less crowded ocean beach. Both are worth exploring in season and beyond.

Coney Island started as a literal island but was turned into a peninsula thanks to landfill. It enjoyed a renaissance in the 1980s thanks to the efforts of the nonprofit Coney Island USA, which founded the annual Mermaid Parade, plus the opening of new amusement parks. Meanwhile, Brighton Beach is more residential. It's so well-known for its Russian population that it has earned the nicknamed "Little Odessa," which, technically, is in Ukraine. But both offer plenty to do for families, and not just in the summer. Here are 40 of our favorite activities year-round in these neighboring Brooklyn neighborhoods.
1. Brave the historic Cyclone or the brand-new Thunderbolt roller coasters, or try one of the tamer rides such as the restored B&B Carousell. Operator Luna Park frequently runs kid-friendly promotions such as free credits for good grades.
2. Get a bird's-eye view of the neighborhood by riding Deno's Wonder Wheel, which takes you 15 stories into the air. Opt for a stationary car unless you want your stomach to jump.
3. Grab a hot dog at Nathan's Famous, or visit on July 4th to root for your favorite contestant in its annual Hot Dog Eating Contest.
4. Indulge in artisanal ice cream at Coney's Cones. All flavors are made on site, including exotic options such as bacon and Monkey Wanna Cookie (bananas and Golden Oreos).
5. Hit Coney Island's sand and surf from Memorial Day weekend to Labor Day. Make sure your tots check out the playground right on the beach.
6. Watch FREE fireworks on the beach every Friday night from late June through Labor Day, weather permitting.
7. Or catch Coney Island Flicks on the Beach on Monday nights in July and August. Most screenings are family-friendly.
8. Cheer on minor league baseball's Brooklyn Cyclones and make sure you check out the bonus kids' clinics.
9. Dress up in your best ocean-inspired costumes to march in the annual Mermaid Parade, or just come as you are and gawk at the outrageous costumes. It's one of our all-time favorite events for families.
10. Mermaid Parade too risque for your kids? The annual Coney Island Children's Halloween Parade has a lot less nudity.
11. Parades too slow? Feel more like running? Sign up for the annual Coney Island Sports Foundation Boardwalk Charity 5K Run/Walk.
12. Explore the New York Aquarium which, though still recovering from superstorm Sandy, is open for business. The Sea Lion Celebration at the Aquatheater is always a hit with kids. However, the Ocean Wonders: Sharks! exhibit, originally scheduled for a 2016 opening, has been pushed back to 2017.
13. Learn about the area's rich past at the Coney Island History Project and the Coney Island Museum. The former is going political this year with a Trump exhibit, though not the Trump you think. At the latter, you can catch the Coney Island Circus Sideshow in action. Daytime performances are wacky but kid-friendly.
14. Show off your creative skills at the annual Coney Island Sand Sculpting Contest and Unity Day, which usually takes place in mid-August.
15. See even more local creativity at Coney Art Walls, a full city block of art painted on free-standing walls, interspersed with train-car food trucks.
16. Watch the members of the Coney Island Polar Bear Club frolic in the Atlantic Ocean on Sundays November through April, or join them in their annual New Year's Day Swim, which is open to the public.
17. Go ice skating from October through March at the indoor Abe Stark Rink.
18. Enjoy homemade candy apples and marshmallow caramel balls at old-school sweet shop Williams Candy, which has been around for more than 75 years.
19. Take the family to Totonno's Pizza, which makes some of the best brick-oven pies in all of NYC. Make sure you're hungry: The restaurant only sells pizza by the pie, no slices, plus it's cash only.
20. Don't like pizza? Grab burgers and shakes at Tom's Coney Island, an offshoot of the popular Prospect Heights original.
21. Buy a fabulous Coney Island keepsake at Lola Star's two neighborhood boutiques. It's chock-full of kitschy T-shirts, jewelry and knickknacks; there's also an outpost at Rockaway Beach.
22. Enjoy big-name bands for FREE at Coney Island's Seaside Summer Concert Series.
23. Snap a photo of the family in the Coney Island/Stillwell Avenue subway station and strike your best '70s street gang pose inspired by The Warriors. (This is where they were trying to get back to throughout the movie.)
24. Coney too crazy for you? Hit the sand at Brighton Beach; it's less crowded plus there are volleyball nets. Just don't expect anyone to obey the "No Smoking" or "No Glass Bottles" signs.
25. Go fish: Though not an official spot, plenty of fisherman bring their gear and cast off right from the shore. Your catch might be tiny, but the fish do bite here.
26. Though damaged by superstorm Sandy, the Brighton Playground is still one of the best romping spots in the area for kids of all ages. It features two climbing structures, swings, a basketball court, benches, tables, and several water play areas.
27. Get an overview of Russian culture at the annual Together in NYC Festival, which features a health and sports fair, music, dancing, traditional food, and even chess.
28. Enjoy a traditional Russian meal at Tatiana Grill. If you snag a seat on the boardwalk and the kids get bored they can play on the beach while you finish lunch in peace.
29. Introduce the kids to Russian staples such as caviar, pelmeni (dumplings), dried herring, and roasted sunflower seeds at Brighton Bazaar. Its buffet is endless and authentic, just be advised that many labels are in Russian, so ask for help or live dangerously.
30. If you really want to fall down the Russian exotic food rabbit hole, visit the new Gourmanoff, which is more high-end and English-friendly. On New Year's Day (not Christmas), it features visits from Santa and his lovely assistant, the Snow Princess.
31. Looking for an offbeat gift? Peruse stacking dolls, furry hats, kitschy Communist propaganda posters and faux Fabergé eggs at St. Petersburg's Global Trade House. It's particularly fun for kids now that it is merged with International Toys.
32. Go further east on the peninsula and you'll find Manhattan Beach, a five-block shore featuring a short concrete promenade, designated barbecuing areas, two playgrounds and very few people. It's Brooklyn's secret beach.
33. Bounce around at Land-O-Fun, an 11,000-square-foot indoor amusement center featuring bumper cars, arcade machines, and a dream-spa salon.
34. Paint your own ceramic masterpiece at Plaster Galaxy, which offers plenty of weekday specials.
35. Enjoy On Stage at Kingsborough's Family Series, featuring high-quality kids' entertainment at low ticket prices.
36. Study ballet the Russian way at Brighton Ballet Theater, which has a children's division and performs The Nutcracker every year.
37. Coney Island has Mermaid and Halloween parades? Brighton has the Victory Day parade for veterans of World War II. Children bring flowers to honor the few remaining heroes.
38. Not beach weather? Use the pool at the Shorefront Y. It offers after-school programs, camps, and Olympic gold medalist Lenny Krayzelburg's swim academy for kids.
39. Or join the swim, tennis or gymnastics teams at MatchPointNYC.
40. If your kids emerge from the above wanting to learn Russian, try to get them into PS 200, featuring the only dual-language Russian-English public school program in NYC.
Read all of our posts about exploring Coney Island and Brighton Beach with kids.
A version of this article first published in August 2014.