Best Family Restaurants Near the Bronx Zoo and Botanical Garden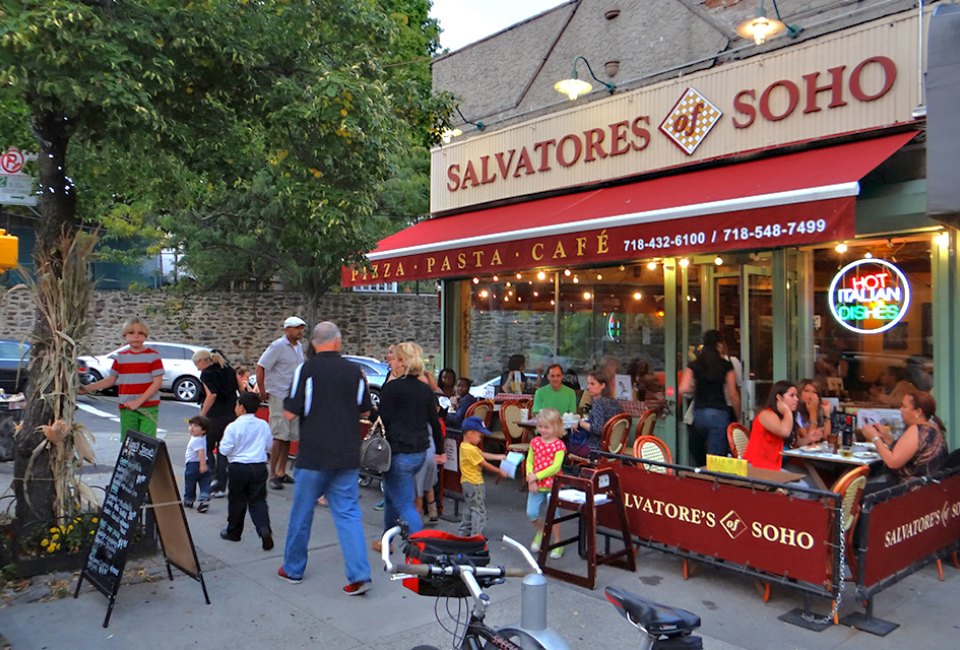 7/5/19
- By
Sonia Gonzalez
It's no secret that the New York Botanical Garden, the Bronx Zoo, and Wave Hill are all cultural gems and year-round destinations for families, all located in our city's northernmost borough. The real question on many parents' minds, however, might actually be, "but where do we eat?" As a mother of three in the Bronx, that question is easy to answer. The hard part is narrowing down the plentiful options.

The surrounding neighborhoods of Riverdale and the Bronx Park area are just as picturesque and wonderful, with a wide variety of spots to stop off for a bite. So we've rounded up several dining options near each destination where families can fill up before or after a fun-filled day.
Find more great eats in our guide to Family-Friendly NYC Restaurants, including more near uptown city hot spots like the American Museum of Natural History and Lincoln Center.
It's worth noting that the Bronx Zoo and New York Botanical Garden are nestled within an expansive park and the Garden is also across the street from the sprawling campus of Fordham University. Wave Hill is situated between the Hudson River and a lovely, tree-lined residential area in Riverdale. This lends to the appeal of these attractions, but it also means dining options require a bit of walking or possibly a quick car/cab ride. Still, we tried to keep all our picks down to roughly 20 minutes or less by foot.
Near Wave Hill in Riverdale
We're huge fans of Wave Hill, a public garden and cultural center in Riverdale. And while there is an onsite cafe to quell the munchies, menu options are limited—plus, you may want to round out the day exploring the neighborhood. Keep in mind the nearest restaurants are about a 20-minute walk or a 5-minute cab ride away.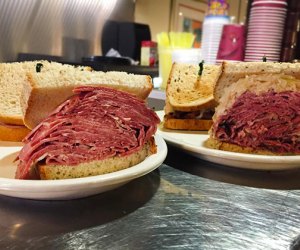 Don't miss the pastrami at Liebman's.

Liebman's Kosher Delicatessen
552 West 235th Street
Pastrami on rye, matzoh ball soup, potato pancakes, knishes, and bagels—enjoy all your favorite Jewish comfort foods all day long at this Riverdale mainstay.

Cumin Indian Restaurant
3549 Johnson Avenue
Craving tandoori chicken and naan? As Riverdale's sole Indian restaurant, Cumin is where you'll want to go. Vegetarians will delight in the sizable meat-free menu, kids will appreciate the not-too-spicy food, and everyone will enjoy the attentive and friendly staff.
RELATED: NYC Restaurants Where Kids Eat for FREE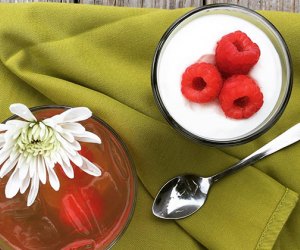 Moss serves up delicious yogurt, drinks, desserts and much more.

Moss Cafe
3260 Johnson Avenue
This cozy farm-to-table cafe serves up tasty organic, kosher seasonal fare—including gluten-free and vegetarian options—plus yummy sweet treats and simple, kid-friendly items like grilled cheese and soup. Try the vanilla bean and coconut-milk chai-seed pudding or the housemade yogurt parfait and stay caffeinated with delicious espresso and coffee options.

Salvatore's of Soho
3738 Riverdale Avenue
This super-casual Italian spot has a lovely outdoor seating area, perfect for an easy meal after a day at Wave Hill. Children can color while they wait, and the menu is full of kid-pleasers like pizza, pasta, panini, and heroes.

Yo-Burger
3726 Riverdale Avenue
Just a few doors over from Salvatore's, and owned by the same family, Yo-Burger offers quick-serve burgers, fries, and shakes. With a full-serve fro-yo station on site, it's your one-stop shop for a quick bite and tasty dessert little ones will love.
Near the Bronx Zoo and New York Botanical Garden
Head to Bronx's famed Little Italy after a day of animal encounters at the Bronx Zoo or exploring the lush grounds of the New York Botanical Garden.
RELATED: When Kids Get in Free to NYC's Zoos and Gardens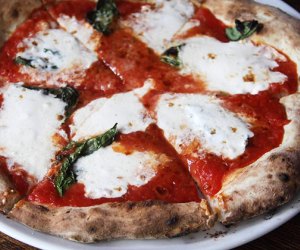 It's hard to go wrong with any of the Italian dishes at Zero Otto Nove.

Zero Otto Nove
2357 Arthur Avenue
Serving up authentic Italian dishes in an open, airy space that evokes the spirit of an Italian grotto, Zero Otto Nove is one of my family's go-to spots. Brick oven pizza, Mozzarella Caprese, and spaghetti with tiny meatballs, tomato sauce, and goat cheese are all kid favorites, though you really can't go wrong with anything here.

Michael Angelo's
2477 Arthur Avenue
Don't let the outside fool you. From the sidewalk, you might expect a tiny restaurant, but head inside and you'll be delighted to find that a narrow hall opens to a huge outdoor seating area in warmer months and a covered, heated space in colder months. It's such a treat, and with a menu full of pizza, salads, and pasta, it's another favorite for my family.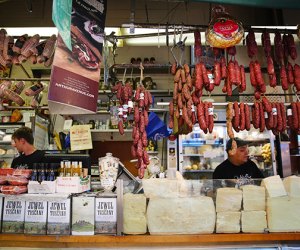 See the salamis sway from the ceiling at Arthur Avenue's Retail Market. Photo by Mommy Poppins

Arthur Avenue Retail Market
2344 Arthur Avenue
This festive spot is an ode to open-air Italian marketplaces, except this one is indoors. Still, you'll find it's packed with stalls featuring fresh produce, Italian meats, cheeses, olives, pastries, and more. There's a small beer hall, deli counter, and pizza counter to grab quick and delicious bites, plus seating. Kids will enjoy the bustling scene and you may even want to snag a souvenir T-shirt or tchotchke.

Pugsley Pizza
590 East 191st Street
Students from nearby Fordham University frequent this graffiti- and photo-covered family-run pizza shop, but its boisterous vibe make it lots of fun for kids and their parents, too. Thin crust pies, garlic knots, and other staples make for an easy lunch before heading to the Bronx Zoo or New York Botanical Garden.

De Lillo Pastry Shop
610 East 187th Street
If you just want sweet treats and delicious coffee, head to De Lillo Pastry Shop. You'll find beloved Italian classics—everything from rainbow cookies to cannolis and gelato—plus divine espresso that will fuel your trip to the zoo or give you the boost you need post-trip. And with plenty of seating inside and out, you can take a seat and enjoy your treats without worrying about sipping or munching on the go.
Dining at NYBG
Of course, the closest places to eat near the New York Botanical Garden are in the garden itself. Luckily, there are a few solid options, including two sit-down dining spots. The garden also has onsite food trucks seasonally—one offers burgers and fries near the Mosholu entrance and another serves up tasty tacos just inside the main entrance near the gift shop and Visitor Center.

The Pine Tree Café
2900 Southern Boulevard (at the Leon Levy Visitor Center)
This casual, quick dining spot just inside the main entrance offers up a range of fresh and tasty options—from salads and artisanal paninis and sandwiches to Neapolitan-style pizza, plus snacks and sweets. There's seating inside, but we suggest heading outside to the covered outdoor seating area with lights strung overhead, lush grassy hills and trees beyond, and birds and squirrels skittering about looking for crumbs.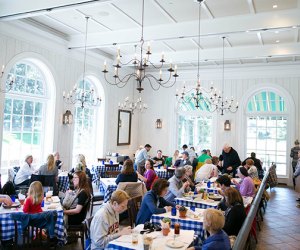 Book your reservation for The Hudson Garden Grill ahead of time. Photo by Ben Hider for NYBG

The Hudson Garden Grill
2900 Southern Boulevard (near the Enid A. Haupt Conservatory)
For a more upscale, sit-down dining experience, make plans to dine at the Hudson Garden Grill, a full-service restaurant on the grounds of the garden. Featuring New American cuisine and locally sourced ingredients, you won't be disappointed. I say "make plans," because advance reservations are strongly recommended.
Unless noted, photos courtesy of the restaurants