Seven Dinosaur Destinations Near NYC for Kids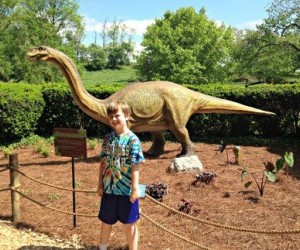 2/16/16
- By
Stephanie Ogozalek
My 10-year-old son has been dino crazy for years and I do my best to indulge him. Our latest dino-adventure was counting down the seconds until we saw Jurassic World on opening night last summer. I loved the original Michael Crichton novel and saw the first blockbuster movie on opening night back in the 1990s, so I couldn't wait to experience the thrilling, prehistoric action on the big screen with my son.
The live action of a PG-13 dino movie is too much for most kids, so we've rounded up the top dinosaur attractions in NYC (hello American Museum of Natural History!), or within a three-hour drive of the city, like the tot-friendly Dinosaur Place in Connecticut. If you've got an aspiring paleontologist in your life, you'll want to put these six dinosaur destinations on your must-see list.
American Museum of Natural History – Upper West Side
Central Park West at 79th Street
I doubt I have to tell any parent (NYC-based or otherwise) that AMNH is a top destination for dinosaur junkies. The museum has two huge, permanent halls dedicated to these extinct creatures, and often mounts temporary exhibits about them, too. The Titanosaur's recent arrival is a must see and the new Dinosaurs Among Us will explore the connection between the ancient giants and their modern-day relatives. At AMNH, you will find more than 600 prehistoric creatures on display, most created from real fossilized dinosaur bones. Kids will love the enormous T. rex, triceratops, stegosaurus and apatosaurus skeletons that dominate their respective galleries. For a more interactive experience, download the museum's Explorer app, which helps you navigate the exhibits, locate specific dinos and learn insider info. After you've had your fill, head downstairs to the main floor's hands-on Discovery Room to play archeologist in the mock dig pit.
Field Station: Dinosaurs – Leonia, NJ
Overpeck Park, 40 Fort Lee Road
Field Station: Dinosaurs closed its run in Secaucus last fall, but dino lovers rejoiced when a new home was found for this exhibition in Bergen County's Overpeck Park. This seasonal, prehistoric attraction features more than 30 life-size animatronic dinosaurs, including an Argentinosaurus that is reportedly so large, it can be seen from the Empire State Building. As you walk through Field Station: Dinosaurs' 20 acres of wilderness, you hear the giant monsters roaring, and while they can't walk, they do move around in place. Fossil digs, a dinosaur-themed playground, and interactive games and performances round out the fun.
The Dinosaur Place at Nature's Art Village – Oakdale, Conn.
1650 Hartford-New London Turnpike
My family and I had a wonderful day at this land-before-time dino spot. We visited The Dinosaur Place at the peak of my son's dino obsession in 2010, and he has been begging to return ever since. The wooded park has more than a mile of nature trails where you can spot more than 40 realistic-looking, life-size dinosaur statues along with an erupting mini volcano. The Dinosaur Place is a great option for preschoolers as the dinos don't move or make noise, so they aren't scary or intimidating. There is also a fantastic splash pad and a really cool playground.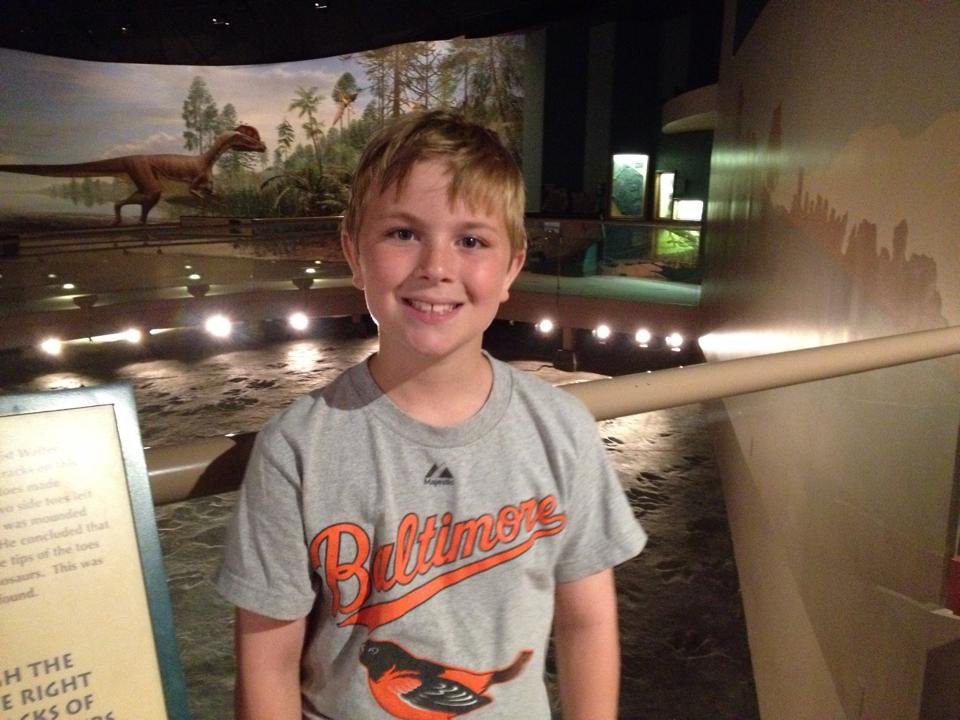 My son posing in front of the ancient dinosaur track at Dinosaur State Park. Photo by the author.
Dinosaur State Park – Rocky Hill, Conn.
400 West Street
This natural historic landmark was on my family's bucket list for years, and last summer we were finally able to cross it off. There aren't any life-size models of the prehistoric creatures here; instead, you can see where dinos actually used to tread. Inside the park's geodesic dome, there is a large section of a 200-million-year-old Mesozoic floodplain imprinted with hundreds of preserved, fossilized dinosaur footprints. It's a pretty incredible sight, even for the non-dinosaur obsessed. The track was unearthed in the 1960s while workers were excavating the land to build Connecticut's state capital. (Needless to say, the government found another spot for the building.) The park also features a nice selection of short nature trails that are perfect for kids, and an area where you can cast a fossil, provided you bring your own plaster. There are also exhibits and a hands-on Discovery Room with fossils, minerals, live animals and more.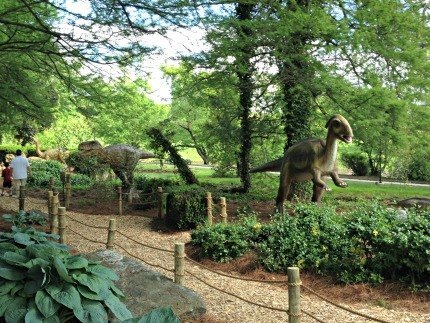 The tot-friendly mini 'saurs at Dutch Wonderland's Exploration Island. Photo courtesy of the venue.
Exploration Island at Dutch Wonderland – Lancaster, Pa.
2249 Lincoln Highway East
The family-friendly amusement park Dutch Wonderland debuted Exploration Island in summer 2014. The attraction features more than 20 state-of-the-art, animatronic dinosaurs that move and roar, but they're just 15-feet in length and not too intimidating to tots. My family and I had a blast exploring the various prehistoric species together. Once you've had your fill, check out the rest of the ride and water-filled park.
Dino Expedition at Lake Compounce – Bristol, Conn.
186 Enterprise Drive
Lake Compounce is owned by the same company as Dutch Wonderland, so it's not surprising to see a dinosaur attraction similar to Exploration Island pop up at the amusement park. Dino Expedition has winding paths through a prehistoric forest where lifelike creatures up to 40-feet-long roar and move in place. Kids can also enjoy digging in the open-air fossil pit and visiting the rest of the adrenaline-pumping amusements.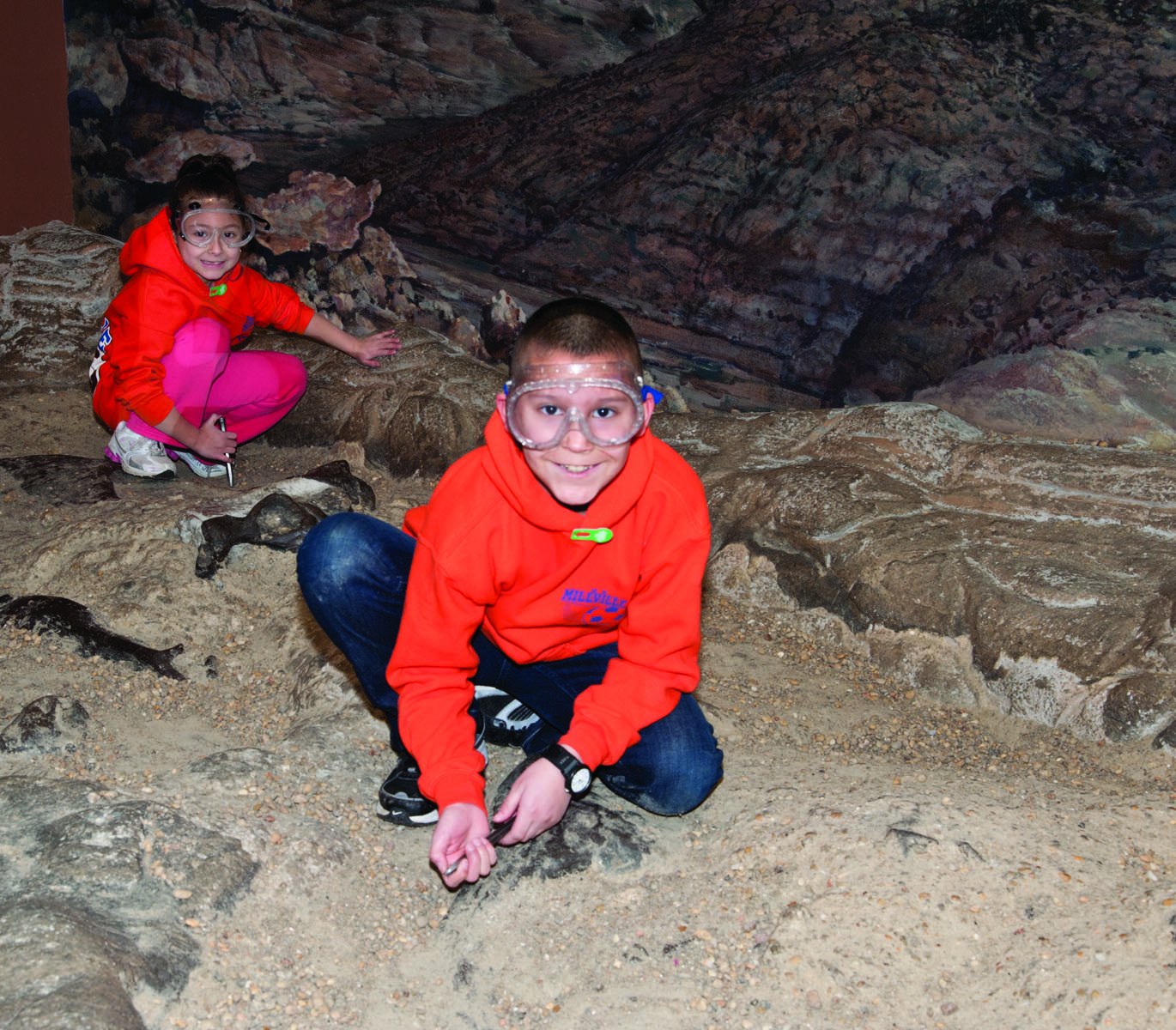 Visitors dig for fossils in the Big Dig. Credit: Will Klein/courtesy of The Academy of Natural Sciences
The Academy of Natural Sciences at Drexel University – Philadelphia, Pa.
1900 Benjamin Franklin Parkway
The oldest natural history museum in the country, and the first to mount a dinosaur skeleton for public viewing, The Academy of Natural Sciences is number 29 on our list of the top 100 things to do with kids in Philadelphia and with good reason. The two-tiered Dinosaur Hall has more than 30 specimens on view, highlighted by a ferocious T. rex skeleton near the entrance. Kids will also love playing with the green screen where they can virtually enter a Jurassic-era world, and visiting the exhibit's balcony to scour the Big Dig for fossils using a chisel or a soft brush.
For more kid-friendly activities, check out our Summer Fun Guide.
This story originally published in June 2015.