AMNH Explorer App: A Whole New Way to See the Museum of Natural History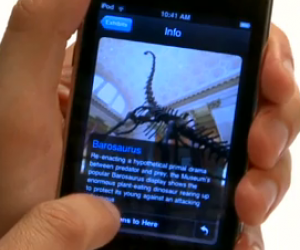 There is something new at the American Museum of Natural History, and it is bigger than the blue whale: Explorer, the brand new app. Explorer is a mobile GPS, personal tour guide and virtual exhibit hall all in one. Created for iphone/pod/pad, Explorer puts the entire (massive) museum in the palm of your hand, and you don't even need to own an iphone to try it out.

I recently toured the amazing dinosaur collection on the museum's fourth floor using Explorer as my guide and it is, in a word, awesome. State of the art technology, easy to use and a lot of fun, Explorer is a big hit with kids.

Read on to learn about this exciting new way to experience the museum and download your own Explorer:
The coolest thing Explorer does is function as an indoor, real time GPS that can pinpoint your exact location within the 45 exhibit halls and then lead you to where you are trying to go—be it the blue whale, the bathroom or the T Rex—using the most efficient route possible. Plus, this is all done on a wireless network; the museum becomes one enormous wifi hotspot.


Explorer offers a variety of ways to explore the museum. Just tap the directory and touch tours. By telling Explorer what you want to see you can build your own tour of the museum or choose one of the pre-programmed tour options like Dinosaurs, Night at the Museum or Earth and Space. Either way, Explorer virtually guides you through the 3D maps of the exhibit halls so you can't get lost. We also tried the "fossil hunt," a scavenger hunt through the halls of the museum, included in the tours section. I tried to find twelve different fossils based on clues (or a map) and then answered a short quiz on each when I finally found it. It made the same old museum halls new again.


Many of the museum's exhibits are explained in more detail in Explorer, plus you can send info to your Twitter feed or update your Facebook status directly, or just bookmark it for later use. Explorer can even send you an email with all your bookmarks when you are done.

Explorer provides a deeper experience to a museum that I have visited at least one hundred times and expect to visit at least another one hundred times before I am done. The app can be used as a tool to plan your visit to the museum before you go, and you can work with your children to decide what you will see and follow your own personal, digital tour guide around the museum.

I found Explorer intuitive and easy to use. Trust me, I am PC all the way and have never even touched any sort of i-device before, but I had no problem figuring it out. If you do have trouble, there is a handy tutorial and an app support team comprised of 25 NYC high school students stationed around the museum to help. Just look for them in the blue Explorer shirts.

Ellen Futter, the president of this esteemed institution, describes Explorer as "just plain fun," and she is right. The kids are going to love it. The only down side is that I spent so much time looking down at the Explorer that I sometimes forgot to look up to see the exhibits.

If you have an iphone/pod/pad you can download the app right now for free, and if you don't you can borrow one of the 350 pre-loaded ipods at the museum for free, with a valid credit card.


Read our post on things to do at the American Museum of Natural History before you head out.

Find more handy technology ideas for parents.
This post was originally published in July 2010.