Wild West City: A Cowboy Theme Park in New Jersey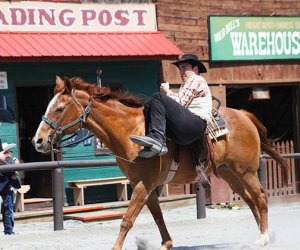 4/3/17
- By
Laura J
New Jersey is filled with fun amusement parks, boardwalk fun, and more attractions for kids, but one of the more unique options might just be Wild West City. This western-themed outdoor mini amusement park in rural Sussex County, New Jersey, lets families experience life in a frontier town circa 1880.
Attractions include live-action shows; stagecoach, pony, and train rides; mini golf; a barnyard zoo; and fun events for kids, including a dress-up day. Ever since Toy Story made its way onto our Netflix queue, my boys have been fascinated with Woody, so we took our two little Wild Bills and headed to Wild West City to check it out.
Inspired by Dodge City in the 1880s, Wild West City celebrates its 61st season in 2017. Nestled in Sussex County, right off Interstate 80, we found it to be an entertaining, educational and historical trip back to the days of Annie Oakley and Jesse James.

Kids are encouraged to participate in the action—and to come dressed for the era.
Upon our arrival, we watched the day's opening ceremony and then strolled down Main Street for its live, non-stop action. Be forewarned! Audience participation is highly encouraged. Depending on the day's schedule, kids can chase down bank robbers, join the sheriff's posse or foil a stagecoach hold-up! The cowboy competition had our kiddos yee hawing for hours.
After touring the one-room schoolhouse, town jail and general store, we met the town blacksmith and made a quick stop at the Golden Nugget Saloon (dad's favorite, of course). Next, we journeyed over to the horse-drawn carriage for an authentic stagecoach ride and jumped on the miniature train for a quick ride. We treated the little guys to a pony rides before heading to the petting zoo. Unfortunately, we didn't pan for gold or golf a round of put-put, as our day was coming to an end quickly.
The staff was extremely friendly during our visit and stayed 100% in character throughout the entire day. From the schoolhouse teacher to the chuck wagon cook, every resident of the Wild West made our trip worthwhile. It's a rootin' tootin' gold olde time for all those cowboys and cowgirls!
RELATED: 100 Things to Do with New Jersey Kids Before They Grow Up

Staff stays in character as cowboys, teachers, the town jailer, and more, throughout the day.
Must Know Info
Wild West City is a seasonal park, typically open May through Columbus Day. It is open weekends (Saturday and Sundays only) through June 16, but daily from June 17 until Labor Day (September 4); weekends only returns for the fall through closing on Columbus Day weekend.
Check out its special events calendar before picking the day of your visit. Some of our favorites coming up: Dads are free with a paying child (June 17 and 18); Wild West Dress-Up Day (June 24-25 and September 30-October 1; Cowboy Larry's Wild West Show with rope spinning, bull whipping, trick riding and cowboy crafts (August 8-9); and Grandparents Weekend where one grandparent gets in free with a child admission in a family of four (September 9-10).
Tips: Make sure to wear sunscreen or a hat, as the facility does not have a lot of shade Be prepared for a lot of noise – from the gun slinging to crowd cheering. The racket could startle infants or little kids.
It's easy to turn it into a weekend getaway. It's located near other Sussex County treasures: Land of Make Believe (Hope, NJ), Tomahawk Lake (Sparta, NJ), Mountain Creek Waterpark (Vernon, NJ), Sterling Hill Mining Museum (Ogdensburg, NJ), Space Farms Zoo and Museum (Sussex, NJ), Chatterbox Drive-In (Augusta, NJ), High Point State Park (Sussex, NJ) and Olde Lafayette Village (Lafayette, NJ).
Find Wild West City at 50 Lackawanna Drive Stanhope, New Jersey, 07874. The daily admission rates run $17.25 for adults, $15.25 for children (2-12) and senior citizens (62+) are $13.50. Extra fees apply for a train ride, pony ride, stagecoach ride, or to play miniature golf ($4 per person). Parking is FREE.
​All photos courtesy Wild West City.
​This article was first published in 2013 but was updated for 2017.