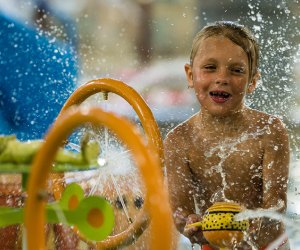 Awesome Water Theme Parks Near Philadelphia
The theme of summer is always: keep cool. And what better way to stay cool and have fun than visiting a nearby waterpark. Slides, lazy rivers, surf simulators, whirpools, and even swim-up bars for the adults; we've got a list of great waterparks not too far from the Philly area. So grab your bathing suits and towels, and get ready for an adventure.
Sesame Place- Langhorne, PA
Sesame Place is the perfect waterpark for the littlest adventurer. Kids will love playing on the Count's Splash Castle, riding the huge slip 'n' slide, or going down the ever-popular Sky Splash featuring oversized toys like an 8 foot rubber duckie! The best part is, admission gets you into the whole park, so kids can do more than just play in the water.
Dorney Park & Wildwater Kingdom- Allentown, PA
The best part about Dorney Park & Wildwater Kingdom is you get into both parks for one admission price! Wildwater Kingdom features so many great attractions- Island Water Works, Lollipop Lagoon, and Wild Water Rapids. It also has giant wave pools, serpentine slides, 2 different lazy rivers, and a racing slide.
Clementon Park Splash World- Clementon, NJ
Clementon Park has it all. From the waterpark to thrill rides and family rides, there's definitely a full day's worth of adventure here. The waterpark features thrill rides such as Torpedo Rush, Vertical Limit, and Viper as well as family experiences such as the wave pool called Big Wave Bay. Younger kids are sure to love Shipwreck Bay, a pirate ship complete with six water slides.
Sahara Sam's Oasis- West Berlin, NJ
Boasting indoor and outdoor options, this waterpark is perfect for year-round adventures. The indoor area has lots of unique slides, the state's only surfing simulator, an obstacle course, and an adorable toddler area. From Memorial Day through Labor Day, the park also offers an outdoor beach area featuring a leisure pool, full service tiki bar, splash park, and a 12,000 square feet wave pool. Sam's also has an arcade area when kids need a break from the water.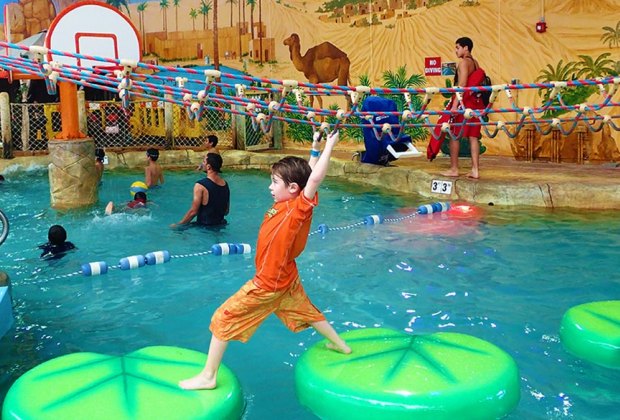 Crocodile Flats obstacle course. Photo courtesy of Sahara Sam's.
The Splashplex- Mt. Laurel, NJ
Part of The Funplex, Splashplex features outdoor attractions such as wave pools, slides, and a boardwalk. Get a break from the sun's rays with inside options include bowling, arcade games, and laser tag. Splashplex is open Memorial Day through Labor Day. Families can reserve a cabana in advance.
Great Wolf Lodge- Pocono Mountains, PA
Recently renovated, Great Wolf Lodge offers so many attractions. From relaxing hot springs and cabanas to thrilling water slides and wave pools, everyone in the family is sure to enjoy a visit to this destination. In addition to water fun, guests can expect a rope course, bowling, miniature golf, arcade games, and creation station, a place kids can make their very own stuffed animal.
Six Flags Hurrican Harbor- Jackson, NJ
If you like water rides that thrill, Hurricane Harbor is the place for you. Check out the Big Wave Racer, an 1,800 foot slide with lots of steep drops, Cannonball, Wahini, and Jurahnimo Falls, which features a 75 foot drop, or the Tornado, a 132 foot tunnel. Not into high speeds and big drops? No problem, Hurricane Harbor also offers family tube rides and kids rides. Slated to open Summer 2019, the all-new Calypso Springs features a 100,000 gallon pool, a spontaneously erupting geyser, huge lounge deck, and oversized umbrellas.
CoCo Key Water Resort- Mt. Laurel, NJ
This indoor water park and hotel features a lazy river, an interactive aquatic jungle gym, some crazy slides, a toddler area with baby slides and baby bungees, and a spa. Parents and kids alike will love this resort, and if you don't feel like driving home after a long day of fun, stay the night!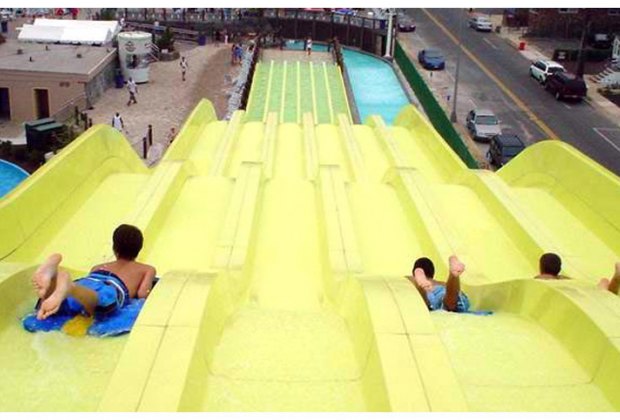 Riders go head first down Patriot's Plunge. Photo courtesy of Breakwater Beach.
Camelbeach Mountain Waterpark- Tannersville, PA
This outdoor waterpark features lots of great attractions. Thrill rides include SandStorm, a huge funnel tube ride, Triple Venom, a 6 story tall ride that features 3 different slides all with high speeds, quick turns, and huge drops, Vortex, body-ride bowl slides, and Spin Cycle, tube-ride bowl slides. It also includes lots of fun splash and water play areas for kids and a surf simulator. Camelbeach also has zip-lining. If you're too tired to drive home, or want to make a whole vacation out of it, stay at Camelback Hotel.
Kalahari Waterpark- Pocono Mountains, PA
America's largest indoor waterpark, Kalahari is also connected to a hotel with an outdoor pool and arcade. This park features a bodyboarding and surfing wave pool, water coasters and flume rides, a water play area for kids, a separate toddler area with tiny slides and activities, and a basketball pool. Kalahari also has a swim-up bar and whirpool spas for parents to relax and enjoy while kids play.
Jenkinson's Breakwater Beach Waterpark at Casino Pier- Seaside Heights, NJ
A great place to visit while you're at the shore, Breakwater Beach offers free fall slides, serpentine slides, a mat race slide with plunge drop, an interactive multi-level splash play area, and hot tub springs. Yes, hot tub springs.
Dutch Springs' AquaPark- Bethlehem, PA
Definitely the most unique waterpark on this list, the AquaPark at Dutch Springs is an old flooded quarry turned 50-acre lake. This lake features inflatable rides and slides, a water jump trampoline, rafts, snorkeling, and scuba diving. So, you can make a whole weekend out of it!
Originally published 2016