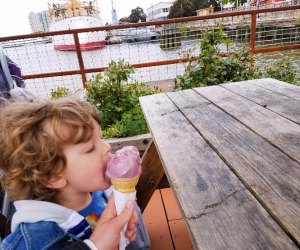 The Ultimate Guide to Ice Cream Shops in Philly and the 'Burbs
The heat and humidity of the Delaware Valley can sometimes be unbearable. What better way to beat the heat than cooling off with some delicious frozen treats! We have rounded up some sweet spots to visit throughout the summer months- just in time for National Ice Cream Day on July 21. A few places even have special events for the occasion so read on to discover some of our favorite places to get ice cream. The bigger question is-- which flavor will you chose?
Philadelphia
Bassetts Ice Cream
Reading Terminal Market 11th and Arch Streets
Known as America's Oldest Ice Cream Company, Bassetts Ice Cream is a fifth-generation business providing customers with its world famous ice cream treats. In addition to classic vanilla and chocolate, popular flavors include Salted Caramel Pretzel and Guatemalan Ripple!
The Franklin Fountain
116 Market Street
This old-fashioned ice cream parlor and soda shop offers customers a walk down memory lane as well as refreshing desserts! The Franklin Fountain is especially known for its ice cream sodas. This shop is open seven days a week and is cash only. "Bee" sure to check out Honeycomb Ice Cream made with the shop's rooftop honey.
Little Baby's Ice Cream
2311 Frankford Avenue/ 4903 Catharine Street/3401 Walnut Street
With five Philly locations, Little Baby's Ice Cream offers unique flavors such as Birch Beer Vanilla Bean, Chipotle Chocolate, Brown Butter Brawler, and Pizza-- just to name a few. It is important to note that soft serve is only available at the East Market Palace and R. House locations.
Weckerly's Ice Cream
9 West Girard Avenue
A husband-and-wife team is behind Weckerly's exquisite ice cream. Customers can expect freshly prepared ice cream and new flavors weekly. Weekend specials are regularly offered. Weckerly's famous ice cream sandwiches are available at many locations throughout the city such as Rival Bros, Mom's Organic Market, Riverwards Cafe, Terrain, and Carlino's. Out in the suburbs? You can find Weckerly's in select stores such as Kimberton Whole Foods.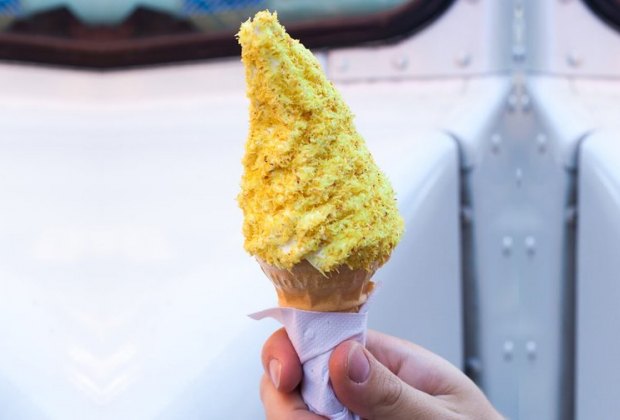 The Dorothy at Big Gay Ice Cream is vanilla soft-serve injected with dulce de leche and covered with Nilla Wafers. Photo courtesy of Big Gay Ice Cream.
Big Gay Ice Cream
521 S.Broad Street
This soft serve ice cream shop offers some creatively named and uniquely delicious ice cream cones. Try a Gobbler sundae, the Dorothy, or the signature Salty Pimp.
Scoop DeVille
1315 Walnut Street/118 S. 18th Street
"Life is short... eat dessert first." That's the motto at Scoop DeVille. You call the shots at this ice cream place. Choose your base and mix-ins and get a custom flavor created just for you. Plus, there is pick up and a delivery option.
Philly Flavors
2004 Fairmount Ave./ 44 S. 19th Street/ 343 S. 13th Street/ 1928 E. Passyunk Ave.
With four convenient locations, Philly Flavors also boasts a large menu of cold treats including Italian ice (water ice), soft serve and hard ice creams, gelato, and more.
Delaware County
Cocco's Gelatria- Primos
550 S. Oaks Street
This popular local spot is know for producing an authentic Italian gelato as well as fruity sorbets, specialty sundaes, and homemade baked goods.While you're there, try the Affogato Sundae- your choice of gelato drowned in a shot of espresso and topped with homemade whipped cream. Yum!
Crave Creamery- Springfield
1158 Baltimore Pike
Serving ice cream and gelato, there's no shortage of flavors to choose from at this yummy spot near the Springfield Mall. This spot also now offers water ice and soft serve ice cream.
Chill Out Ice Cream- Ridley Park
12 Acres Drive
With over 125 flavors of soft serve ice cream, as well as water ice, and hand-dipped flavors, you'll have a hard time choosing at Chill Out! If you're willing to share, try one of their Upside-Down sundaes. Little ones can select specially created concoctions such as Cone-Head Clown, Earthworm Sundae, or Magic Potion.
The Wayne Coffee & Ice Cream Bar- Wayne
134 N. Wayne Ave.
What's better than ice cream? Coffee and ice cream, of course! Come in the AM for coffee and donuts, or in the afternoon for ice cream and treats. You can also find a variety of gluten-free, dairy-free, and vegan ice creams and treats at this yummy ice cream shop. There's a location in Chester County too!
The Sugaree Ice Cream and Candy- Newtown Square
3117 West Chester Pike
This ice cream shop features Bassets hand-dipped ice cream, Morrone's water ice, and soft serve, as well as gluten-free, dairy-free, and sugar-free options.
Chester County
Handel's Homemade Ice Cream and Yogurt- Berwyn
576 Lancaster Avenue
What started out as a young couple serving ice cream at a gas station in Ohio has blossomed into a franchise providing ice cream and yogurt treats in Berwyn, PA. With classic sundaes, four scoop samplers, Handel's Hurricane, and smoothies, there truly is something delicious for everyone in the family. Ice cream is made fresh daily.
La Michoacana Homemade Ice Cream- Kennett Square
231 East State Road
Offering over 50 exotic flavors of ice cream, water ice, and popsicles, La Michoacana also has a loyal club option which provides customers with coupons and deals. For something different, give the sweet corn ice cream and chili powder a try.
Scoops 'n' Smiles - Malvern
327 E. King Street
Open year-round, and serving up tasty Pennsylvania Dutch ice cream, Scoops 'n' Smiles is a family-owned ice cream shop located right on bustling King Street in downtown Malvern.
The West Chester Coffee & Ice Cream Bar- West Chester
6 E. Gay Street
Offering both coffee and ice cream, this Chester County location allows guests to indulge on treats morning, noon, or evening.
The Station Hand-Dipped Ice Cream Shoppe- West Grove
100 Railroad Avenue
Located near the railroad tracks and the Avon Grove Library in southern Chester County, this family-run business offers delicious hand-dipped ice cream with a variety of flavors and cones to choose.
Bucks County
DelVal Creamery- Doylestown
2100 Lower State Road
Visitors to the DelVal Creamery can expect homemade ice cream with fresh ingredients from the farm.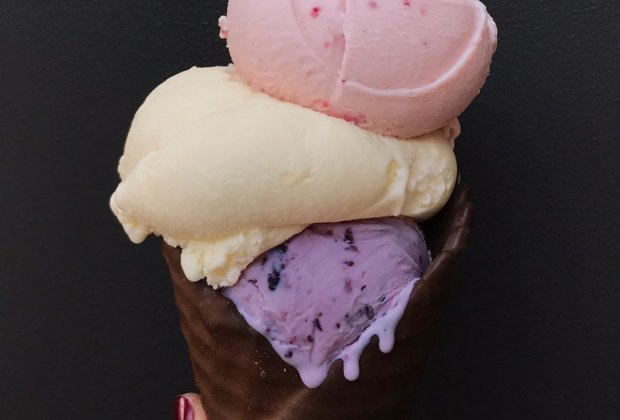 A triple scoop of organic ice cream from OwowCow Creamery. Photo courtesy of OwowCow Creamery's Facebook page.
OwowCow Creamery- Ottsville/ Newtown, PA & Lambertville, NJ (Near New Hope)
​4105 Durham Road/ 591 Durham Road/ 237 N. Union Street
This organic ice cream shop features a variety of unique flavors including Rosewater Cardamom, Garden Berries, Honey Lavender, and "I Hate Chocolate."
Sweet Pea Ice Cream- Doylestown
18 W. State Street
All the flavors here are either vanilla based or chocolate based. This shop also offers frozen yogurt and dairy-free water ice. Keep an eye out for their ice cream trucks, too, serving up the same delicious flavors in multiple locations.
Pigadilly's- Lahaska
53 Peddler's Village
Located in Peddler's Village, there is no shortage of frozen treats here. Pigadilly's offers ice cream, gelato, smoothies, milkshakes, malts, floats, and slushies. And, oh my gosh... they have crepes topped with ice cream too! Check out their new location located at 4950 York Road in Buckingham.
Montgomery County
Freddy Hill Farms- Lansdale
1400 Sumneytown Pike
Named "Best of Philly" by Philadelphia Magazine, Freddy Hill Farms provides customers with dipped ice cream, milkshakes, flurries, and ice cream cakes. After getting some ice cream, be sure to check out the other activities at the farm like mini-golf and batting cages.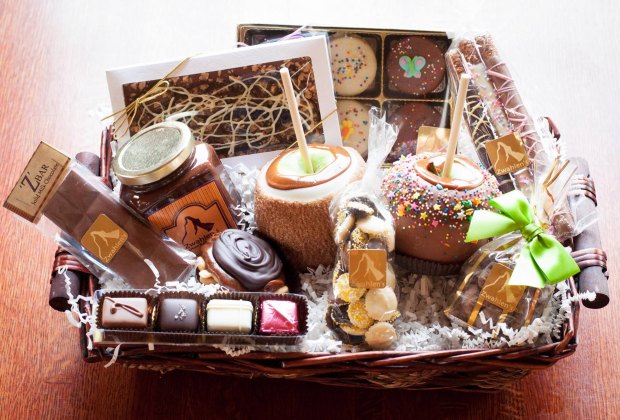 Zwahlen's offers more than just ice cream- including chocolate, cupcakes, and their signature chocolate covered apples. Photo courtesy of Zwahlen's Facebook page
Zwahlen's Ice Cream and Chocolate Co.- Audubon
670 Shannondell Blvd.
This family-run business features two favorite products: ice cream AND chocolate! Each day, a different flavor is offered such as Krispie Treat or Very Chunky Cherry. Guests can enjoy plenty of seating both indoors as well as outside on the patio, weather permitting. You will definitely want to grab one of their many flavors of chocolate covered apples to take home.
Sweet Briar Ice Cream and Cafe- Ambler
11 Lindenwood Avenue
In addition to serving breakfast, lunch, and dinner, Sweet Briar Ice Cream and Cafe is known for its refreshing ice cream offerings. For a healthy alternative, be sure to try one of their satisfying smoothies.
Scoops- Conshohocken
515 Fayette Street
This ice cream shop is family-friendly and dog-friendly, too! Choose from ice cream treats or water ice, and enjoy the weather on one of their outdoor benches. Hit an ATM before you arrive as Scoops is cash-only.
Sprinkles Ice Cream Shoppe- Elkins Park
908 Township Line Road
Open year-round, this traditional mom & pop ice cream shoppe offers flavors like Birthday Cake, Death by Chocolate, Salted Caramel, and Strawberry Cheesecake. Sprinkles is cash-only and pet-friendly.
Delaware
Woodside Farm Creamery- Hockessin, DE
1310 Little Baltimore Road
Using milk from the farm's 30+ Jersey cows, Woodside Farm Creamery's ice cream is certainly a special treat! Guests can expect banana splits, milkshakes, ice cream cookie sandwiches, and even Cow Pie sundaes!
During its National Ice Cream Celebration, Woodside Farm Creamery offers a behind-the-scenes farm tour and ice cream eating contest.
Ice Cream Delight- Wilmington, DE
1 Ice Cream Drive
Decisions, decisions... there are over 52 flavors from which to chose at Ice Cream Delight, appropriately located on Ice Cream Drive.
On National Ice Cream Day, guests receive free sprinkles on their order.
Header image courtesy of Cait Sumner for Mommy Poppins