Best Roller Skating Rinks in Philly for Kids and Families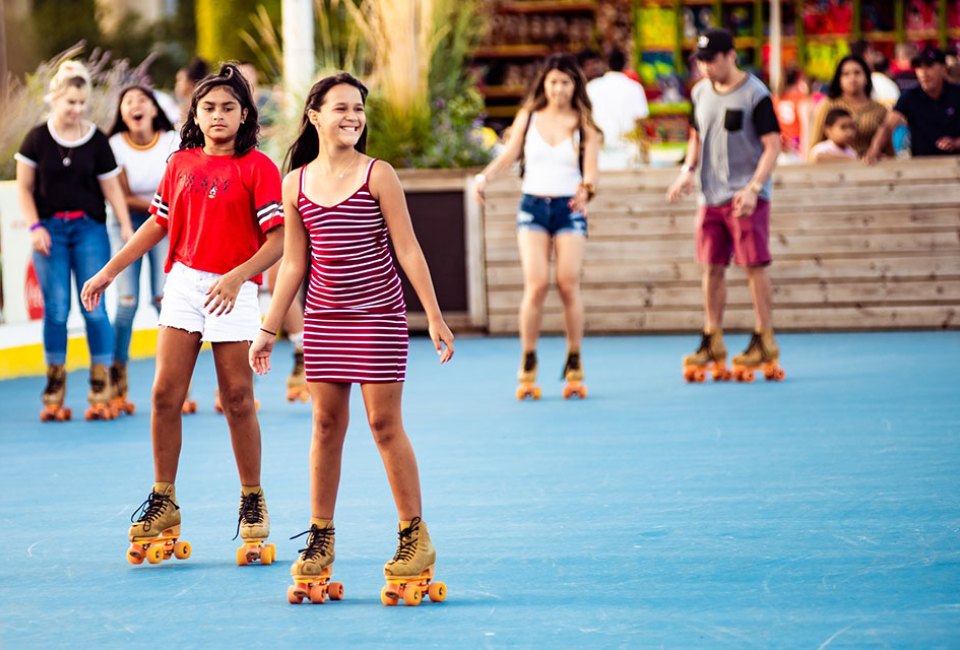 5/14/23
- By
Nicole O'Donnell
Roller skating rinks are a great place to have fun and there are so many great options in the Philadelphia area. So lace up your skates, Philly! It's time to hit the rink for some retro fun. Roller skating is the perfect way to sneak in some exercise for both kids and adults. There are indoor and outdoor rinks throughout the Philadelphia area so you can practice your skating skills while making memories with you kids no matter the weather!
If you need more ways to get the energy out, check out our list of Trampoline Parks and Bounce House Play Areas or our guide to the Best Indoor Play Spaces and Fun Zones. If you're looking to get outside, we've rounded up all the Best Playgrounds in the Philadelphia Region.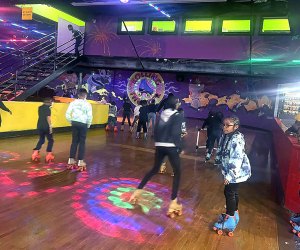 It's throwback indoor fun at Rolling Thunder Skating & Family Fun Center.
Best Indoor Roller Skating for Families Near Philly
Philly Skate Plex is an indoor skating rink featuring a large skating area, as well as an arcade, a snack bar, and a lounge area for parents. Philly Skate Plex offers special $1 and $2 admissions times, themed skating, lessons, and party packages for birthdays or special events.
Rolling Thunder Skating & Family Fun Center is another great option for families in the Philadelphia area. This rink is in the Northeast and features a spacious skating area, as well as an arcade, and a snack bar. Rolling Thunder offers special low cost admission days and Family Glow Nights, so check their schedule before you make plans.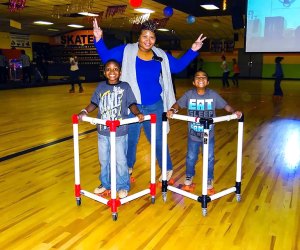 Beginners are welcome at Millennium Skate World.
Millennium Skate World — Camden, NJ
Millennium Skate World is a popular roller-skating rink located in Camden, New Jersey, just across the bridge. This rink features a large skating area, as well as a snack bar and arcade games. Millennium Skate World is open seven days a week, and admission is $10, with skate rentals available for an additional $5. The rink has special discounted admissions on select days.
Hot Wheelz is an indoor skating rink located in Cherry Hill. This rink features a large skating area, as well as an arcade, indoor play area, and a snack bar. Hot Wheelz is open on weekends and some holidays, and admission is $10, with skate rentals available for an additional $5. They offer skating lessons for $12 on Saturdays and special discounted admission days. The space can be rented for birthday parties and private events.
Marple Sports Arena is a fantastic roller-skating rink that offers a fun-filled experience for the whole family. Whether you're a beginner or a seasoned pro, Marple Sports Arena offers skating sessions and a variety of special events and programs, this rink is a top choice for families looking to create lasting memories with their children. In addition to skating, the arena has rock climbing, a moon bounce, and other activities. Public skating hours vary, so check the schedule before you head out the door!
Skate 'N Jump is a unique space located in South Philadelphia offering families a place to roller skate, jump, and more. Skate 'N Jump provides endless entertainment options for kids and parents alike, including indoor bumper cars! The snack bar has a kid-friendly menu and lots of great deals. Make sure your kiddo wears socks!
Boasting the largest skate floor on the East Coast, the Rink Skate Center is a classic roller-skating rink that promises a nostalgic and joyful experience. With its retro vibe and well-maintained wooden floor, this rink takes you back to the golden age of roller skating. The Rink offers open skate sessions as well as specialized programs for beginners, ensuring everyone can enjoy their time on wheels. Check out all their special events, including Dollar Day, Glow Skate, and Family Night!
Inline 309 is a premier roller-skating rink that caters to both recreational and competitive skaters. With its state-of-the-art facility, this rink offers a modern and dynamic environment for families to enjoy. Inline 309 hosts public skating sessions, group lessons, and even roller hockey leagues, providing a wide range of options for skaters of all interests and skill levels. Parents can even walk around the rink in shoes to help little ones better.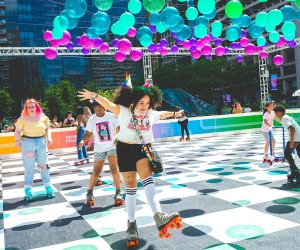 Skate at the colorful, retro-inspired Rothman Orthopaedics Roller Rink that brings old-school cool to historic City Hall. Photo courtesy of Center City District
Best Outdoor Roller Skating in Philly for Families
Open from May 12 through September 24
Located on the waterfront at Penn's Landing, The Blue Cross RiverRink is currently hosting Summerfest featuring boardwalk games, rides, and mini golf. Lace up your skates and take a spin around the beautiful outdoor rink in the middle of all the action. Boardwalk fare, adult beverages, and arcade games are also available.
Open from April 21 through July 16
The colorful rink boasts a vibrant checkerboard floor and an overhead art installation. Discounted skate sessions are available during some weekdays and lockers are available to rent. Fuel up between skating sessions at the Air Grille Garden, which features roller-rink inspired snacks and adult beverages!
Unless noted, photos courtesy of the rinks
Enter to Win!