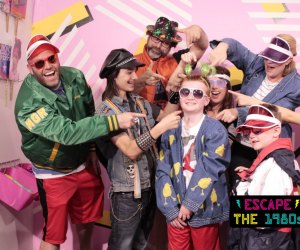 Family-Friendly Escape Rooms Near Philadelphia
If you haven't been to an escape room, you've probably at least seen someone share a photo in your news feed, holding up a sign that says something like, "I escaped!" It's a super fun rainy day, weekend, or even birthday party activity. The gist is simple: Get locked in a room with a bunch of friends (and strangers) and find the clues to work your way out. What makes these rooms even more fun is the choice of themes-anything from classrooms to locker rooms, Harry Potter, and even the 1980s. We recommend you check websites for room themes, as these may be subject to change at any time. Not all escape rooms welcome kids, so we've rounded up some family-friendly escape rooms in the Philadelphia area. And don't forget to check out our post on family-friendly escape rooms in NJ if you'd rather visit a locale in the Garden State.
Room Escape Philadelphia
The recommended age at this escape room is 12 and up, but there are no restrictions. Room Escape Philadelphia has two rooms to choose from, and they rate the difficulty of each on the website.
Escape The Room Philly
All of the games at Escape the Room Philly are kid-friendly, but they are challenging because they're created for adults. The games are recommended for ages 10 and up with adults and 14 and up if they want to be daring and play on their own. If you'd like to come with kids 5 and under, it's preferred that you book the whole room for your friends and family.
Escape The Room West Chester
Both rooms here are rated PG-13. Kids under 14 must be accompanied by an adult, and they do warn that the puzzles are challenging.
Amazing Escape Room- Philadelphia & Cherry Hill, NJ
All of the rooms here are kid-friendly. To go on their own, the optimal age for kids is 12 and over. Kids younger than 12 may need some help from adults with some of the clues or riddles. The Night at the Museum and The Manor (both in Cherry Hill) may be better suited for older kids.
Steel Owl Room Adventures- Philadelphia
Escape the 1980s on Passyunk Avenue! This totally tubular retro-themed room is great for families. For kids under 16 and their parents, there are special family game options. Steel Owl also offers rad birthday party packages.
Liberty Escape Rooms- Philadelphia
Most adventures here are designed for kids 10 and up. Those 13 and under must be accompanied by an adult. Located in Old City, these rooms provide a bit more of an historic theme. It's recommended that you read the descriptions and details to determine whether or not rooms might be appropriate for your family.
Project Escape- Conshohocken
Project Escape just opened a very exciting Harry Potter theme room. Kids of all ages are welcome here, but anyone under 18 must be accompanied by an adult. The adventures are best enjoyed by those 12 and up.
Doylestown Escape Room- Doylestown
"The Big Game" adventure is perfect for kids aged 8-12 (adults are just necessary for supervision). Adults are encouraged to hold back with helping at this one and let kids solve the puzzle on their own.
Xscape The Room- Media
Most rooms here are best enjoyed by adults and high school aged kids. Kids aged11-14 are welcome to participate in the company of an adult. Xscape the Room is also working on rooms that are suited for a younger audience, so be sure to check back in on social media or on their website for more info.
Expedition Escape- King of Prussia & Montgomeryville
There are no age restrictions here, but many of the puzzles can be difficult for younger children as they are created for adults. Kids 16 or younger must be accompanied by at least one adult.
Mission Escape Games- Philadelphia
Drawing from the tale of Dr. Jekyll and Mr. Hyde, Escape the Hydeout is the featured room at this Philly location. You and up to seven others in your group can investigate clues to win.
Mind Escape- Philadelphia
The games at this location are designated as moderate to hard, so stick to this spot if you're a parent of a teen. Choose from a room based on Jack the Ripper or figure out how to bust out of prison.
Escape Rooms at the Franklin Institute- Philadelphia
Franklin Institute features intergalactic- and island-themed escape rooms designed for kids who are 10 and older. Book a private party or make new friends as you and your teammates work together to crack codes and solve puzzles.
Expedition Escape- King of Prussia
With rooms like Quest for the Throne and Bank Heist, which can accommodate up to 36 people at one time, your family is sure to have a blast as you all work together to escape. Plus, whether your team is made up of novices or experts, there are options for all skill levels.
Trapped PHL Escape Rooms- Philadelphia
This location features three rooms, including a speakeasy that you'll need to break into (best for older teens), a deteriorating attic in the home of a woman who might be just as old as the house, and a factory on the brink of explosion. Children must be 8 years or older to play.
Photo courtesy of Steel Owl's Escape the 1980s Facebook page.