Canoeing and Boating with Kids: Great Places To Go Near Philly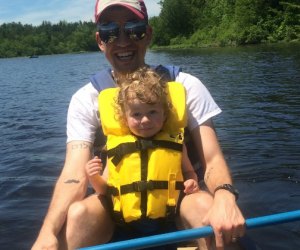 Canoeing is a great way to expose kids to exercise and adventure all at once. If you're looking for a fun way to explore on a warm day, this is it. Some of these parks also offer beaches where you can go swimming in the lake to cool off when you're done! Check out our list of great places near Philly to go boating or canoeing with your family.
For more summer fun, don't forget to check out our Summer Guide- full of activities and fun for the season.
Free Saturday Boating at Bartram's Gardens- Philadelphia
Take an excursion down the Schuylkill on a rowboat or kayak at Bartram's Gardens. No registration or prior experience is required. Outings are limited to 30 minutes and include boats, life jackets, and basic instruction.
Al and Sam's Canoe Rental at Parvin State Park- Elmer, NJ
Paddle a canoe or kayak around the lake at Parvin State Park. You can rent for an hour or all day. You'll also have to pay the $2 per person entrance fee to the beach for anyone over 2 or under 65. Al and Sam's also offers a lease to own program, if you really love canoeing. Relax on the beach and take a dip in the lake when you're done.
Cowboy Mike's Canoe Rental at Atsion Recreation Area- Shamong, NJ
Take a scenic trip around the lake at Atsion Recreation Area. This beautiful lake offers plenty of space for canoeing. In addition to the rental fee, there is a per car fee to get into the beach. Bring your bathing suits and beach towels and spend the whole day hanging out at the beach and lake.
Marsh Creek Boat Rental- Downingtown
Marsh Creek Boat Rental offers plenty of rental options. You can rent motorboats, paddleboards if you have older kids, kayaks, canoes, paddleboats, and even sailboats. Hours vary depending on the time of year, so check the website before you go.
Core Creek Park- Langhorne
Core Creek Boat Rental offers rowboats, canoes, kayaks, paddleboats, and even something called an aqaucycle. Canoes can be rented by the hour, half day, or full day. Boat rental is only open the first weekend of May through Labor Day.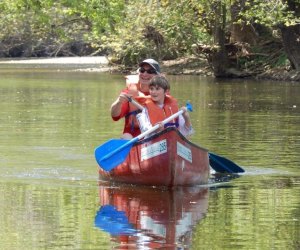 A family enjoying a trip through scenic Chester County. Photo courtesy of Northbrook Canoe Company.
Northbrook Canoe Company- West Chester
Northbrook Canoe offers scenic trips through beautiful Chester County. Prices vary depending on which trip you choose, and there are several options to choose from. Downstream trips require reservations in advance, so make sure you check the website and decide which trip you'd like. Children under 2 are, unfortunately, not permitted on the canoes, and you must have one adult present for each child under 10. Northbrook also offers kayaking and tubing.
Header image provided by the author.