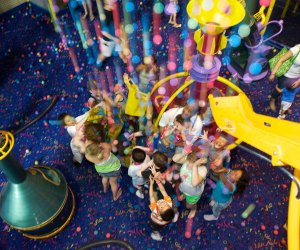 Drop-In Indoor Play Spaces for Philly Area Kids
Winter, spring, summer or fall, it's always a good season to play! No matter what the weather looks like outdoors, indoor playspaces are perfect for keeping little ones entertained, and exercised. Here's a list of great spots you can visit with your kiddos, even when the climate's not working in your favor.
NEST - Center City
This children's enrichment center, ideal for newborn babies to 7 year olds, was founded by three couples looking to keep their kids entertained in the city. It offers a nature themed indoor playground with a tree house, costumes, a toy market, building blocks and a pre walker area. This is a one stop shop for everything from art and music classes, to haircuts, birthday parties, and more. There's even a snack cafe where parents can sip on coffee and watch their children play. They also offer a monthly membership that includes discounted parking, unlimited access to the play space and free coffee and wifi.
My Gym - Springfield, Lionville/Exton, Yardley, and Cherry Hill
Kids learn that exercising is fun with ninja training, gymnastics, and karate classes sure to keep them on their toes. You can pay a lifetime membership fee and enroll in a wide variety of classes. They also offer punch passes, so you can drop in and play. The first class is always free.
Kids At Play - Philadelphia
A child's main job is to play and learn, and that's just what they'll do at this indoor, multi-sensory playground appropriate for toddlers to 12 year olds. A zip-line, roller coaster car and ball pit are just some of the fun attractions your kids will enjoy. They also offer classes, and you can book a space for birthday parties as well. Pre-crawlers are free with a paid admission, and adults are free with a paying child. Kids at Play also offers licensed therapy and sensory gym.
PlayArts - Philadelphia
Arts and play come together in this 4,500 square foot facility in Fishtown ideal for infants, toddlers, and older kids. Dance, music, theater, and art classes are offered, and parents can pay an annual or quarterly membership to enjoy more perks. Chinese Learning Lab is another class that has been incorporated into this playspace's offerings.
Lulu's Casita- Ardmore and West Chester
With two locations, this playspace provides fun for kids 0-5 years old to play and explore. There are bilingual storytimes, Friday Pizza Nights, and music sessions.Parents can grab a cup of joe while watching their youngsters playing in a relaxed atmosphere.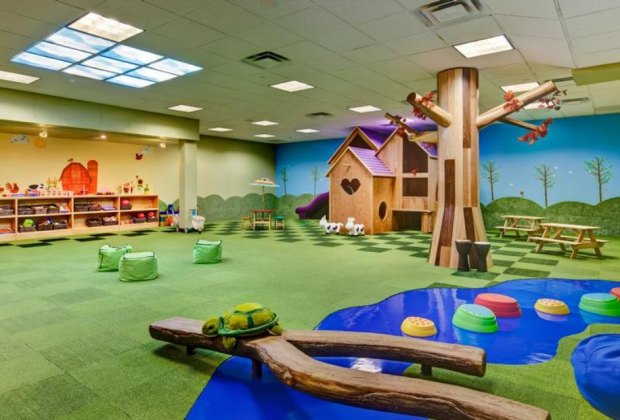 Photo courtesy of NEST
We Rock the Spectrum- Northeast Philadelphia
Children ages 12 and under with varying abilities can enjoy this 3,300 square foot playspace that includes trampolines, a zip line, a rock wall, and an imaginary play area. You can pay for 2 hours of play or for an all-day pass. For frequent visitors, cost effective memberships are also available.
Philly InMovement - Queen Village
This space provides gymnastics and movement education classes, but also has an open gym option for 10 month old - school aged children. Mini-Movement, for younger children, is held in Bella Vista on Percy Street. Children's classes, drop-in sessions, and Kinder Camp are programs at this location. Philly InMovement offers children's classes including Fast Track classes, Enrichment Summer Camp, and Adult programming.
Oasis Family Fun Center - Glen Mills
There's a soft playground area with obstacles and tunnels that will entertain kids up to 12 years old. There's also a soft ball arena with over 5,000 soft foam balls to play with, as well as jumpshot trampoline basketball. Older kids are sure to be intrigued by the laser maze challenge, rock climbing wall, and arcade. Don't forget to play a game of bowling while you are there.
Giggleberry Fair- Peddler's Village
Kids are sure to have a blast in Giggleberry Mountain, a large indoor obstacle course that is sure to keep them entertained. In Giggles Discovers, children can pretend at a fire station, make-believe with puppets, and splash in the water zone. There's also a game room and a carousel.
Chatter Splatter - Conshohocken
Opened on weekdays, Chatter Splatter is a great meet up for playgroups and moms. Kids make new friends and parents can also socialize as they watch over their kids The recommended age group is 6 months to 6 years old. Outside food is allowed; however, no nut products are permitted. Snacks are also available for purchase. Every child gets a juice, fruit and cookies, and adults get free coffee daily at 10:30 AM and 1 PM. It is important to note that the playspace is open on select Saturdays each month.
The Little Pod- North Wales
Children can play, climb, explore, and learn through interactive play seven days a week. Moms and dads are sure to appreciate free wifi. Parents can also reserve for birthday parties.
Splash Lab Arts- East Falls
This is an awesome place to let the kids get messy and not have to clean up the wreckage! Splash Lab has open play hours daily from 9 AM - 1 PM. Kids love painting on the walls and building on the LEGO wall. Visitors can expect Baby and Me options, Afternoon Art, and even camp opportunities.
Media's Toddler Town- Media
Originally scheduled to open in December 2018, this playspace is set to open February 16, 2019. Newest to the list, this venue is geared mainly towards kiddos 5 and under. Guests can pop in for a visit or get a membership to save money. Monthly and yearly memberships are available. The space has a play area with a little town depicting charming Media as it features favorite hot spots such as The Media Theatre and Pinocchio's Restaurant as well as a firehouse and police station. This new spot hosts birthday parties too!
This post was originally published in 2017 and has been updated.