Best Summer Day Trips from Philly: Quick Getaways for Families with Kids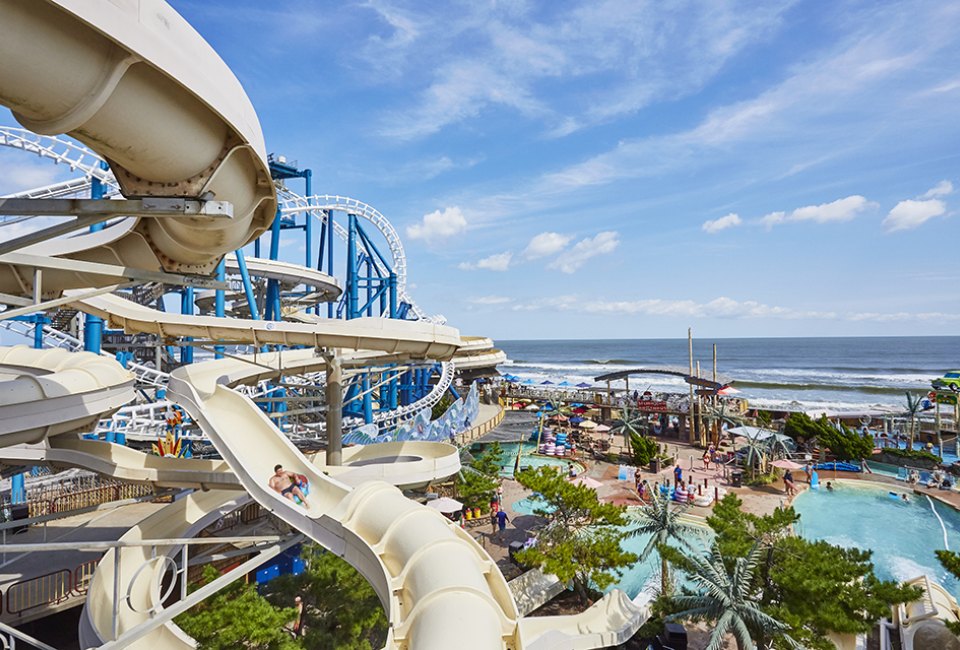 6/24/22
- By
Kristen Sullivan
Note: Distances listed are from Center City and do not account for traffic delays.
Summer Day Trips in PA
Distance from Philadelphia: 45 minutes
Preschoolers are sure to love a sunny day visit to Sesame Place. Filled with all the familiar characters found in the beloved children's television show, this amusement park leaves kids squealing with delight. The park features multiple amusement rides, theater shows, special character dining, and parades. If visiting in warm weather, don't forget to pack a bathing suit to enjoy the water park offerings. Sesame Place is known as the world's first theme park to be named a Certified Autism Center, so its low-sensory fun and trained staff can help kids make the most of the day.
Distance from Philadelphia: 1 hour
A short drive north from Center City, the Lehigh Valley offers families plenty of fun. Kids can participate in hands-on scientific exploration at Da Vinci Science Museum, see the animals at the Lehigh Valley Zoo, take in a minor league baseball game with the Lehigh Valley Iron Pigs (oink, oink), or see how crayons are made at Crayola Experience.
Distance from Philadelphia: About 90 minutes
Drive about 90 minutes from Center City and start watching for horse and buggies in Amish Country. Families can take an Amish farmhouse and village tour that includes a one-room schoolhouse, blacksmith shop, and farm at The Amish Village. Stop by Lancaster Central Market for delicious eats. After refueling, visit Strasburg Rail Road and see the trains, the Railroad Museum of Pennsylvania to learn about locomotive history, and consider extending the stay with an overnight at the Red Caboose Motel. Take a ride in an Amish buggy, or engage in outdoor fun and meet some friendly animals at Cherry Crest Adventure Farm. You can also tour the factories where some of your favorite foods are made, like Turkey Hill ice cream or Utz potato chips.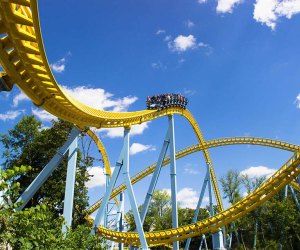 Indulge your sweet tooth and enjoy rides for every age at Hersheypark. Photo courtesy of the park
Distance from Philadelphia: 2 hours
Visiting the State Capitol is always a great, educational experience for elementary age children through young adults. The National Civil War Museum and The State Museum of Pennsylvania are other learning opportunities in Harrisburg. You can also take a riverboat ride on the Pride of the Susquehanna, explore STEM at the Whitaker Center for Science and Arts, learn about firefighting at the Pennsylvania National Fire Museum, or see how chocolate is made at Hersheypark, the sweetest place on Earth.
Distance from Philadelphia: 2 hours, 30 minutes
For families who love the outdoors, it's worth making the trip to Ricketts Glenn State Park. There, you can hike the Falls Trail System, viewing beautiful waterfalls along the way. Take a swim at the beach on Lake Jean, or extend your stay by booking a campsite. Alternatively, spend the day at American's largest free-admission park, Knoebels Amusement Resort, a family-run amusement park, picnic grove, and campground. Either purchase an all-day pass to ride all of the classic rides and the much-lauded wooden roller-coaster, The Phoenix, or purchase tickets and pay for just the rides you want.
Distance from Philadelphia: 2 hours, 40 minutes
History buffs are sure to enjoy a visit to Gettysburg. Start at the Gettysburg National Military Park Visitor Center to see the cyclorama film that gives guests an overview of the 1863 battle. Families can then take a guided tour with a park ranger or chose to do a self-guided tour. Be sure to visit the National Cemetery to see where Abraham Lincoln gave the Gettysburg Address. Head into town and you might be lucky enough to see Abraham Lincoln going for a stroll.
RELATED: Great Things to Do in the Poconos with Philly Kids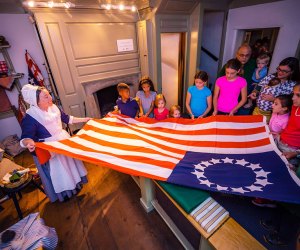 Travel back to the earliest days of American at the Betsy Ross House Photo courtesy of Visit Philly
For city dwellers, this may not fall in the day trip category. However, for suburbanites, the City of Brotherly Love is a wonderful excursion. Filled with amazing museums, a phenomenal zoo, and unique gardens, the city offers plenty of options for even the pickiest cherub. And, of course, Philadelphia is a town brimming with history so be sure to check out the Liberty Bell, Independence Hall, and the Betsy Ross House. If you're looking to have fun on a budget, be sure and check out some of our favorite Philly finds that are free.
Summer Day Trips in NJ
Distance from Philadelphia: 15 minutes
Cross over the bridge for some fun in the Garden State. Camden's Adventure Aquarium is the perfect place for children to see sharks, penguins, eels, terrapins, stingrays, and frogs. Get outside and wander through the beautiful Camden Children's Garden, making sure to see the butterflies, take a ride on the carousel, and see Storybook Garden. Afterward, those interested in history can explore the battleship New Jersey and its museum. Extend the fun by participating in an overnight onboard the vessel.
RELATED: Alpaca Farms in Philly for Furry Family Fun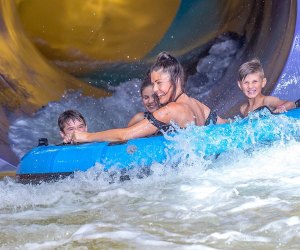 It's always summer at Sahara Sam's Oasis. Photo courtesy of Sahara Sam's
Distance from Philadelphia: 45 minutes
Does your kid know the difference between an excavator and a backhoe? Then, Diggerland should be a must-do for your little builder. Just a few minutes past Camden, families can find an amusement park unlike any other. Family-run and operated, Diggerland offers rides such as Argo Off Road, Mini-Diggers: Treasure, Operation Battle Trucks, and Elevation Station. There are special-abilities nights offered throughout the year as well. If you'd like to cool off after digging in the dirt, stop at Sahara Sam's Oasis, which boasts both an indoor and outdoor water park, as well as an arcade.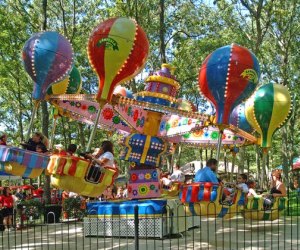 Step into your favorite nursery rhymes and fairy tales at Storybook Land. Photo courtesy of the park
Distance from Philadelphia to Atlantic City: 75 minutes
Once you've cleaned the dirt from Diggerland out of the car, get ready for sand at the Jersey Shore. Of course, playing in the waves and building sand castles is always fun, but consider visiting Lucy the Elephant on the Atlantic City boardwalk and seeing the animals at the Atlantic City Aquarium or Popcorn Park Animal Refuge. Kids under 10 are sure to love a trip to Storybook Land, filled with fairy tale characters, rides, food, and special events.
Distance from Philadelphia: 1 hour, 30 minutes
A little further down the coast, Wildwoods is a five-mile island that offers white sand beaches, a 38-block boardwalk, dining, treats, and more. Check out Morey's Piers and Water Parks, with a wide selection of water slides, activity pools, rides, and shopping.

More Summer Day Trips from Philly
Distance from Philadelphia: 45 minutes
A short ride south takes Philly families to the first state in the country, Delaware. In the city of Wilmington, visitors can find lots of entertainment. Younger children can explore the hands-on Delaware Children's Museum or see a kid-friendly show at the Delaware Children's Theatre. Sports lovers can watch a Wilmington Blue Rocks baseball game at Frawley Stadium, play a round of mini-golf on the riverfront, or try bump-and-play soccer. Budding artists can get inspired at the Delaware Art Museum or the Delaware Center for the Contemporary Arts. You can view the mansion and grounds of the Dupont estate Nemours, or retreat to the Enchanted Woods at Winterthur.
Distance from Philadelphia: 2 hours
You can be in Baltimore in about two hours, giving you the whole day to explore Charm City. Stick to tourist favorites and hit up the Inner Harbor to visit the Baltimore Aquarium, the Maryland Science Center, and grab a bite to eat at the Rusty Scupper for classic Maryland crab cakes. If you prefer the beaten path, check out Remington for fine art either at the Baltimore Art Museum or in the public art popping up around the neighborhood. Stay for some of the best eats in town, including the original Ace of Cakes, where kids can take cake-decorating classes from the pros. Visit Sandlot for a unique outdoor dining experience, where kids can get in some beachy sand fun, or head to Druid Hill to check out the zoo and conservatory.
Distance from Philadelphia: 2 hours
In about three hours, Philly families can find themselves in our nation's capital. This city is filled with history, museums, and culture. Kids are sure to love exploring the Smithsonian Museums such as the National Air and Space Museum and National Museum of African American History and Culture. Visiting the animals at Smithsonian's National Zoo is a do-not-miss attraction. An extra bonus is that they are FREE. Other noteworthy spots to visit include the International Spy Museum and Ford's Theatre. Don't forget to taken in the views of the Potomac while on The Capital Wheel at the National Harbor.

Distance from Philadelphia: 2 hours
Getting out of Philly and into the Big Apple is easy; the hard part is choosing where to go once you arrive. To make the most of your day trip, pick a neighborhood that is easy to get to from the highway, like Brooklyn, where you could spend a day playground hopping in Prospect Park. Or go for a classic experience at Coney Island if you are up for a slightly longer drive. The museums in New York are some of the best in the country, so if you are looking for a cultural experience, we love the kid-friendly American Museum of Natural History, or select from dozens of kid-friendly plays for the Broadway experience.
This post is updated annually. Writer Alyce Wilson contributed to the 2022 update.
Sign up for the Mommy Poppins Newsletter today!