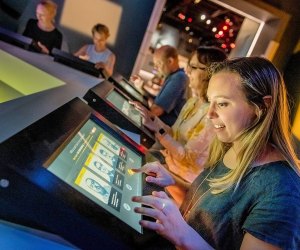 Little Eyes Can Spy at International Spy Museum DC
Hidden in plain sight, appropriately enough, in L'Enfant Plaza is the newly reconstituted International Spy Museum DC. And what adventures little eyes can spy at this tween and teen showplace.
The International Spy Museum is, in fact, a museum dedicated to espionage. The Spy Museum houses the largest collection of spy-related relics ever put on display, and its collection tripled in size shortly before its 2019 relocation to L'Enfant Plaza, near DC's Smithsonian museums.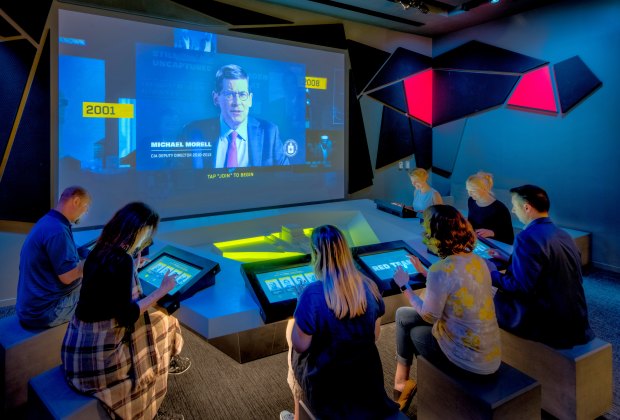 Train as a CIA operative in a hunt for bad guys at the Spy Museum, DC.
The International Spy Museum DC
The International Spy Museum is not new. In fact, it opened in 2002 in the Penn Quarter section of DC. What makes the new location so compelling, however, is the added dimension of digital interactivity, perfect for the iPad generation of kids who might dream of careers in law enforcement, diplomacy, and, yes, counterintelligence.
"Our goal in creating the new museum was to expand the types of stories we tell and the methods we use to tell them," vice president of exhibitions and programs Anna Slafer said. "We hope our visitors will walk out of the Spy Museum's doors empowered by their new knowledge of the intelligence world."
That might be ambitious for most tweens and teens. Not my child, who at 8 years old was mesmerized by the diversity of young-children's programming. Greeted at the Spy Museum entrance by a James Bond Aston-Martin driven by Sean Connery on the set of Goldfinger, we continued upstairs, where our covert missions began.
RELATED: DC Museums That Are Free Every Day

Follow the digital clues as your covert adventure continues. Photo by James Stephen Smith
From a digital monitor, we received our secret identities, occupations, targets, and missions. As we moved from station to station tasked with sophisticated spy responsibilities, it became clear to my traveling party this was no lightweight challenge. (Full disclosure: Thinking not at all like a covert operative, I blurted out my newly assigned identity and was immediately disqualified. Yours truly is a spy school failure.)
Not so with my daughter and family, who continued from monitor to monitor, acquiring clues to advance their assigned missions. Without being too revealing, missions range from asset acquisition, imaginary anti-terror initiatives, surveillance, and more. Participants are "debriefed" after their missions just as they might be were they working for the CIA.
If all this sounds a bit over the top for young children, rest assured it's presented in an entertaining and educational way sure to enlighten kids to the value and diversity of espionage. My daughter seemed to be among the youngest in attendance on our visiting day, but she was not the only child. The museum offers a number of kid-friendly programs and hosts scavenger hunts, spy camps, mission-based sleepovers, and birthday parties for spy-minded kids.
RELATED: Sleepover Nights at the Nation's Best-Known Museums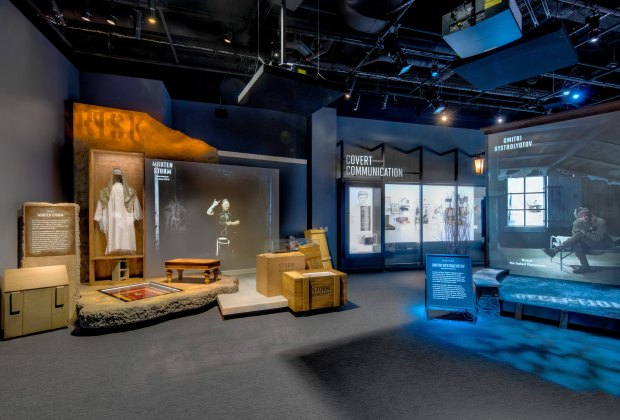 Visitors to Spy Museum DC learn about the role intelligence operations played throughout history.
Kids and adults with an interest in history will be especially interested in the museum's multi-floor collections of espionage paraphernalia, including suitcase radios, code-breaking machines, hidden cameras, and something that looked remarkably like a Get Smart-style shoe phone.
Sorry for the 1960s pop culture reference. But you will find plenty of oddities at this espionage cathedral. Going back even farther in history, you'll find letters from George Washington and a tribute to the commander-in-chief's elaborate Long Island-to-Connecticut spy network, whose role in helping win the Revolution was serialized in the TV show Turn: Washington's Spies.
Elsewhere, kids will enjoy exhibits dedicated to famous spies and spymasters, tools of the spy trade, espionage throughout history, and information acquisition. All museum tours are self-guided.
The L'Enfant Plaza food court offers a number of options for hungry families and sits behind the museum. There is a well-stocked gift shop on site.
Daily Spy Museum tickets (as of 2020) are $24.95 for adults, $14.95 for kids 7 to 12 years old, and FREE for kids 6 and younger. Modest discounts are available for online ticket orders and for college students and active or retired military or intelligence community members.
RELATED: 50 Things to Do in DC With Kids Before They Grow Up


Transform yourself into a super sleuth or spymaster.
Getting to the Spy Museum
The International Spy Museum is located at 700 L'Enfant Plaza SW in DC. The L'Enfant Plaza Metro station is a five-minute walk. The free Southwest Shuttle runs every 10 minutes between The Wharf, L'Enfant Plaza, and the National Mall. Exit the shuttle at the 10th St. SW stop, which is in front of the spy museum.
For more information, see www.spymuseum.org or call 203-393-7798.
Photos by Sam Kittner for the International Spy Museum except where noted.