The Adventures of Tortoise & Hare The Next Generation
The Sheen Center

The Very Hungry Caterpillar Show
DR2 Theatre

NYC Easter Brunch Cruise 2023
Event Cruises NYC
Sign up for our free newsletters.
Discover Hands-On Fun at The Delaware Children's Museum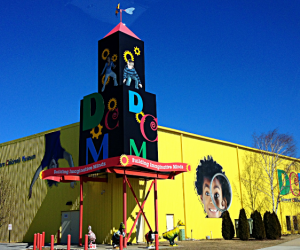 8/16/17
- By
Cait Sumner
Kids love to play and parents love it when they learn new things while they do it. Just a short drive away in Wilmington, Delaware, the Delaware Children's Museum is an interactive, educational, and hands-on museum where kids can learn while they play. Kids can play, climb, jump, and splash, all while learning about the human body, building, conservation, and more.
Delaware Children's Museum, much like the Please Touch Museum in Philadelphia, offers interactive fun where kids can learn about every day things like buying groceries, saving money, or taking care of stuffed animals at a pretend vet clinic. The best part of this museum was that it was not overly crowded. I do not love huge crowds- especially huge crowds of kids, so I was fully prepared to deal with the anxiety of way too many kids running around in small spaces. We were there on a Saturday and the crowd was quite tame, so I was really relieved!
What I loved about this museum was that kids of varying ages can all enjoy it, and you can easily spend several hours there and keep everyone happy. It features nine different play areas as well as a classroom area with organized activities at different times each day.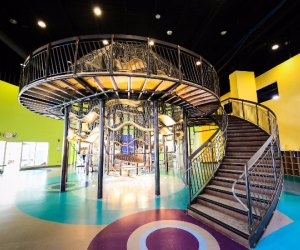 The Stratosphere is a huge climbable playscape.
The first thing you see as you enter the museum is the Stratosphere. This 30-foot wide climbing structure does not disappoint. Not only can kids climb from bottom to top, but it's also wheelchair accessible. A lift can take wheelchair-bound kiddos to the top where they can explore more easily accesible areas with the help of a parent or guardian. There's also a stairway for parents to climb to the top to meet their kids. The Stratosphere is a great place to start and/or end your day at the museum.
One of my favorite parts of the museum is the Power of Me exhibit where kids can learn all about their very own bodies! Kids will learn about the anatomy of the human body, with huge skeletal puzzles, a large Operation-esque game to find all the rightful places for your organs, and more. Kids will also learn about exercise and the limits of their bodies by testing their skills at endurance, flexibility, and balance. Play a game of basketball in the nets provided by the local Delaware 87ers team or see how fast you can throw a pitch in the Wilmington Blue Rocks Bullpen.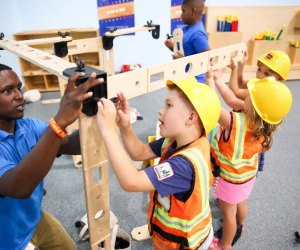 Visit the S.T.E.M. classroom to take part in one of the daily rotating classes.
I also loved the S.T.E.M. Room where the museum hosts daily classes. We learned about yeast and bread in a food science class the day we were there. Some of the other rotating class topics include aeronautical engineering, the digestive system, mechanical engineering, and physics.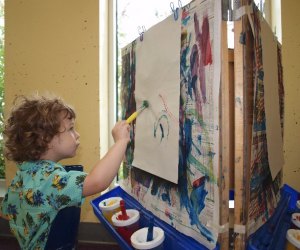 Kids can paint in Studio D and parents won't have to worry about the mess. Photo courtesy of the author
Studio D is another popular area where kids can don a smock and paint to their heart's content and parents don't have to worry about cleaning up. This room also includes a sensory station where kids can make a total mess with shaving cream!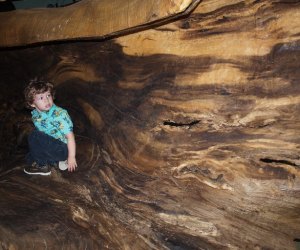 Walk through a real-life hollowed out sycamore tree! Photo courtesy of the author
Kids can learn about architecture and building in the Structures area, take a walk through a real hollowed out sycamore tree at the Tree Pavilion, and learn more about nature, recycling, and sustainability in the Ecoconnect exhibit, which features a pretty awesome stream table and a small aquarium. Kids will also enjoy pretending to change a tire at the Training Wheels exhibit and learning about money and creating their own dollar bill in the Bank On It exhibit.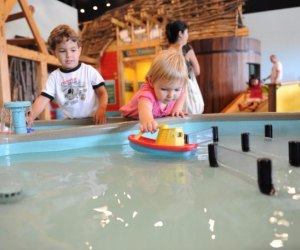 You can't miss the huge water table which teaches kids about wind power and water locks.
The Delaware Children's Museum is open Tuesday-Sunday (be aware that it is closed weekdays in September, 2017). The museum also hosts many events, including Harry Potter Science night, $2 and $5 nights (where admission is discounted), daily aquarium feedings, family game nights, scavenger hunts, and more. Visit their website for more information or to purchase admission tickets.
All photos courtes of Delaware Children's Museum except where otherwise noted.