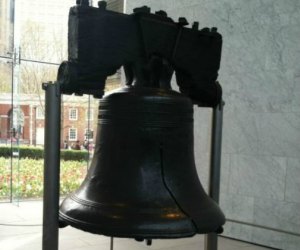 Visiting Historic Philadelphia with Kids
Taking the family to Historic Philadelphia can seem like a daunting task. There is so much to see and do that it can feel overwhelming. Fortunately, Mommy Poppins can give you the low-down on some of the best spots to visit while in Old City. Even if you visit Philadelphia regularly, there is always something new to discover. Many attractions are free or relatively inexpensive. So, check out the list below which includes some favorites, and begin to uncover all that Philadelphia's historic district has to offer for families.
Independence Visitor Center: The Independence Visitor Center offers a small, yet informative museum area. At this location, visitors can receive free, timed tickets to tour Independence Hall. It is important to go early because, depending on the day, all the tickets may be distributed. But, fear not! Visitors can go to Independence Hall after 5 PM and receive a free tour without a ticket. This location features a "Once Upon A Nation" Storytelling bench. More on that later...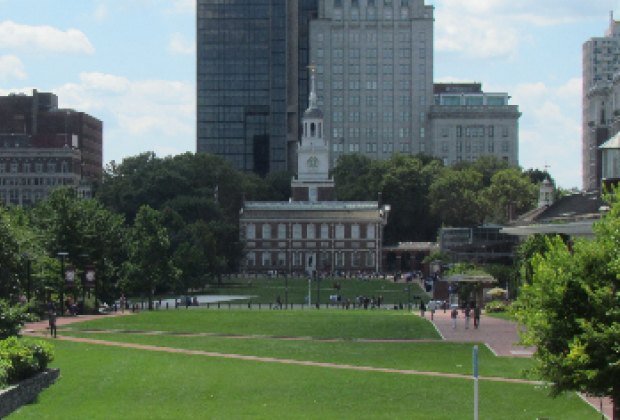 Independence Hall: Guests to Independence Hall can learn interesting facts while taking a free, guided tour. Two of our nation's most important documents, the Declaration of Independence and Constitution, were both written and signed here, and George Washington was appointed Commander in Chief of the Continental Army here. Visitors should consider ordering tickets online (for a $1.50 surcharge per ticket) or wait in line at Independence Visitor Center. A limited number of tickets are sold in advance so don't be discouraged if there are no tickets available online as walk-up tickets are available. However, it is recommended to get there early as the amount of tickets are limited each day. Be sure to check out the "Once Upon A Nation" Storytelling bench at this location.
Liberty Bell Center: The Liberty Bell signifies freedom and is an important artifact from our country's past. Visitors can tell that it is a top sight to see because the lines to see this cracked bell can be incredibly long. Once inside, visitors can read about the history of the bell as they await seeing the bell itself. As the day wears on, the lines to become less crowded. By 4 PM, you could basically walk right through so it may be wise to make it your last stop. Visiting the Liberty Bell is free.
President's House Site: On the corner of 6th and Market Streets, visitors can view the original foundation of the President's House in which both Presidents Washington and Adams resided. This outdoor exhibit features videos and story panels that tell about life at that time with particular attention to the paradox between slavery and freedom in the nation. This self-guided experience is free and does not require tickets.
Benjamin Franklin Museum: Located in Franklin Court between Market and Chestnut Streets and 3rd and 4th Streets, this family-friendly museum shares information about Benjamin Franklin's life, his philosophy and his inventions in an interactive way. Even grown-ups are bound to discover something they didn't know about this famous Founding Father. Admission to the museum is reasonably priced; however, it is important to note that the museum offers free admission on special occasions throughout the year. Also, if you have a 4th grader in the family, enroll him/her in an Every Kid in Every Park program to receive free admission to this museum and many other National Parks throughout the country as well.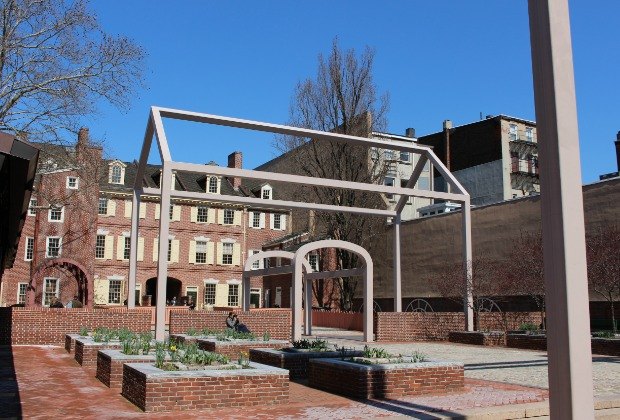 Franklin Court: While in Franklin Court, stop by the printing office to see how books and newspapers were created back in the olden days. In addition, visitors can view the ghost structures that show Benjamin Franklin's home and see remnants of the building itself. Admission is free and no tickets are required.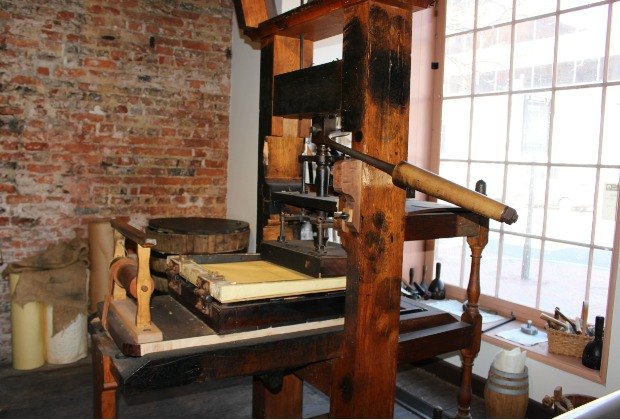 Christ Church: Benjamin Franklin and four other signers of the Declaration of Independence are buried at Christ Church which is located on Arch Street between 4th and 5th Streets. Visitors can sneak a peek through the gates to see Franklin's gravestone or pay $2 per adult and $1 per child for an up close look at the entire burial ground.
Betsy Ross House: Families can enjoy a self-guided tour of the home of Betsy Ross, creator of our nation's flag. Parents may need to read plaques and information for young children; however, a scavenger hunt is provided with admission to engage young visitors while viewing the home. At designated times, Betsy Ross herself is available for a Meet and Greet. In addition, the Betsy Ross House offers special events throughout the year such as Betsy's Birthday Bash, Colonial Chocolate Making and Flag Festival activities. The courtyard features a snack bar with drinks, pretzels and ice cream.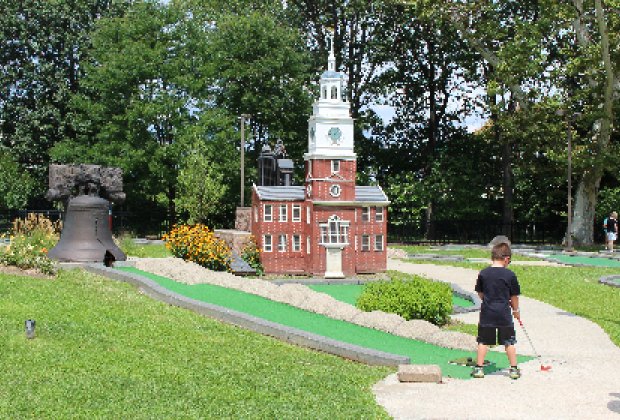 Franklin Square: Visitors can spend the afternoon playing at Franklin Square. There is an amazing 18-hole miniature golf course that features tiny versions of local Philadelphia landmarks such as Elfreth's Alley, the LOVE Statue and Boathouse Row. The last hole boasts the Liberty Bell. If you get a "Hole in One" at that hole, the bell tolls! After a round of golf, children and adults alike can take a spin on the Parx Carousel. Golf costs $9 for adults and $7 for children. Tickets for the carousel are $3 a piece. However, if you visit 10 "Once Upon A Nation" benches and fill a flag (which is given to you at the first stop) with 10 stars, you can receive a free ride on the carousel. There is a playground for younger kids and a grassy area to play ball. Now that you have worked up an appetite, indulge in a burger at Square Burger (they run about $7 a piece) and a milk shake: Vanilla, Chocolate, Black and White or their signature Cake Shake, made with Tastykake Butterscotch Krimpets (another $5). Franklin Square hosts a variety of seasonal fun such as the Trick or Treat Trail, Great Egg Hunt and Kids' New Years Eve Countdown.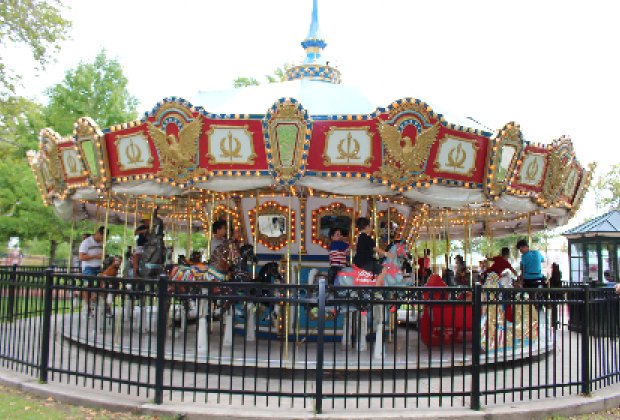 Once Upon A Nation: Throughout Historic Philadelphia, guests can find yellowish-green circles with the words "Once Upon A Nation" written inside. Nearby there is a bench and a storyteller, dressed in the same yellowish-green colored shirt. When you hear the bell, you know that a story is about to begin. And, if the story is already in progress, it is completely acceptable to join right in. There are multiple benches situated throughout this section of the city.
The United States Mint: Our kids loved visiting the Mint. The 45-minute self-guided tour provides a thorough explanation of the coin-making process. In addition to an informative movie at the start, visitors watch the coin production through big plate-glass windows. The experience is free; however, there may be slight wait times during peak times such as spring break and summer weekends.
The National Constitution Center: Also located along Independence Mall, is yet another must-do activity for families in the historic district. Be sure to check out our parent review for all the details.
Originally published 8/24/15. All photos by the author.