Phillies World Series 2022: Make your Philly Kid a Phanatic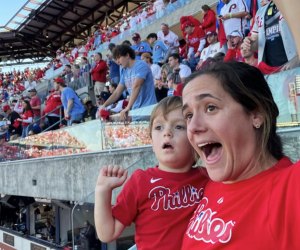 10/28/22
- By
Liz Baill
Everything you need to turn your family into a Phamily as the Phillies head to the 2022 World Series.
To have kids in Philadelphia right now is to be entrusted with great responsibility that no true Philly parent will squander. We are parenting during a Phillies World Series run. It's been 13 years since the Phils were NLCS Champions. That means there's a whole new crop of kids and basically the next generation of Phillies fans who have the opportunity of their childhood (Sound hyperbolic? Good.) to root for the Phillies in the World Series. So whether you're a bandwagon fan (shh we won't tell) or a die-hard phanatic who remembers McGraw's final out, we've got you covered for how to make the most of the World Series 2022, from the swag to the snacks.
Every Philly kid needs the Phillie Phanatic in their life.
Make your Philly Kid a Phanatic during the World Series 2022
Sing the Songs
Wondering why the streets of Philly suddenly sound like a nightclub? Fans have quickly adopted the team's locker room anthem Dancing on My Own (the Callum Scott remix of Robyn's original), so put that beat on repeat. Better yet, head to Rittenhouse Square at 12:30pm and 5:30pm where you can hear it blasting twice daily from The Laurel, and don't miss the Philadelphia Orchestra's rendition to add some culture to that beat drop. Another song for your school carpool playlist is High Hopes by Frank Sinatra, sung famously by late Phillies broadcaster Harry Kalas and still played after the games with quirky lyrics that celebrate that underdog spirit.

Get your Phillies churros at El Merkury, located at both Reading Terminal Market and 21st and Chestnut. Photo courtesy of El Merkury
Eat the Food
Food is now Phood in Philly, where restaurants everywhere are serving up Phillies-themed grub. Dottie's Donuts added Phillies Greased Poles to the menu, commemorating that unique pride we feel when street poles are climbed despite being greased. Termini Brothers is shipping out kits to decorate your own Phillies cupcakes, while Franklin Fountain gifts a free "baseball" scoop with any ice cream purchase to patrons wearing their Phillies gear. El Merkury is cranking out P-shaped churros covered in red edible glitter, and on the Main Line Carlino's is stocked with tomato pies with cheese Phillies logos and the cutest Phillie Phanatic cupcakes you've ever seen. How 'bout hoagies to help those home runs? Enter SchwarberFest, whipped up by the wizards at Wawa upon realizing that outfielder Kyle Schwarber's home run record was way better during last summer's HoagieFest. Lo and behold those reduced-priced hoagies seem to have worked, so go get a shortie and support the cause. Update: Get out your crayons because there are now Schwarberfest coloring pages. Don't you just love this city?

Paint your face, wear your gear, and show your love for the Phils.
Get the Gear
Everyone should be wearing red as we wind down Red October. Head to the ballpark itself to the New Era Phillies Team Store, open at Citizens Bank Park throughout the World Series, where you'll find plenty of merch for the smallest fans among us. Lots of local businesses are bringing out their Phillies gear, like Monkey's Uncle in Doylestown, where you'll find everything from baby bibs to kid's capris, and Born Yesterday in Rittenhouse, where you can always find great sports swag including Phillies pacifiers. For some of the most creative kid-sized swag, head to online retailer Phillygoat, whose site is dripping in Philly pride and unique options you won't find at the ballpark (think novelty tees with the Phanatic and Gritty posed like the Step Brothers movie poster). Gear extends to toys and books too--head to Children's Book World in Haverford to browse the shelves for Phillies kid lit.

Get the kids hyped on sugar with Carlino's cupcakes paired with a Phillies tomato pie. Photo courtesy of Carlino's
Get Hyped
We're keeping track of any Phillies-themed family activities that pop up, so keep an eye on our events calendar. On deck is a pep rally at Chester Arthur in southwest Philly and a Phillies music dance party for kids 5 and under led by Miss Minors Music in Palmer Park, where babies can pretend-climb some "greased" (but not actually) poles, dance with red scarves, and maybe (can we suggest) ring some bells.

Have your own Phamily watch party.
Watch the Game
Considering the 8pm start time of each game, we'll hold on our list of the most kid-friendly sports bars and restaurants. But it is the World Series after all, so if you're inclined to push back bedtime here's the (updated) game schedule: Friday, October 28; Saturday October 29; Tuesday, November 1; Wednesday, November 2; Thursday, November 3; and (if necessary) Saturday, November 5; and Sunday, November 6. All games air on Fox at 8:03pm to be precise. The series starts in Houston and makes its way to home turf on Halloween, so let's hope for more treats than tricks.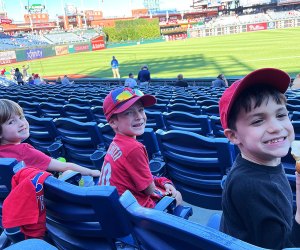 Good luck getting World Series tickets, but if you can it's worth the late bedtime.
Go to a Game
I mean, this is the dream and obviously worth some tired kiddos if you can somehow swing it. The time to enter the lottery for a mere chance to purchase tickets has passed, but you can take a shot at a site like StubHub or Vivid Seats and make those tickets an early (and extremely expensive) holiday gift. Word is the tickets in Houston are cheaper so you can head south and rep Philly in enemy territory. If you do manage to get to the game itself, don't miss all that Citizens Bank Park has to offer aspiring ball players.

Tell the Tales
From the identity of the Phillie Phanatic ("What animal is he?" my son asks. Who cares--he's awesome!) to the height of Billy Penn (no he's not wearing a hat this time thank goodness), there are so many memorable anecdotes that stick with kids and make them lifelong fans. So brush up on your sports smarts even if it's not usually your thing (take note--we've got FIVE pro teams all active simultaneously for the first time ever!), and use this opportunity with your kiddos to cultivate that one and only Philly pride as the city gets ready to Ring. The. Bell.
GO PHILS!
Photos courtesy of the author unless otherwise noted.