Best Water Ice Near Philly: Frozen Treats from "Wooder" to Italian Ice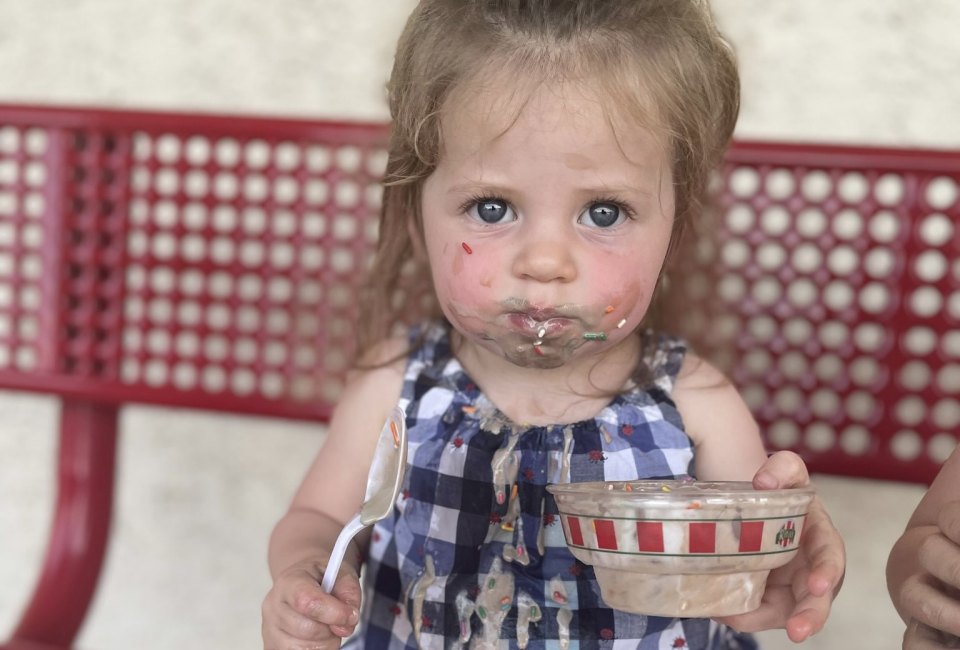 9/2/22
- By
Corrie Stango
"Wooder ice! Get your wooder ice!" Philadelphians certainly have their fair share of lingo and accents, but whether you (youse?) pronounce it "wooder" or go with the old faithful "water," get yourself to one of these Philly-based water ice destinations while the warm weeks are still upon us. Many locations on our list had their start in humble beginnings, only now to be recognized as some of the area's best. With classic and unique flavors, real fruit, and to-go bins, everyone is sure to find something yummy. More of an ice cream lover? Many of the spots listed carry ice cream and soft serve as well, plus check out our list of Philly's best ice cream spots!

Choose from more than 50 flavors at Famous Italian Ices. Photo courtesy of the store
Best Water Ice Spots In and Around Philly
What started as a mobile business is now an East Passyunk storefront where Gramma D'Emilio's sorbetto recipe anchors the creative menu that changes frequently to include flavors like lychee watermelon or pineapple ruberry. There's also your basic soft serve flavors for kiddos with less experimental taste.
With 57 years in business and over 50 flavors on the menu—think bubblegum, cotton candy twist, and sour patch mango—there's something for every palate. And Famous Italian Ices has to be good with wholesale delivery all over the country.
As a teenager, Fred sold hot dogs by day and water ice by night. Now, Fred's is a Southwest Philly staple with essential flavors and also some adventurous ones like sour apple, coconut cream, and bubblegum. There's even a canopy for shade, coin-operated rides for kids, and some hot food items as added bonuses.
Jimmy's walk-up window in South Philly has that signature Philly feel with classic flavors to match like chocolate and cherry. Pretzels and frozen bananas are also always on the menu.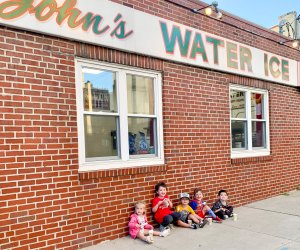 Treat yourself at John's, a South Philly staple. Photo by Katie Greenbaum Neff
This South Philly third-generation owned and operated location uses every parent's favorite—real fruit—in their homemade water ice. Operating since 1945, John's also books their truck for events like birthday parties and fundraisers. John's is open April through October.
This location, known for its Italian cheeses and baked goods, is also a delightful stop for a cup of lemon, cherry, or chocolate water ice. While Mancuso & Son keeps it basic with three flavors, they are totally worth it, staying true to the original recipe from 1939 that includes the freshest of everything.
One of the newer shops on the list, Mama Maria's signature flavors are known for its real chunks of fruit and fruit garnishes, made fresh each day.
Petrucci's — King of Prussia and Phoenixville
If you're doing some shopping in King of Prussia or strolling in downtown Phoenixville, hit up Petrucci's. There are around 10 permanent flavors for those who enjoy the classics and another 10 rotating flavors for those who enjoy something new.
This summer marks 90 years since "Pop" started selling frozen treats in his South Philly neighborhood. Today, Pop's has two locations, one where it all started in South Philly and the other in Havertown.
Rita's — Various Locations
Even though you can find a Rita's in over 30 states, it all started in our very own Bensalem, PA. And now, it isn't hard to find a local Rita's pretty much anywhere. You know the deal: Italian ice, custard, gelati, blendini, misto shake, and more.
At Rose's in Roxborough, you can find about 10 Italian ice flavors on any given day through September. Outside of the warm months, you can still find Joe, the owner, working 365 days a year on a breakfast menu and beyond.
Siddiq's — West Philly and Chester
Winner of the "Ultimate Philly Frozen Treat," even beating out ice cream and gelato venues, Siddiq's in West Philly (with another location in Chester) is a must-try. The water ice here is made with 100% real fruit for a sweetness level that is just right.
In addition to its retail store, Tranzilli's boasts a wholesale operation that lets you know it's good. The family recipe was specifically designed to maintain a cold and tasty texture that withstood the heat for the factory workers Tranzilli's served in 1969.
Orange Creamsicle. Cappuccino. Peanut Butter Cup. Mounds Bar. Lemon Meringue. Peach Cobbler. With these and many others (over 30 flavors, in fact), Yardley Ice House brings its customers ice with a twist; many of the options here are made with delicious ingredients, such as cookies, chocolate, custard, and more.
Sign up for the Mommy Poppins Newsletter today!