Indoor Rock Climbing for Philly Area Families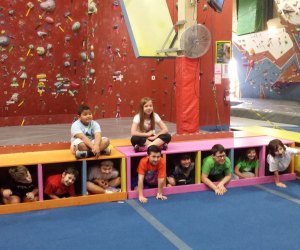 Looking for a family activity that can be both challenging and fun for the entire family? There are tons of indoor activities to do with kids, but rock gyms offer a way for the grown-ups to get moving alongside their children. Sure, everyone enjoys a trip to the museum or bounce gym, but it's also good to change it up from time to time.
Check out our list of rock-climbing facilities—a few of them are road trip material, but who doesn't like exploring a new town once in a while?
Go Vertical - Philadelphia
Go Vertical has 250 climbing routes on tap at all times. Aside from walls that range in height up to 50-feet, there are a total of 13,500 square feet of climbing surfaces throughout. Plus, a separate beginner's learning area is available, as well as a wall for the kiddos. Teens, 13-17, can get a youth certification and climb without parental supervision.
Philadelphia Rock Gym - Various locations
PRG is an excellent place to get the kids introduced to rock climbing. With plenty of youth programs available—including Kinder Climb for ages 3-5, Kids Climb for ages 5 and up, and Club Team for kids 7 and up—children of all ages can learn how to safely climb indoors. There's also a Kids Night that might appeal to some adults, too; On Friday nights, parents can drop off their kids to climb from 5:30-7:30 PM.
The Siegel Jewish Community Center has an indoor rock wall that's available for anyone aged 5 and older. Climbers must be accompanied by a Siegel JCC belayer.
Photo courtesy Elite Climbing on Facebook.
Originally published in 2016.