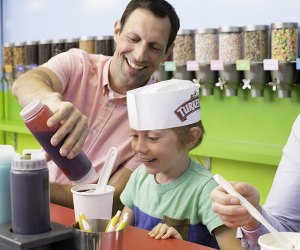 See How It's Made: Best Factory Tours Near Philadelphia
There's something so cool about seeing how things are made. Whether it's going behind the scenes at Crayola, watching yummy chocolate being poured into molds, or seeing coins minted, it's really intriguing to see everyday items take shape. There are plenty of great places in the area where you can do just that. Read on to see our favorite factory tours and find out how things are made!
Hershey's Chocolate Tour- Hershey, PA
During this FREE tour, you'll follow cocoa beans on their journey to becoming your favorite yummy chocolates. This 30-minute tour is completely free and runs continuously during operating hours. While you're there, check out some of the other attractions at Hershey's Chocolate World, like the create your own candy bar.
Herr's Snack Factory Tour- Nottingham, PA
Learn what makes a great chipping potato and how tortilla chips get their seasoning, and, of course, sample some of the delicious snacks that Herr's offers. The tour can take up to an hour and you'll see live manufacturing, because of this tours are only available on weekdays. You can schedule your tour online before you go.
Crayola Experience- Easton, PA
The Crayola Experience is more than a factory tour, it's 65,000 square feet of attractions. Plan to spend about 3-4 hours visiting the 26 hands- on attractions here. You can star in your own coloring page, name and wrap your own crayon, and, of course, learn how crayons are made in the live manufacturing show.
United States Mint- Philadelphia
This facility is the nation's first mint and produces circulating coins, commemorative coins, medals, and more. Tours are FREE, self-guided, and take about 45 minutes to complete. While on the tour, you'll view actual coining operations from 40 feet above.
C.F. Martin & Co. Guitars- Nazareth, PA
On this tour, you'll follow a guitar from rough lumber to finished product- a process that takes more than 300 steps to complete. The tour lasts approximately an hour and is FREE of charge. While you're there, check out the museum and visitors center to learn more about the company and how acoustic guitars are made.
Turkey Hill Experience- Columbia, PA
Learn how ice cream is made, sit in the milk truck, and milk a mechanical cow during this interactive tour. Tours include unlimited free samples of ice cream and iced tea. For an additional fee, check out the Turkey Hill Taste Lab. Here, you'll create your own pint of ice cream. While your ice cream hardens, you'll even get an "Ice Cream 101" class. If you're visiting without taking part in the Taste Lab attraction, you'll spend about 1-2 hours. If you do add the Taste Lab to your experience, you may spend closer to 2-3 hours there. Kids 3 and under are free.
Byers' Choice Ltd.- Chalfont, PA
See how these handcrafted carolers figurines are made in the Bucks County workshop. Walk along a life-sized London street, view artisans crafting the figurines from an observation deck (only on weekdays), and see a short film about the company's history. Admission for this tour is FREE.
Header image courtesy of Turkey Hill Experience.