These 9 Philly Area Batting Cages are a Homerun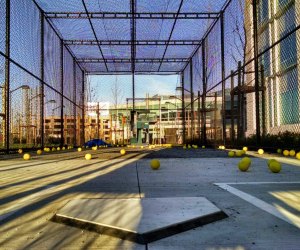 Whether your kid is the next Ryan Howard or you're just looking to spend some quality time together, batting cages are a great place for some family fun. Some of these cages are even located in fun centers where you can also find mini-golf and arcade games.
For the Serious Athlete
Everybody Hits- Philadelphia
This indoor batting cage gives softball and baseball players alike a place to practice all year long. Everybody Hits has slow-pitch softball, fast-pitch baseball, and everything in between. You can also rent out the facility. This cage is open 7 days a week, rain or shine.
Philly Hit Zone- Philadelphia
This outdoor batting cage features $10 all you can hit every weekend. Philly Hit Zone also offers pitching, catching, and batting lessons for the more serious athletes. You can even take hitting lessons with Matt Stairs and softball pitching lessons from Christine Mattis.
Sluggersville- Philadelphia
This 22,000 square foot year round indoor baseball and softball facility in the Northeast is open every day until 10 PM. This batting cage also offers private instruction as well as summer camps and day camps. Sluggersville is probably better for more serious athletes, but is also available for private parties.
On Deck Training Center- Newtown Square
Another great option for those looking to get serious about baseball or softball, On Deck Training Center offers a variety of classes as well as practice space. Cage rentals are available in 30-minute increments and can be rented with or without a pitching machine. Or, become a member to take advantage of unlimited open cage time.
For Family Fun
Freddy Hill Farms- Lansdale
Freddy Hill Farms is a great place for families to hang out together. With batting cages, mini golf, a farm zoo, and ice cream, you could easily spend a whole day here. Guest must be 7 and up to use the batting cages.
Waltz Golf Farm- Limerick
Waltz Golf Farm features batting cages, a driving range, 2 different mini golf courses, and an ice cream bar with 21 flavors of ice cream. This is a great place to relax and have fun with the family. The facilities are also available for parties.
Burholme Golf- Philadelphia
Burholme has a golf range, an arcade, mini golf, and, of course, batting cages. All batters must be 6 and up and guests must be 16 or over to use the very fast baseball cage. Birthday party packages are also available.
Grand Slam- Malvern
Grand Slam features 5 batting cages with adjustable heights and speeds. This fun center also has laser tag, mini golf, basketball, an obstacle course, and a nerf minecraft battle. Lessons are also available for more serious athletes.
Tee's Golf Center- Conshohocken
With 8 batting cages, a driving range, and 2 mini golf courses, there's plenty to do at Tee's Golf Center.
Photo courtesy of Travis Wise via Flickr.