Spruce Street Harbor Park: Play Games and Enjoy Some R&R in the Hammocks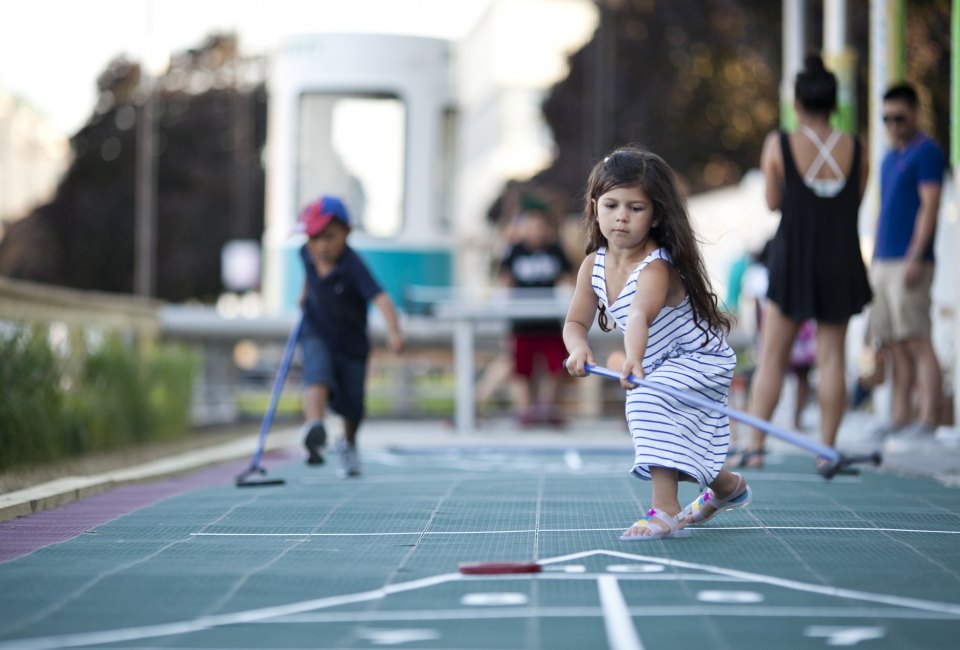 5/6/18
- By
Jennifer Vishnevsky
If you think you have to head all the way to the Jersey Shore for a boardwalk, think again. This one is just over the bridge, a few blocks south of Penn's Landing, and is perfect for family fun. With the weather warming up, Spruce Street Harbor Park kicks off its season on Friday, May 11th. From games to food to a stroll on the boardwalk, read on to plan your visit to this great pop-up park.
Spruce Street Harbor Park has fun for the whole family.
Love to play games? Older kids and adults can take turns at bocce ball, ping pong, and shuffleboard. Kids can also enjoy an oversized version of Connect Four, giant chess board, arcade, a giant LEGO building set, and Jenga.
Want to relax? Kick off those sneakers and play in the sand and then take a pass through one of the fountains to cool off.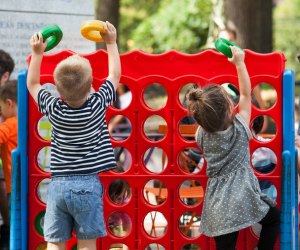 Photo courtesy of Spruce Street Harbor Park
The park has quite a food selection as well. Family-friendly Froman's on the Boardwalk serves up the traditional shore fare: gourmet hot dogs, chicken fingers and fries. For the foodie family, Spruce Street really amped up its game by opening outlets of some of the best restaurants in Philadelphia. Enjoy the signature Crabfries at Chickie's and Pete's or a street taco at Distrito. Parents, take note, this isn't a dry town like the Shore. The Lazy Hammock sells the park's exclusive Yards Brewing Company beer, as well as a rotating cocktail list.
The views are pretty great, too, so grab a seat in an Adirondack Chair on the Oasis, an area that is made up of floating barges, a net lounge to hang out in, and floating gardens. Watch the sailboats and cargo ships along the Delaware while you feed your sweet tooth. Franklin Fountain's ice cream sandwich is a must. The food truck serves delicious ice cream between two warm homemade waffles. Yes, you read that right - an ice cream sandwich made with homemade waffles.
After the sun has set, an installation of hundreds of LED lights turn the park into a stunning display. You can kick back in one of more than 50 colorful hammocks and enjoy an unforgettable waterfront view. Before you leave, make sure the whole family stops by for the perfect photo op, one of the iconic #visitphilly chairs!
Want to extend the fun a little more? Just a four minute walk north of Spruce Street Harbor Park is the Blue Cross RiverRink Summerfest, which also opens for the season on May 11th. There, kids can enjoy a play area, roller skating rink, and mini golf. There is also a carnival-style amusement park, featuring five boardwalk-style games, a carousel and other rides.
Good to Know Info
General parking in the area is approximately $20. If you're taking public transportation, the park is five blocks from the 2nd Street stop on the Market-Frankford Line.
There is metered parking along Columbus Blvd that is $1.50 per hour (quarters only) with a four hour time limit.
The park is open from 1pm-11pm Monday through Thursday, 1pm-1am on, 11am-1am on Saturday, and 11am-11pm on Sunday.
There are no changing tables in the bathrooms.
No matter what time you go, bring a sweater! If you get a seat near the water, it gets cold.
Entrance to the park is free!
Places featured in this article:
---
Spruce Street Harbor Park