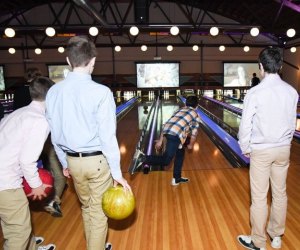 8 Bowling Alleys for Philly Kids
Bowling is one of those activities that goes into and out of fashion according to how old one is. Children love it because they like to knock things down and with bowling they get points to do that. Whether you're looking for an awesome birthday party venue, or just something to on a lazy Sunday afternoon, there are plenty of bowling alleys to choose from in the area.
To make bowling a bit easier for little kids to play, most bowling alleys have ramps onto which children can put the ball to position it before pushing it down, light balls that are easier to carry for kids, and bumpers to make sure that every ball a kid (or adult) throws doesn't end up in the gutter. Add some pizza and soda, and it's a perfect afternoon.
Pep Bowl- South Philly
Small is the word here, with only 6 lanes. It's centrally located at Broad and Federal Streets, but its entrance can be a little difficult to find. Guests have to enter through iron gates into the courtyard on Federal Street and take the staircase down by the neon PEP Bowl sign. Call ahead if you're planning to go because those lanes fill up quickly. Rates are $5 per person per game and shoe rental costs $4 per person. Birthday party packages start at $45 per lane/per hour.
Lucky Strike- Center City
It might look more like a night club than a bowling alley, but Lucky Strike is a great place to take the kids. In addition to the 24 bowling lanes, all of which have automatic bumpers that adjust for each player, there's also billiards, ping pong and a shuffleboard table. Don't expect to go early, though. It opens at 11:30 AM daily. Shoe rental is $5.50 per person; games cost $5.95 until 7 PM. Birthday packages are available and include food and drinks.
South Bowl- South Philly
Along with its counterpart, North Bowl, South Bowl definitely caters to a hip, going out crowd. Weekdays it opens at 4 PM with happy hour until 6 PM. To encourage parents to bring the kids, on weekends, children under 12 get free shoe rentals. The games aren't cheap at $5.95 per game and $4.40 per shoe rental, but this will feel more like a night out on the town with the kids and will probably still be cheaper than paying for a babysitter. Birthday packages start at $26.95 per child and include food, juice, soda, and, of course, bowling.
North Bowl- North Philly
With a distinctive retro feel, everyone will have a ball at this converted garage space. Like it's sister, South Bowl, North Bowl is a nightlife destination as well as a bowling alley. That means it's a bit cooler than your typical bowling alley, with its upstairs lounge, small set of lanes, and bar, all overlooking the main floor below. Coolness doesn't come cheap, though. Shoe rentals are $4.40 and games range from $4.95-$5.95 depending on when you go. Birthday packages start at $26.95 per child and include food, juice, soda, and, of course, bowling.
Playhouse Lanes- Drexel Hill
Playhouse Lanes caters to all ages. The littlest bowling enthusiasts will love the bumpers, light balls, and dragon ramps, while the older kids will like glow bowling where the overhead lights turn down and the lanes start to glow. There's even a Pizza Bowl Special on Friday and Saturday nigthts from 6-9 PM- with pizza, soda, shoe rentals, and one hour of bowling for $40. Shoe rentals are $2.50, games are $3.50-$4.00 per game, or rent the lane for $15-$30 per hour. Birthday parties start at $45 per lane.
Wynnewood Lanes- Ardmore
A big bowling alley with 24 lanes, Wynnewood Lanes is an easy choice for bowling with the kids. On-site covered parking, a lounge, bumper lanes, and bowling ball ramp for kids guarantees a fun afternoon. Shoe rental is $3, weekday games (9 AM- 5 PM) are $3.25 for adults and $2.75 for kids under 15. Evening and weekend games are $4.70. Wynnewood Lanes offers birthday packages, which include pizza and soda.
Westbrook Lanes - Brooklawn, NJ
Take a short drive over to New Jersey for Westbook Lanes. It caters to families and with 42 lanes, you're almost guaranteed a lane no matter how busy it is. All of the lanes have bumpers for the littlest bowlers. It also has dragon ramps, light balls, and arcade games. Special packages including bowling, pizza, and shoe rental are available, so the whole family can bowl together. Rates are $3.35 per person per game, $4.00 for shoe rentals. Kids' birthday parties are available for as little as $15.95 a person.
Facenda Whitaker- East Norriton
Open 24/7, Facenda Whitaker features a total of 50 lanes! This bowling alley also has an arcade and a sports bar for the adults. Dyno ramps and shoe rentals are free for kids under 12. Rates vary depending on what time you go, but Sunday-Thursday and Friday and Saturday until 6 PM kids games are $3.50. The most you'll pay for a game is $5.30. Shoe rental for adults is $3.50. Birthday party packages start at $110 for up to 10 guests and include two and a half hours of bowling, free shoe rentals, and arcade cards. Packages with food start at $150.
MacDade Bowl- Holmes
This family-friendly bowling alley offers plenty of bumper lanes, and is BYOB. For older kids, this bowling alley also offers Saturday night Glow Bowling with loud music, haze machines, and lots of lights. Glow bowling is $6 per person for 1 game and shoes, or $10 per person for 2 games and shoe rental. Game rates are typically $3.75 ($2.75 on a weekday before 5 PM). Shoe rental is typically $2 for kids under 12 and $2.50 for adults. Birthday parties start at $150 for up to 10 kids and include an hour and 15 minutes of bowling and a 45-minute pizza party with food drinks, paper goods, party bags, and giveaways.
Image courtesy of South Bowl.