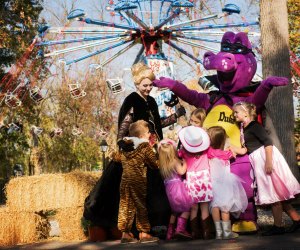 Theme Park Haunts and Halloween Fun Near Philly
Summertime visits to an amusement park often mean dealing with long lines and sweating through your sunscreen. Fortunately, many parks around the Philadelphia area extend their seasons into the cooler fall months with Halloween-themed attractions. This can be a fantastic off-peak day trip for thrill-seeking families looking to enjoy a Halloween experience beyond the local parades and festivals. Several of the theme parks have kid-friendly attractions during the day, then transform into frightening tween-and-above entertainment zones at night. There are often trick-or-treat opportunities and costume contests, so children (and even some adults) can gather candy goodies and show off their Halloween disguises. If your family is seeking some over-the-top Halloween fun ranging anywhere from silly to downright scary, check our list of amusement parks sure to provide excitement.
Looking for more Halloween fun? Don't forget to check out our Halloween Guide.
The Count's Halloween Spooktacular- Langhorne, PA
Saturdays & Sundays, September 22 – October 28, 2018
Sesame Place certainly knows how to take the fear out of what can sometimes be a scary holiday for little ones. Kids are invited to wear their costumes and take part in special events such as Abby Cadabby's Magical Halloween Maze, the Not-So-Spooky Hayride, and The Count's Unhaunted Castle. Halloween themed shows, Sesame characters dressed in costumes, the Neighborhood Street Party Parade, and plenty of "dry" rides are ready for families to enjoy.
Hershey Park in the Dark- Hershey, PA
Fridays, Saturdays, & Sundays, October 19 – November 4, 2018
No other theme park does candy quite the way Hershey Park does, so of course the "sweetest place on Earth" hosts a fantastic Trick-or-Treat Adventure for kids 12 and under. Children in costumes can wander down Trick-or-Treat Trail, stopping at various stations to pick up small goodies along the way. During Hershey Park in the Dark, guests can experience the park's many already frightening roller coasters, attractions, and entertainment specially themed for Halloween. Attend after dark and visit the Creatures Of The Night at ZooAmerica to get up close and personal with nocturnal creatures.
Dutch Wonderland's Happy Hauntings- Lancaster, PA
Saturdays & Sundays, October 13 – October 28, 2018
Happy Hauntings takes place over three October weekends at Dutch Wonderland. This park, which is transformed into a non-scary Halloween adventure-land, is a wonderful destination for little ones. Happy Hauntings features more than 30 rides, costume contests, live entertainment, and a Trick-or-Treat Trail. Kids receive a bag at the trail entrance and can follow along a dinosaur-filled path, collecting treats as they go. For two consecutive Sundays, you can also participate in the Spook-tacular Halloween Dance Party at the Celebration Theater on October 22 and 29.
Dorney Park's The Great Pumpkin Fest- Allentown, PA
Saturdays & Sundays, September 15 – October 28, 2018
This kid-friendly event takes place during afternoons at Dorney, where families can enjoy many non-scary activities such as mask making, pumpkin painting, a bale maze, and a farm animal petting zoo. The park also hosts children's costume contests, a Halloween dance party, fun with Peanuts characters, and amusement rides.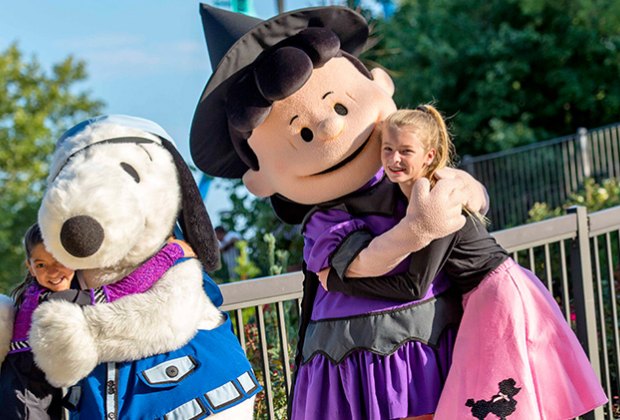 Photo courtesy of Dorney Park.
Dorney Park's Halloween Haunt- Allentown, PA
Fridays and Saturdays, September 21 – October 27, 2018
At night, Halloween Haunt (for guests 13 and older) takes over the park. The terrifying attractions include creature-filled mazes, Dorney's signature thrill rides in the dark, a chamber of horrors wax museum, and scary live shows. This is definitely for those who are not afraid of a few tricks in the night!
Knoebels Hallo-Fun- Elysburg, PA
Fridays, Saturdays, & Sundays, October 12 – October 28, 2018
Despite being about two hours from Philadelphia, Knoebels Family Resort attracts many visitors from the area. A Halloween theme takes over this traditional family-friendly amusement park in October. They have gentle haunts, scary attractions and treats to suit everyone's taste. There are even special treat stops for children 12 and under in costume. The rides, food, games, and attractions feature the spirit and décor of the Halloween season. Discounts are available for evening only.
Six Flags' Fright Fest- Jackson, NJ
Weekends from September 15 – October 31, 2018, plus select weekdays throughout October
Thrills By Day features a Spooktacular Street Party with seasonal music, Halloween themed animal shows, live entertainment, amusement rides, and a trick-or-treat trail where children can meet their favorite characters. Later, the park transforms to Fright by Night, featuring wandering zombies, a blackout maze, a crop circles attraction, monster-themed entertainment, and other terrifying events. In all, Six Flags Great Adventure offers six haunted walk-throughs and four scare zones. New this year is a creepy Lady of the Lake Cemetery that is designed to frighten you via all your senses! Fright by Night is not recommended for children under 12.
DiggerFest- Berlin, NJ
Saturdays & Sundays, October 6 – November 25, 2018
DiggerFest occurs each weekend in October. Friday nights, Diggerland hosts Family Fun Night which includes haunted hayrides, games, and a special stunt show. Weekends are full of fall fun, with pumpkin picking, corn mazes, and pumpkin launching!
October Fun at Storybook Land- Egg Harbor Township, NJ
Thursdays through Sundays, October 4 – 28, 2018
Storybook Land takes on a Halloween theme with hayrides, pumpkin decorating, a hay maze, and the classic Storybook rides. During the final weekend of October, kids can experience Trick-or-Treat Weekend in addition to the Halloween fun. Children are encouraged to wear costumes and can collect treats at more than 20 stations in the amusement park with their free treat bags.
Header image courtesy of Dutch Wonderland. Post has been updated for 2018.