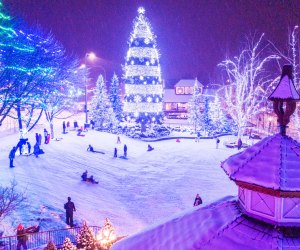 20+ Christmas Towns and Santa's Villages That Absolutely Sparkle
Do you love the holidays? A trip to a nearby Santa's Village or a stay in one of the country's top Christmas towns that goes all out for December 25 can be a great way to share that festive spirit with the whole family. Some of the most festive Christmas towns are right here in the US. These local spots go all out for Christmas with mega holiday lights displays, Christmas markets, special performances, and plenty of opportunities to meet with Santa Claus. Each of these unique locations gives us plenty of ways to celebrate the holiday season in style!
Read on for some of our favorite Christmas towns for those looking to get into the holiday spirit in a big way, from Koziar's Christmas Village in Pennsylvania to Riverside, California. Find even more holiday (and winter) vacation ideas in our Family Travel Guide.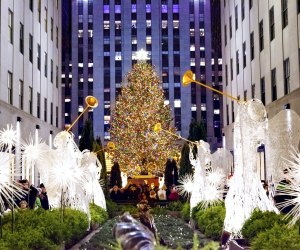 The Rockefeller Center tree is one of NYC's most famous holiday sights! Photo by Julienne Schaer for NYCGo
New York City is always one of the best places to visit for the holidays. It's lit up in all manner of lights for the season. In Midtown, the city's iconic tree towers over the skating rink at Rockefeller Center (yes, it's open!), while the decorated St. Patrick's Cathedral is just across the street, along with the fantastic holiday store windows all decked out in fantastical designs. In Bryant Park, another tree and ice rink are flanked by a charming shopping village. This year, Macy's beloved Santaland will once again welcome guests in person! Other can't-miss attractions are the Holiday Lights at the Bronx Zoo and the annual Holiday Train Show at the New York Botanical Garden. To experience a full explosion of Christmas spirit, take the R or D train out to Brooklyn's Dyker Heights neighborhood, which has become an international destination as residents try to outdo each other with over-the-top light displays on their homes. NYC is essentially several Christmas towns rolled into one major holiday destination.
OUR LATEST VIDEOS
Check out our list of the 10 Must-Do Holiday and Christmas Events in NYC.
Disney's version of Christmas is as grand as ever. Cinderella's castle is all decked out with holiday-themed castle projections, an international smorgasbord of holiday traditions abound at Epcot, and For the First Time in Forever: A Frozen Sing-a-Long Celebration takes place at Disney's Hollywood Studios. Fireworks, live entertainment, parades, and rides make this Florida getaway one of the best Christmas towns in the U.S. Explore more of Orlando for Nutcracker shows, more holidays lights, and seasonal festivals.

Philadelphia has lights, skating, Santa, and an authentic Christmas market. Photo courtesy of Blue Cross RiverRink
Philly is abuzz with family festivities in December, making it one of the best places to go for Christmas. Check out Dilworth Park's ice rink, carousel, and light show. Franklin Square has a free outdoor light show, holiday fare, beverages (of the adult and kid-friendly variety), and Santa Saturdays. For an authentic German Christmas market, visit Christmas Village in LOVE Park. The Blue Cross RiverRink Winterfest will be open for the season, and families can visit reindeer at Bucks County Gardens and have a holiday Bricktacular Lego build. Little Elmo fans can even see Santa, Rudolph, and the whole Sesame Street gang at Sesame Place. Who needs the Grinch when there's a Grouch?
Old Sturbridge Village is New England's largest outdoor living history museum, depicting a rural New England town in the 1830s. While a day trip here is fun year-round, the holidays are when it becomes magical. Every December the village is filled with holiday decor and merriment, with "Christmas by Candlelight" evenings featuring storytelling, sleigh rides, and musical performances. Kids can learn the history of Christmas traditions, like knitting stockings, wreath making, and making natural ornaments. Watch the period re-enactors make a traditional Christmas meal, punch tin lanterns, and make ice skates or a sled. Stroll through the village and over the Wishing Bridge, and end the evening with a horse-drawn carriage ride and warming up by the bonfires.
RELATED: 30 Elf on the Shelf Ideas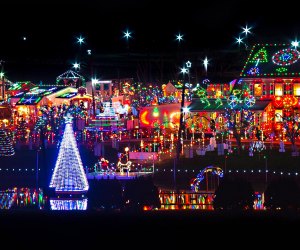 Koziar's Village in Pennsylvania is a magical display of Christmas lights. Photo courtesy of the village
What simply started as a man decorating his house for the holidays has spiraled into one of the most magical Christmas villages over the past 71 years. Known for its impressive lights and decorations, the country estate also features a toy shop, old-time bakery, Santa visits, and more. After paying a modest admissions fee, families can walk the stroller-friendly paths around this old farmhouse to take in all the good-natured Christmas kitsch. Warm up with a chocolate chip cookie and a cup of cider. Koziar's Christmas Village is a pretty perfect holiday day trip for those living in the area, or for anyone visiting one of Pennsylvania's top spots. As the traffic (and crowds) can pile up at certain times, this year Koziar's has instituted special "Prime Nights" where you must purchase timed entry passes.
Theme parks like Busch Gardens in Virginia simply glow during the holidays. Photo courtesy of Busch Gardens
Take in the charm of an old-fashioned Christmas with a family getaway to Colonial Williamsburg. All the Christmas festivities are scheduled, including shows, workshops, music, tours, and the newest tradition—the Lighting of the Cressets. Catch the Grand Illumination fireworks show that includes firing guns and musical performances and a special appearance by Father Christmas. Visit the nearby Busch Gardens Christmas Town to extend the festivities and thrills! This year families can celebrate the season with new entertainment, 15 coasters and rides, a Gingerbread Scavenger Hunt, sweet treats, and meeting Santa in his Workshop.
This is the lights display that USA Today calls the "Best Holiday Lights Display in the Nation." The Mission Inn began as a small adobe boarding house in 1876, and grew into its present castle setting with a legendary holiday lighting display. The lights drape every available exterior surface and wind into the lobby. With enormous Nutcracker soldiers guarding the entrance, a life-size gingerbread house, Dickensian robots, light-up Cinderella carriage rides, and more, this is an experience that dazzles like Disneyland, but at a far more relaxing pace. Don't forget to end your evening with Casey's Cupcakes, which became nationally famous when Casey won Cupcake Wars. The lights are on November 26, 2021 through January 6, 2022.
Read our detailed review of a visit to Riverside's Legendary Holiday Lights Display.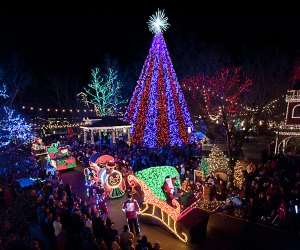 Santa rides into Branson's Silver Dollar City for a magical Christmas. Photo courtesy of Branson's Convention and Visitor Center
Missouri might not seem like a vacation destination in December, but the whole family can get excited about heading to Silver Dollar City. In addition to repeatedly being named one of the top amusement parks in the nation, this 1880s theme park rocks the holidays. Its seasonal "Old Time Christmas" has more activities than ever, with a nightly parade of lights, a holiday sing-along steam train, and loads of holiday entertainment, including over 30 shows. The whole park is bedecked in millions of holiday lights turning it into a Christmas wonderland everywhere you look, and the 80-foot Christmas tree, dazzling with dancing lights, towers over everything. The park offers loads of discounts for evening visits, multiple-day tickets, military members, and more, so be sure to check the website before visiting.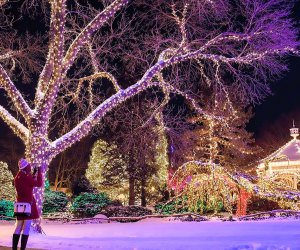 Peddler's Village in Pennsylvania is a winter wonderland under a million lights! Photo courtesy of Peddler's Village
There's a reason Pennsylvania towns and attractions appear three times on our list of top Christmas villages! The country's historic roots, from Philadelphia to Pennsylvania Dutch country, lends itself to going big at Christmas, including at Peddler's Village. This year-round indoor and outdoor marketplace in New Hope, Pennsylvania, turns itself into a classic Christmas market as the calendar flips from Halloween to Holidays. With millions of holiday lights twinkling throughout the village, kids can meet Santa, ride a 1920s carousel, and marvel at the magnificent display of gingerbread houses. You can even catch a Christmas train ride in New Hope and in neighboring towns. Stay a long weekend to soak up all the things to do in Bucks County.
RELATED: 25 Christmas Movies to Fill Your Family with Holiday Cheer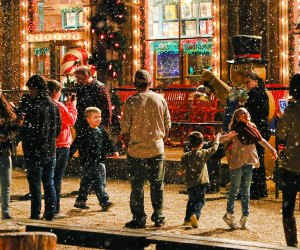 Enjoy a snowy Texas holiday at Santa's Wonderland. Photo courtesy of Santa's Wonderland
If you're looking for snow in Texas, you'll find it here. There's a nightly snowfall, a snow playground, and snow tubing. Take a horse and carriage or hayride to view an impressive light display. Afterward, visit Santa, sit by a fire pit (hot dogs and s'mores are available for purchase to roast), and enjoy live music. Other attractions include a trackless train ride, pony rides, a petting zoo, a Texas-sized gingerbread village, a life-sized snow globe, a walkable trail of lights, a live Nativity, a giant outdoor ice skating rink, and lots more. Plenty of shopping and food are also available, and it makes for a lovely day trip from the Houston area.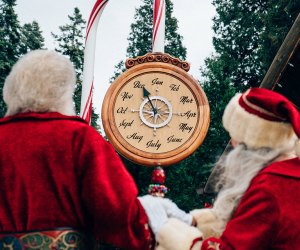 Come visit Santa in his North Pole Cabin. Photo Courtesy of Skypark at Santa's Village
Although it's open year-round, this LA-area Santa's Village has what one of our writers declared to be "the best Santa ever." Set up as a winter wonderland set in the San Bernardino forest, Skypark at Santa's Village offers non-holiday outdoor adventures such as a bike park, bouldering, a zipline, shows, and a playground. But from mid-November through January, Santa and his elves put on a special "nostalgic Christmas" at this Santa's Village, complete with one-on-one wish taking, breakfast with Santa, ice skating, cookie decorating, a holiday lights display, a train ride, mining for Santa's missing "good luck" gold coins, and more. Don't forget to explore Santa's Workshop and maybe even mail a letter to the jolly guy!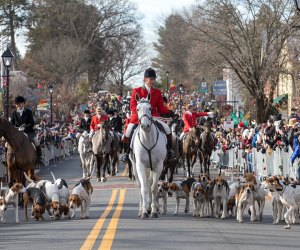 The holiday parade goes through Middleburg's historic downtown. Photo courtesy of Salamander Resort
A trip to Middleburg feels like A Christmas Carol come to life. Middleburg's historic downtown is dotted with antique street lamps and twinkling lights, and Federal-style buildings are decked with antique wooden Christmas ornaments. While the famous holiday parade is a family favorite, don't forget to stop by and check out special events and activities throughout the season. If you need a Christmas tree (and even if you don't) a visit to the ridiculously picturesque Snickers Gap Tree Farm is in order, and if you can't bring yourself to leave, the Salamander Resort is a festive place to spend the night. If your kids love animals, don't skip a trip to the nearby Leesburg Animal Park. For parents who could use a little holiday gift to themselves, many of the local vineyards have reopened for tastings (50 West Vineyards is particularly welcoming to families with children, as long as they stay within arm's reach).
The opulent mansions of Newport were originally built as summer homes in the 1850s to early 1900s, and now people from all over come to admire their magnificence. Around the holidays, that's made even more apparent as the Breakers, Marble House and the Elms turn into a magical outdoor wonderland, featuring a 15-foot poinsettia tree and other festive touches. Additionally, the city's Sparkling Lights event features lit-up paths and spruce trees all while your favorite holiday tunes play in the background. Last but not least, the Bowen's Wharf Annual Christmas Tree Lighting is on again (both in person and virtually) for the 51st consecutive year, an event that always commences the holiday season.

Wassail Weekend takes place annually in Woodstock, Vermont. Photo courtesy of the event
Though it's a charming town year-round, Woodstock is a highly popular holiday destination. Specifically, Wassail Weekend is a most talked-about event, where families can watch demonstrations of traditions like holiday cooking and candle dipping, listen to holiday tales, and more. Of course, what would the weekend be without a horse-drawn wagon or sleigh ride? Woodstock Town Hall Theatre hosts an annual Cookies with Santa event.

Take a holiday stroll through Olde Mystic Village. Photo courtesy of Olde Mystic Village
People typically head to Mystic for its quintessential New England charm, but the holiday season really ups the ante on its appeal. For one, there's the beloved Holiday Lighted Boat Parade, which begins with a tree lighting and ends with Santa arriving by tugboat and patrons gathering to admire the festively decorated boats. Christmas in Mystic wouldn't be complete without a holiday stroll through Olde Mistick Village, where lights adorn more than 40 shops and restaurants. In fact, the village itself turns into a holiday wonderland during its annual Festival of Lights, which includes live entertainment and delicious treats.
When it comes to Christmas towns, it can't get any more iconic than the town named after the big man himself. Santa Claus, Indiana is home to a year-round Christmas town. The three weeks leading up to Christmas, the town kicks off its yearly Santa Claus Christmas Celebration. In addition to the giant 22-foot Santa statue, you'll also find over 15 other statues of Mr. Claus. Santa Claus is also home to the iconic Santa's Candy Castle, countless gift shops and bakeries, a drive-thru LED Christmas light display, and more.
Manistee is an idyllic Christmas town located in Northwest Michigan. This old-world town features adorable brick storefronts, brightly lit Christmas trees, and an impressive Christmas festival that takes place the first weekend in December every year. Manistee's Victorian Sleighbell Parade and Old Christmas Weekend boasts over 10,000 visitors from all over the country. You'll find a parade of Belgian Draft sleigh horses, carolers in period costumes, Christmas concerts, holiday cookies, a Jingle Bell 5k, carriage rides, and more.

Let it snow, let it snow, let it snow in Leavenworth, Washington. Photo courtesy of Christmastown via Facebook
One of our editors said this was her first experience with a Christmas village as a kid, and it remains her favorite. Every year, from Thanksgiving to February, this enchanting Bavarian village transforms into a living Christmas snowglobe. The streets and buildings are decorated with over half a million lights, and the evenings are packed with kids' activities, strolling characters, Santa, holiday characters, gingerbread houses on display, and lots more. Sleigh rides dash families through the snow and no holiday visit would be complete without a visit to the Nutcracker Museum and the Gingerbread Factory.
The town of Cedarburg, Wisconsin looks to be straight out of a Christmas card. Located about 20 miles north of Milwaukee, you'll find quaint brick shops, covered bridges, cozy cafes, and charming historic buildings. The Cedarburg Christmas festival runs mid-November through Christmas. You'll find Festive Friday Eves, a Holiday art fair, Santa's Workshop, seasonal entertainment, and cozy inns to call home for the weekend.
The Berkshires-area town of Stockbridge creates a throwback classic New England Christmas fete every early December. Expect caroling children, twinkling lights down Main Street, a holiday concert, Santa visits, tours of historic homes, and even antique cars for an authentic feel. The pinnacle event celebrates the town as it was when Norman Rockwell painted its main street during the holidays beginning in 1956. Holiday events continue throughout the long weekend in this Christmas village, including cookies and cocoa during a holiday fair at the Norman Rockwell Museum. Don't miss the Winterlights at Naumkeag, a stunning display of outdoor holiday lights draped across the estate of Gilded Age manse. Note that the Stockbridge Chamber of Commerce has canceled many indoor events and activities for the 2021 holiday season, but there are still loads of things to see and do in this beautiful Christmas village.
Jefferson may be a small town, but it comes alive each year with its iconic Santa's Village, a Christmas-themed park and one of the most fa-la-la-la-fun places to visit during the holidays. The kids love Reindeer Rendezvous, where they can feed real reindeer, or head over to Elf University for a unique elf scavenger hunt. The fun continues with all kinds of age-appropriate themed rides, from the Reindeer Carousel to Santa's Express Train, the Skyway Sleigh, and more. End the trip with a visit to Santa's Home, where Santa can be found lounging in his rocking chair, ready to hear which gifts children wish for the most this year.

The Newport Beach Christmas Boat Parade is a holiday parade on water. Photo courtesy of the parade
Looking for something a little less traditional? Celebrate the season in Southern California with lights on the water and a festive mini cruise. Newport Harbor lights up with sailing vessels of all types—from kayaks to yachts—during the annual Newport Beach Christmas Boat Parade, December 15-19, 2021. Residents also deck out the shoreline with top-notch lights, casting a holiday glow across the water. Catch the parade from the deck of a boat on one of the many cruises offered, or stake out a spot on shore to watch the flotilla pass by. Kids will also like the half-acre Marina Park where they can get their energy out on a nautical-themed playground. There are fireworks on opening and closing nights. Cap the night off at Sugar 'n Spice with a Balboa Bar or frozen banana.
An earlier version of this article was first published in 2018. Additional reporting by Ally Noel and Lauren LaRoche