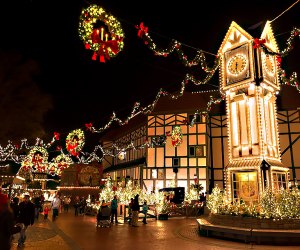 13 Christmas Towns and Santa's Villages That Absolutely Sparkle
Do you love the holidays? A trip to a nearby Santa's Village or a stay in one of the country's top Christmas towns that goes equally gaga for December 25 can be a great way to share that festive spirit with the whole family.
Some of the most festive Christmas villages are right here in the US. These local spots all out for Christmas with mega holiday lights displays, Christmas markets, special performances, and plenty of opportunities to meet with Santa Claus.
Read on for some of our favorite Christmas towns for those looking to get into the holiday spirit in a big way, from New York City to Williamsburg, Virginia, to Newport Beach, California to Koziar's Christmas Village in Pennsylvania. Find even more holiday (and winter) vacation ideas in our Family Travel Guide.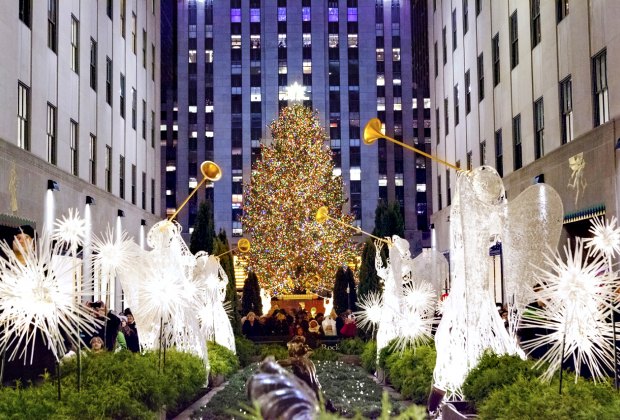 The Rockefeller tree is one of NYC's most famous holiday sights, but there are many more! Photo by Julienne Schaer for NYCGo
1. New York, New York
New York City is certainly one of the best places to visit for the holidays. It's lit up in all manner of lights for the season. In Midtown, the city's iconic tree towers over the skating rink at Rockefeller Center, while the decorated St. Patrick's Cathedral is just across the street, along with the fantastic holiday store windows all decked out in fantastical designs. In Bryant Park, another tree and ice rink are flanked by a charming shopping village. You'll find Santaland, a mini North Pole complete with Santa, at Macy's Herald Square, the Rockettes dancing at Radio City for the Christmas Spectacular, and the iconic Nutcracker ballet playing all over town, including the very special Lincoln Center performance. To experience a full explosion of Christmas spirit, take the R or D train out to Brooklyn's Dyker Heights neighborhood, which has become an international destination as residents try to outdo each other with over-the-top light displays on their homes. NYC is essentially several Christmas towns rolled into one major holiday destination.
Check out our list of the 12 Must-Do Holiday and Christmas Events in NYC.

Cinderella and all your favorite Disney characters get into the holiday spirit at Walt Disney World. Photo courtesy of Visit Orlando
2. Walt Disney World — Orlando, Florida
Disney's version of Christmas is as grand as you would expect. You'll find Cinderella's castle decked out in a snow-like blanket of white lights, an international smorgasbord of holiday traditions at Epcot, and the special effects of falling snow at Disney's Hollywood Studios. Fireworks, live entertainment, parades, and rides make this Florida getaway one of the best Christmas towns in the U.S. Explore more of Orlando for Nutcracker shows, more holidays lights, and seasonal festivals.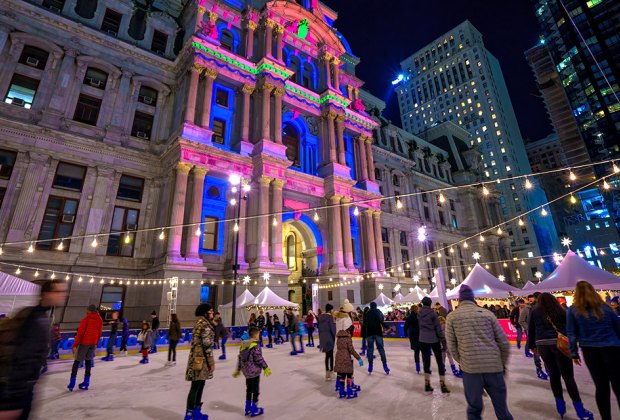 The historic city of Philadelphia offers lights, ice skating, Santa sightings, and an authentic Christmas market. Photo courtesy of Visit Philly
3. Philadelphia, Pennsylvania
Philly is abuzz with family festivities in December, making it one of the best places to go for Christmas. Check out Dilworth Park's ice rink (pictured), carousel, light show, and the city's official tree (2019 details coming soon). Stop by the Comcast building for a holiday sing-along. Macy's indoor Christmas Light Show is accompanied by organ music and narrated by Julie Andrews, and you can take the kids to see the retailer's mini Dickens Village afterward. Franklin Square has an outdoor light show, in addition to Santa, a carousel, a train ride, and mini golf. For an authentic German Christmas market, visit Christmas Village Philadelphia in LOVE Park. The Blue Cross RiverRink Winterfest (2019 details coming soon) features fire pits, a game room, holiday movies, and ice skating with Santa along the Delaware River. A free shuttle that stops at multiple holiday attractions makes it easy.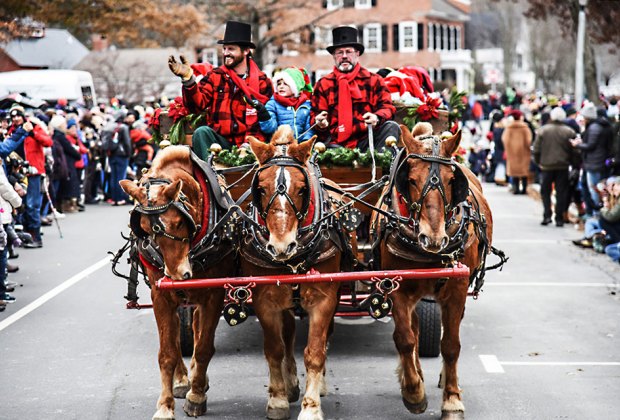 This New England town is picture perfect over the holiday season, including during Wassail Weekend. Photo courtesy of the Woodstock Chamber of Commerce
4. Woodstock, Vermont
If your idea of Christmas includes snow, a fireplace, and a quaint country village, Woodstock is your spot. You can garner plenty of gift ideas from strolling along the scenic shop-lined streets all lit up in holiday lights. Kids will love the general store, bookstore, and toy shop in Woodstock, a favorite among the top New England Christmas towns. The annual Wassail Weekend (December 13-15) notches up the holiday spirit with carolers, the lighting of a Yule log, a parade, and breakfast with Santa. A visit with the animals at Billings Farm & Museum, a 19th-century dairy farm, will also keep kids entertained.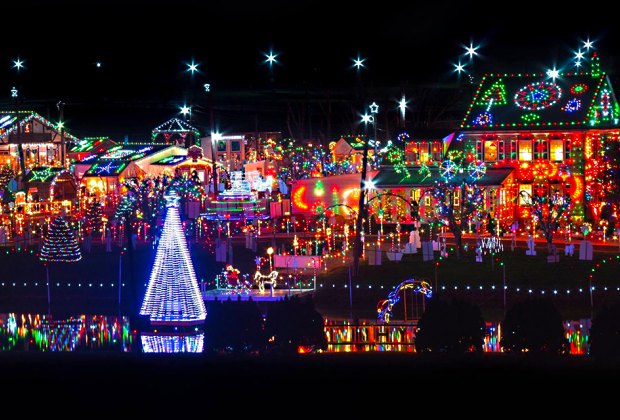 Koziar's Village in Pennsylvania is a magical display of classic Christmas lights. Photo courtesy the village
5. Koziar's Christmas Village — Bernville, Pennsylvania
What simply started as a man decorating his house for the holidays has spiraled into one of the most magical Christmas villages over the past 71 years. Known for its impressive lights and decorations, the country estate also features a toy shop, old-time bakery, Santa visits, and more. After paying a modest admissions fee, families can walk or stroller the paths around this old farmhouse to take in all the good-natured Christmas kitsch. Warm up with a chocolate chip cookie and a cup of cider. Koziar's Christmas Village is a pretty perfect holiday day trip for those living in the area, or for anyone visiting one of Pennsylvania's top spots. Just be warned that the traffic (and crowds) can pile up at certain times, so we'd suggest going early, on a weeknight, or even after Christmas to avoid the worst crowds.

See the Winterlights at Naumkeag sparkle with thousands of shimmering and artfully designed holiday lights.
6. Stockbridge, Massachusetts
The Berkshires-area town of Stockbridge creates a throwback classic New England Christmas fete every early December. Expect caroling children, twinkling lights down Main Street, a holiday concert, Santa visits, tours of historic homes, and even antique cars for an authentic feel. The pinnacle event celebrates the town as it was when Norman Rockwell painted its main street during the holidays beginning in 1956. Holiday events continue throughout the long weekend in this Christmas village, including with cookies and cocoa during a holiday fair at the Norman Rockwell Museum. Don't miss the WinterLights at Naumkeag, a stunning display of outdoor holiday lights draped across the estate of Gilded Age manse.
RELATED: 30 Must-Do Christmas and Holiday Events in New England

Fireworks, historic meet-and-greets, and holiday characters come together at the 18th century Colonial Williamsburg. Photo courtesy of Colonial Williamsburg
7. Williamsburg, Virginia
Take in the charm of an old-fashioned Christmas with a family getaway to Colonial Williamsburg. Stop by its Raleigh Tavern to experience an 18th-century Christmas party. On Sunday, December 8, catch the Grand Illumination, a fireworks show that includes firing guns and musical performances. Visit the nearby Busch Gardens Christmas Town to lengthen your stay. Enjoy a spectacular light display at the amusement park, live holiday entertainment, a holiday market, pictures with Santa, and meet-and-greets with Rudolph and other holiday characters.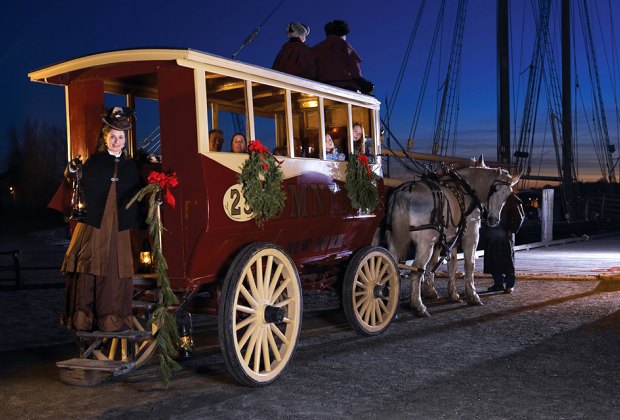 The New England town of Mystic charms with classic holiday activities, such as a carriage ride and holiday performances. Photo courtesy of the Mystic Seaport
8. Mystic, Connecticut
This pretty, coastal New England town is one of our favorite family weekend getaways year-round with its impressive aquarium, museum, and quaint walking village. During the holidays it transforms into an extra special Christmas village. The Mystic Seaport Museum offers the charming Lantern Light Tours, 90-minute theatrical performances centered around Christmas Eve 1876 that's recommended for kids ages 4 and up. The roving play winds through town and includes a horse-drawn carriage ride. Book a fancy afternoon tea and sweets tray at Alice in the Village to get into the festive spirit, or simply stroll the 1700-themed Olde Mistick Village, which offers plenty of shopping and food options in a historical village atmosphere. The annual Holiday Carnival (December 7) includes Santa's Workshop, a store designed just for kids with all items under $10 and an elf to help them shop. Mystic Aquarium offers a slew of holiday fun with Santa, the Snow Sisters, live music, WinterFest over school break, and Northern Lights, a special outdoor holiday walk.
RELATED: 12 Christmas Boat Parades around Los Angeles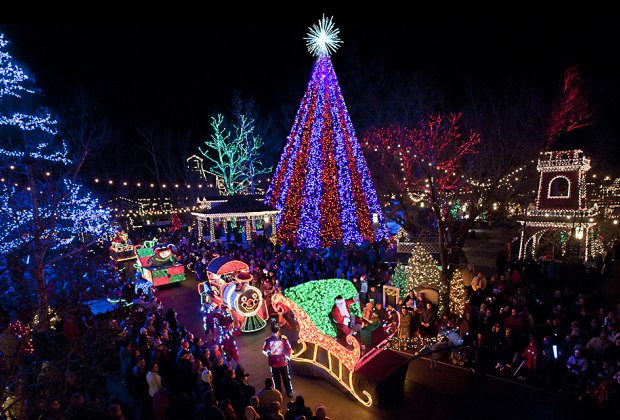 Santa rides into Branson's Silver Dollar City for a magical Christmas. Photo courtesy of Branson's Convention and Visitor Center
9. Silver Dollar City — Branson, Missouri
Missouri might not seem like a vacation destination in December, but the whole family can get excited about heading to Silver Dollar City. In addition to repeatedly being named one of the top amusement parks in the nation, this 1880s theme park rocks the holidays. Its seasonal "Old Time Christmas" will introduce a new eight-story tree with special effects in 2019 (beating out last year's five-story tree); there's also a nightly parade of lights, and holiday entertainment, such as shows and a live nativity. The whole park is bedecked in millions of holiday lights, according to the company, and there's a seasonal steam train ride.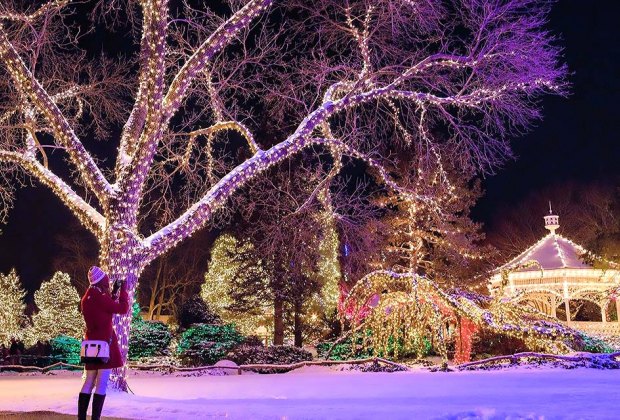 Peddler's Village PA is a winter wonderland under a million lights!
10. Peddler's Village — New Hope, Pennsylvania
There's a reason Pennsylvania towns and attractions appear three times on our list of top Christmas villages! The country's historic roots, from Philadelphia to Pennsylvania Dutch country, lends itself to going big at Christmas, including at Peddler's Village. This year-round indoor and outdoor marketplace in New Hope, Pennsylvania, turns itself into a classic Christmas market as the calendar flips from Halloween to Holidays. Expect a Christmas parade with Santa, lights, and holiday-themed activities, including a gingerbread house competition. You can even catch a Christmas train ride in New Hope and in neighboring towns. Stay a long weekend to soak up all the things to do in Bucks County.
RELATED: 25 Christmas Movies to Fill Your Family with Holiday Cheer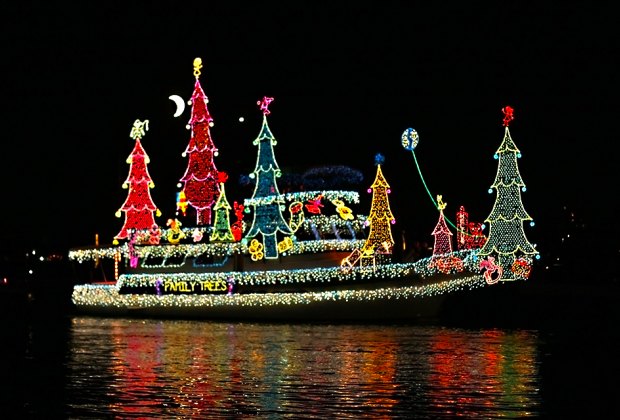 The holiday light show moves to the water with the Newport Beach Christmas Boat Parade. Photo by fortherock via Flickr
11. Newport Beach, California
Looking for something a little less traditional? Celebrate the season in Southern California with lights on the water and a festive mini cruise. Newport Harbor lights up with sailing vessels of all types—from kayaks to yachts—during the annual Newport Beach Christmas Boat Parade, December 18-22. Residents also deck out the shoreline with top-notch lights, casting a holiday glow across the water. Start early with an afternoon visit to the Fun Zone. Kids will also like the new 10.5-acre Marina Park where they can get their energy out on a nautical-themed playground. There are fireworks on opening and closing nights. Cap the night off at Sugar 'n Spice with a Balboa Bar or frozen banana.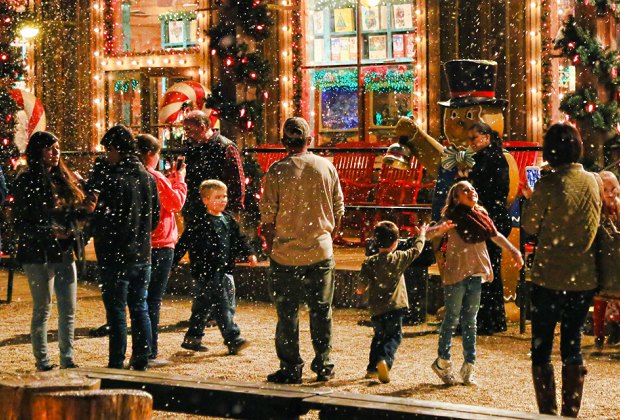 Enjoy a snowy Texas holiday at the Santa's Wonderland attraction filled with kid activities. Photo courtesy of Santa's Wonderland
12. Santa's Wonderland — College Station, Texas
If you're looking for snow in Texas, you'll find it here. There's a nightly snowfall, a snow playground, and snow tubing. Take a horse and carriage or hayride to view an impressive light display. Afterward, visit Santa, sit by a fire pit, and enjoy live music. Other attractions include a trackless train ride, pony rides, and a petting zoo, outdoor holiday movies, a mechanical bull, and a life-sized snow globe. Plenty of shopping and food are also available, and it makes for a lovely day trip from the Houston area.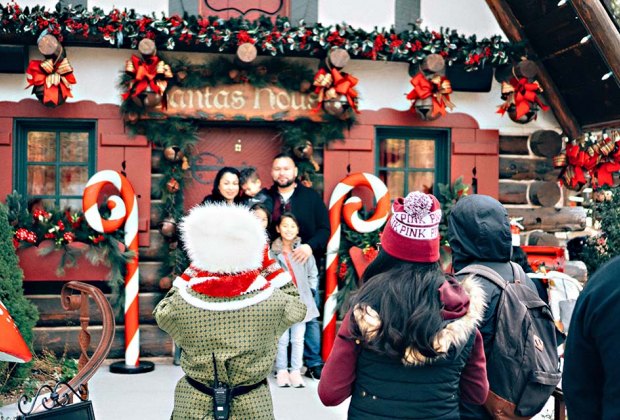 Take a peek at Santa's house then stay for the evening parade and tree lighting at Skypark at Santa's Village. Photo courtesy the village

13. Skypark at Santa's Village — Lake Arrowhead, California
Although it's open year-round, this LA-area Santa's Village has what one of our writers declared to be "the best Santa ever." Set up as a winter wonderland set in the San Bernardino forest, Skypark at Santa's Village offers non-holiday outdoor adventures, such as a bike park, bouldering, a zip line, shows, and playground. But from mid-November through January 5, 2020, Santa and his elves put on a special "nostalgic Christmas" at this Santa's Village, complete with one-on-one wish taking, breakfast with Santa, ice skating, tea with Mrs. Claus, cookie decorating, a holiday lights display, and more. Don't forget to explore Santa's Workshop and maybe even mail an extra letter to the jolly guy!
An earlier version of this article first published in 2018.