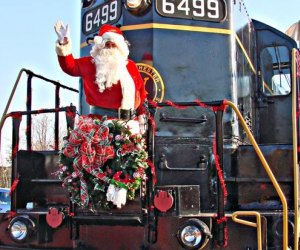 Polar Express: Christmas Train Rides for Kids Near Philly
There is something about trains that evokes nostalgia at Christmastime. For some, it stirs up childhood memories of building a model train set under the twinkling tree lights. For others it may be a simple reminder of that "coming home for the holidays" feel, where folks would arrive at the train station, arms filled with Christmas packages for family at home. Whatever the reason might be, many railroads in the tri-state area hold events to bring back that old-fashioned holiday tradition. At many of these special outings, families can ride a real locomotive with Santa Claus, hear Christmas stories, sing carols, sip hot chocolate and admire the views of the passing countryside. Children are even invited to wear their pajamas at some of these events!
We have rounded up a list of railroads hosting holiday-themed trains of all kinds. Some of these are located more than an hour's drive from Philadelphia but can make for a fantastic holiday outing. So climb aboard for some Christmas fun!