Bucks County, PA with Kids: 25 Top Things to Do as a Family
New and old collide in the pretty Bucks County, Pennsylvania, countryside where young families can play the day away at Sesame Place and older kids can enjoy Revolutionary War history at Washington Crossing. From real castles to playground castles, ice cream shops to kayaking, Bucks County is a sweet spot for a family weekend getaway. Just north of Philadelphia and less than two hours from NYC, it's easy to access.
Ready to plan a trip? Read on for our list of 25 must-do places to play and see, as well as eat and stay at in Bucks County. We divided it into four family-friendly mini itineraries. Choose one or get some ideas to mix and match an adventure of your own. Explore popular towns like New Hope and Doylestown.
Itinerary No. 1: Learn and Play
With Sesame Place on the list of things to do, this trip itinerary is great for preschool-age kids who want to play, need hands-on experiences, and want to go, go, go!
1. Fuel up for a long day of play at a local favorite.
As the saying goes, breakfast is the most important meal of the day, and Cross Keys Diner takes it seriously. This breakfast and lunch joint stays pretty busy, but locals will tell you they turn tables over quickly and you won't have too long of a wait to get a great meal.
2. Explore a castle.
Doylestown is home to four different castles, well, five, if you count the famed Kids Castle Park. This one makes it onto many of our lists of top things to do with kids in the Philly area and for good reason. It's an eight-story wooden castle playground that's great for kids aged 12 and under. There are also tot swings, family-friendly bathrooms, and a pavilion.
RELATED: 6 Great Family Weekend Getaways in Pennsylvania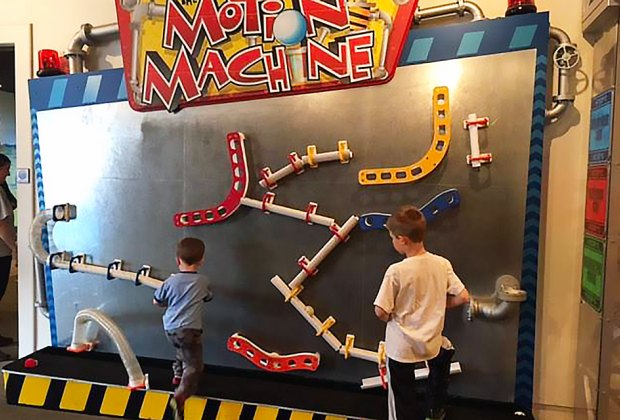 Play indoors at the Bucks County Children's Museum. Photo courtesy the museum
3. Learn hands-on at the Bucks County Children's Museum
From learning how factories work to digging for fossils, the Bucks County Children's Museum is a great open play space for young ones, ages 7 and under, to explore through all their senses.
4. Enjoy some well-done classics in New Hope at Moo.
Kids and their parents will enjoy burgers, hot dogs, and shakes at Moo, an eatery that started as a food truck and has turned into a permanent location right on Main Street in New Hope. Its location makes it perfect for a post-meal stroll through the pictaresque town with views of the Delaware River.
5. Turn in for the night at a family-friendly hotel within walking distance of Sesame Place.
Several hotels are within a short distance from Sesame Place, setting you up for an easy start for the next day. The Springhill Suites Langhorne location, for example, has free parking, a free hot breakfast buffet, indoor pool and hot tub, and a paved private path that leads you right to the amusement park.
RELATED: Visiting Lancaster and Dutch Country with Kids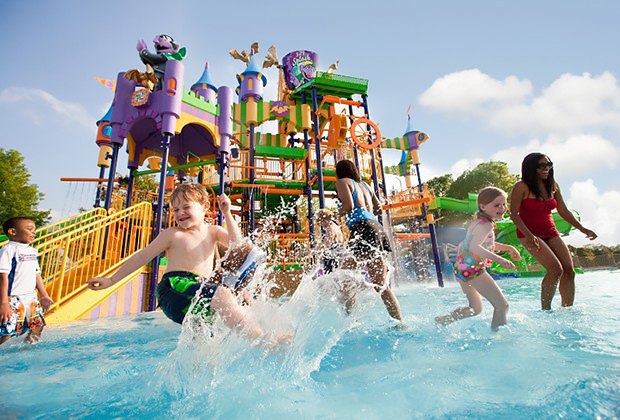 After checking out the rides, cool off at the water park at Sesame Place. Photo courtesy of Sesame Place
6. Play the day away with your toddlers and preschoolers at Sesame Place.
Both an amusement park and water park, Sesame Place is an exciting spot for younger kids to visit and nostalgic for parents who grew up watching the public TV classic. Kids can meet their favorite characters, watch a parade, catch a show, and, of course, play.
Itinerary No. 2: Discover Old and New
This trip includes some fun for both the history enthusiast and the video gamer. Enjoy learning some of our rich Pennsylvanian history and then finish the trip with an indoor obstacle course and ice cream.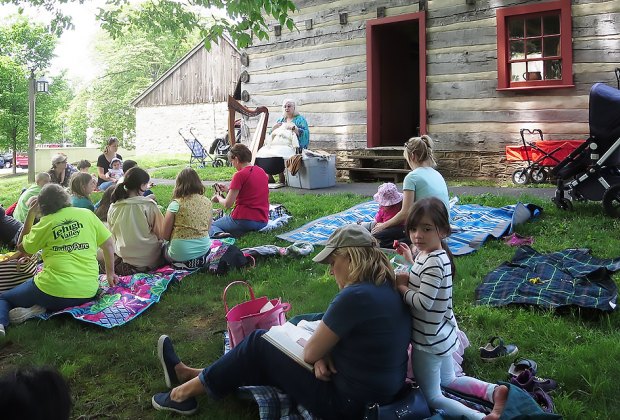 Explore 18th and 19th century life at the Mercer Museum. Photo courtesy of the museum
7. Go on a scavenger hunt at Mercer Museum.
Families can choose from five scavenger hunts, ranging from the historic to the fantastic, completing the activity while exploring 18th and 19th century life at this history museum.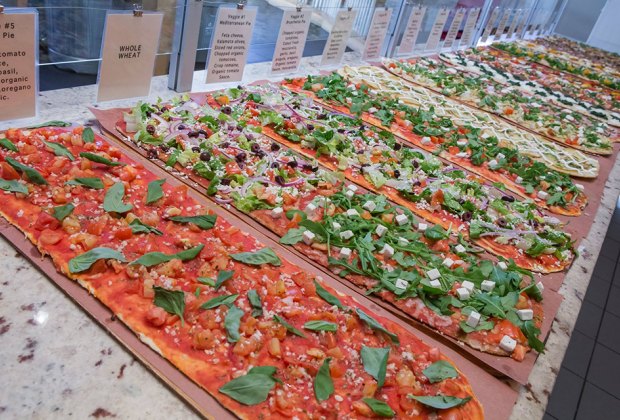 Seasonal and local ingredients go into the delicious food at Jules Thin Crust Pizza. Photo courtesy of the restaurant
8. Grab a slice of exceptional thin crust.
Before you head out of Doylestown, stop by Jules Thin Crust Pizza for some inventive or classic organic pizza. Insider tip: The slices are kind of large, but if you ask, you can get your pizza cut up into smaller kid-friendly pieces.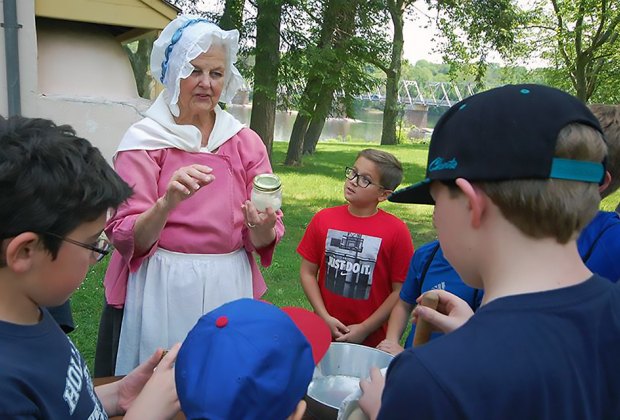 Washington Crossing Historic Park hosts thousands of visitors every year. Photo courtesy of the park
9. Get outside and get historical at Washington Crossing Historical Park.
This 500-acre park preserves the site where General George Washington and his troops made their famed crossing of the Delaware River during the Revolutionary War. The park contains restored 18th century buildings and homes, Revolutionary War gravesites, picnic pavilions, and historic collections.
10. When the sun goes down, go in search of ghosts.
With all that history, Bucks County is sure to have some otherworldly occurrences. Whether they're more myth than fact is something for you and your family to discover on one of the lantern-led ghost tours that happen nearly every week of the year.
RELATED: Gettysburg, PA with Kids: Top Sights for Families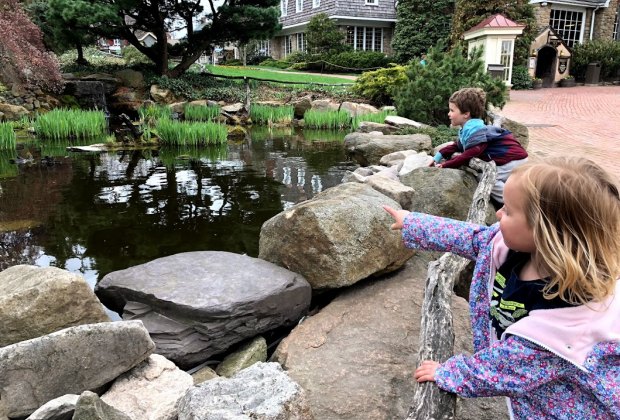 Look for the famed giant bullfrog in the pond at Peddler's Village. Photo courtesy of the author.
11. Before heading back into the present day, stay at a historical inn.
Historic, fun, and event-filled Peddler's Village in Lahaska is your home for the night and the base of day No. 2's adventures, so why not stay right in the middle of it?
The Golden Plough Inn
has everything you need within walking distance for an enjoyable night.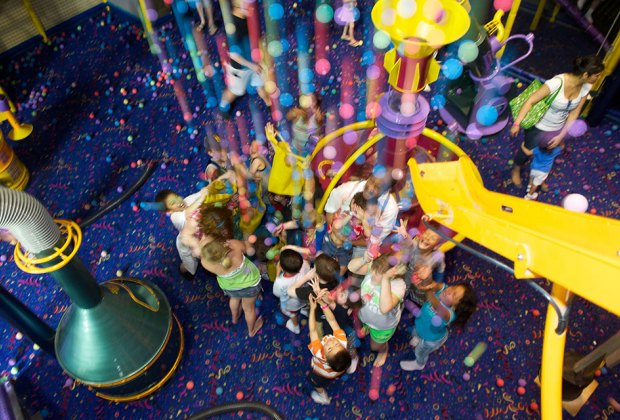 Spend a rainy day at Giggleberry Fair's indoor play center. Photo courtesy the venue
12. Complete your travel from past to present with a visit to Giggleberry Fair.
This entirely indoor facility, located wihin Peddler's Village, is perfect for kids who want to let loose. There's a three-story indoor obstacle course, a mini-carousel, and arcade games, which are all rated "E" for everyone.
13. Waffles and ice cream. Need we say more?
Once everyone has worked up an appetite, grab a waffle sundae, waffle cone, or just a waffle at Nina's, an ice cream shop within Peddler's Village that makes small-batch ice cream and Belgian Liege waffles hot and fresh.
Itinerary No. 3: Things That Go
Okay, this is a fun one. From cars to horses to trains and boats, this trip will get you and your kids moving! Start with a relaxing drive and end up on your feet.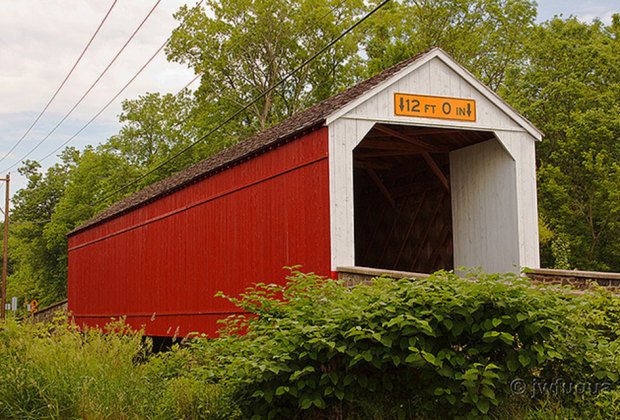 Kids will love exploring bridges on a Covered Bridges Tour. Photo of Mood's Covered Bridge courtesy of Visit Bucks County
14. Go "undercover" with the Covered Bridge Tour.
Explore some of the 10 remaining covered bridges in Bucks County with a scenic drive. These bridges, romantically known as "kissing bridges," have been around since the 19th century and are great photo ops. Plus, what kid doesn't like driving through something like these magical beauties?
15. Ditch the four wheels for four legs and explore Bucks County by horse.
Get out of the car and hitch a ride on a horse through beautiful Nockamixon State Park. Haycock Stables specializes in family outings and offers trail rides for kids ages 7 and up. Have littles who are too small? Take the family for a hike through the state park, which offers four "easy hiking" trails.
16. Eat fresh food in someplace old.
The Spinnerstown Hotel opened in 1811, back when it was a welcome stop for weary travelers going between Philadelphia and New York. With outdoor seating, a rustic taproom, a nice sized kids' menu, and 18 rotating beer taps for the grown-ups, Spinnerstown would be a welcome stop during your own travels.
17. Delight in the rare find of a family-friendly B&B.
It's not often bed-and-breakfast inns are a right fit for families, but the Wedgewood Inn in New Hope is rare indeed. Regardless of guests' ages, the proprietors give tours of the property, which includes secret passageways and stairwells, ample room sizes, and a yard to run around in. Plus, it's within walking distance of No. 18 on our list and New Hope's Main Street.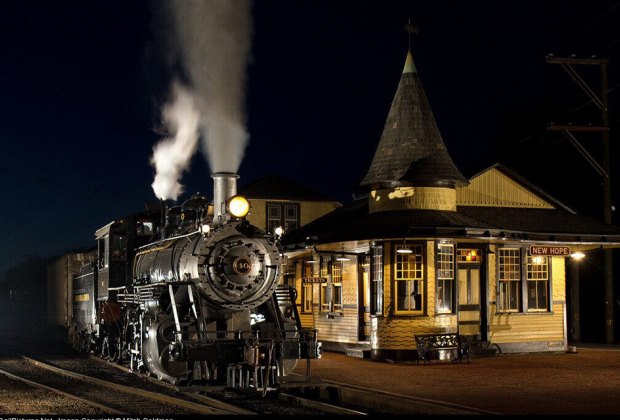 Take an entertaining an educational train adventure through Bucks County at the New Hope & Ivyland Railroad. Photo courtesy of the railroad
18 Go back to the "Golden Age" of train travel.
Board an early 20th century diesel train at the New Hope & Ivyland Railroad to take a 50-minute round-trip excursion through the hills and forests of Bucks County.
19. Take a stroll around Carousel Village at Indian Walk.
Visitors to Carousel Village at Indian Walk will find a vintage carousel, garden center, Italian restaurant, organic market, creamery, and shops. Just 15 minutes south of New Hope in Wrightstown, this would be a happy stop for the family looking to stretch their legs.
Itinerary No. 4: Outdoor Adventures
For families who like to be outside, Bucks County has plenty to offer. This itinerary takes you from boulders to water sports, wildflowers to farms.
20. Fuel up at an authentic general store.
Parents and kids alike are sure to love the General Store at Homestead Coffee and Roastery. Pancakes for breakfast, right on the canal, and fresh coffee made at the roastery next store is a fun way to start your day and gather up supplies before heading out on your adventure.
21. Listen to the beautiful sound of...rocks?
Ringing Rocks Park contains eight acres of boulders that are truly a unique geographic phenomenon. Bang the rocks with a hammer and hear them ring. Besides kids getting some fun gross motor skill practice, there's also a trail leading to Bucks County's largest waterfall.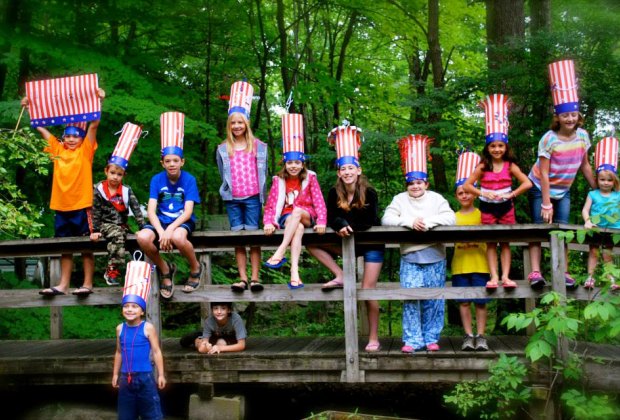 The Ringing Rocks Family Campground is a great place to spend the 4th of July. Photo courtesy of the campground
22. Spend the night under the stars.
Pitch a tent, rent a cabin, or drive the RV and set up camp at the Ringing Rocks Family Campground. Whether you're a camping aficionado or like to keep a firm boundary between you and bugs, this campground will make sure you have fun in the great outdoors. Plus, camping trips, whether they go according to plan or not, can produce some really fond memories.
23. Where there's water, there are water sports.
Nockamixion State Park is a Bucks County favorite for a whole host of water sports, from fishing and swimming to tubing and rafting. And in the colder months, you can still play. Ice skating and sledding are available to visitors during the winter.
24. Head into New Hope and explore the beauty of wildflowers, butterflies, and bullfrogs.
Bowman's Hill Wildflower Preserve is a perfect pick for families looking to enjoy the wonders of nature. The Bird Observatory, Green Labyrinth, Children's Library, Butterfly Trail and Pond give ample opportunities for hands-on exploration with the natural beauty of Bucks County.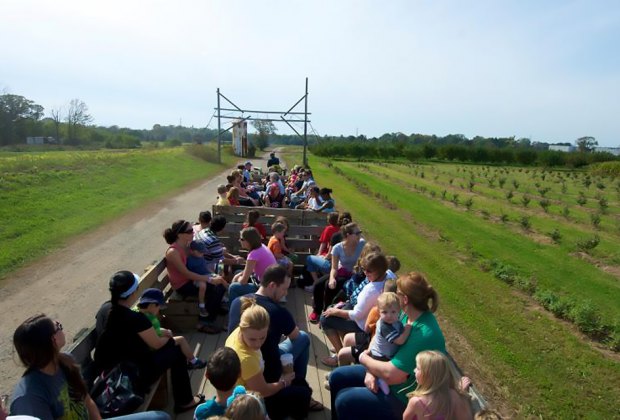 Take a hayride at Shady Brook Farm. Photo courtesy of the farm
25. See what's happening down on the farm.
Shady Brook Farm in Yardley has been around for over 100 years, offering pick-your-own crops, playground, farmer's market, local pub, and a slew of fun family events throughout the year. Grab some homemade ice cream for the kids and a pint for the grown-ups, and savor the last bits of your weekend away in Bucks County.
Did we hit on all the best spots in Bucks County? Did we miss your favorite one? Head over to our Facebook page and let us know. And remember: Sharing is caring. Send this post to a friend who might enjoy exploring this great part of Pennsylvania. Happy travels!